The best lunch boxes and drink bottles for the rough and tumble world of the playground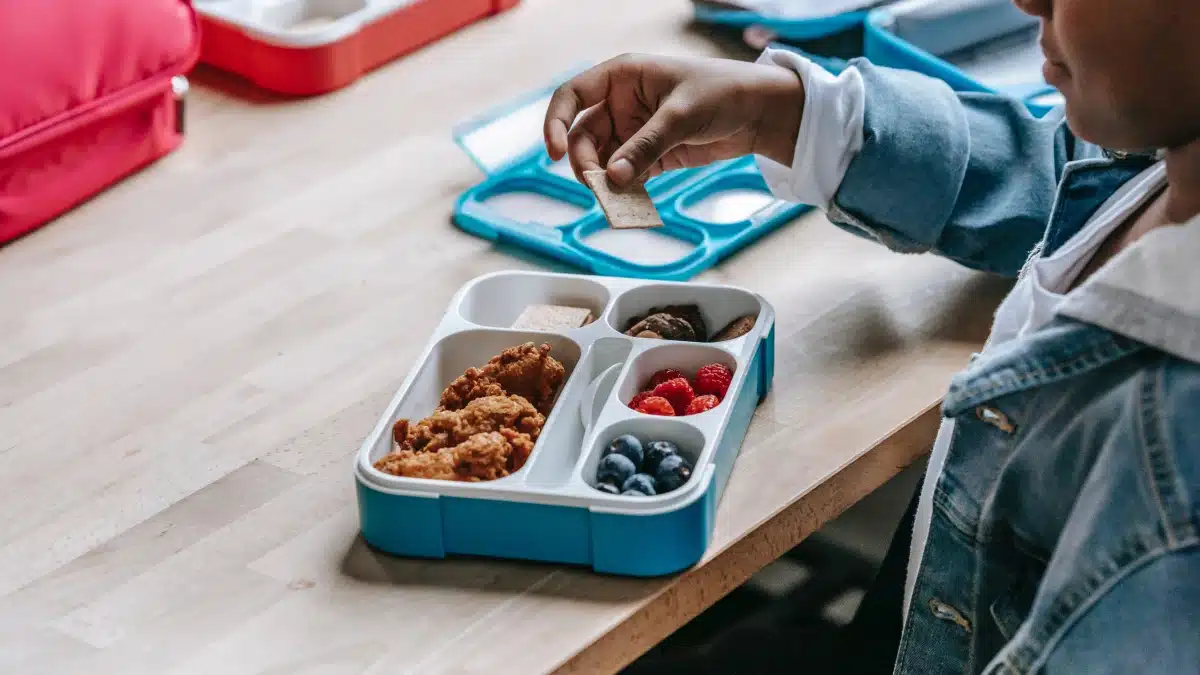 Do you ever feel like you're playing a game of lunch box roulette? Will today be the day your child comes home with a soggy sandwich and a leaky juice box? As a fellow parent, I feel your pain. Finding the perfect lunch box and drink bottle for a 6-year-old can be a daunting task.
It's a battle of durability versus cuteness, functionality versus style, and let's not forget the ever-important question: will my child actually use it?
As a seasoned parent who has survived more lunchtime disasters than I care to admit, I'm here to share my hard-earned wisdom and guide you through the maze of options out there. Here's how to find the lunch box and drink bottle of your dreams (or at least of your child's).
Things to consider:
Before we get into the nitty-gritty, let's consider some important factors that can help you pick the perfect lunchtime companion for your child. Here are a few things to keep in mind when choosing a lunch box and water bottle:
1. Size and capacity: Think about how much food and water your child will need throughout the day and choose a lunch box and water bottle that can hold enough.
2. Material: Consider the durability, ease of cleaning, and chemical-free aspects of the lunch box and water bottle. Make sure the lunch box is BPA-free to keep food safe.
3. Design: Choose a lunch box and water bottle that your child will enjoy using and carrying. Look for a box that will seal and keep an unwrapped item fresh, and that has separate spaces to place different foods.
4. Ease of use: Make sure the lunch box and water bottle are easy for your child to open, close, and clean, so they can use them independently. Consider a box with one lid for easy cleaning and storage, and that has sections with perfect portions for the amount of food your child will eat.
5. Special features: Consider any special features that are important to your child, such as insulation, compartments, or a built-in straw. Choose reusable items to save the environment and your pocket, and look for lunch bags that are dishwasher safe and easy to store, such as those that are not too bulky and can be machine washed.
By keeping sight of these factors we can select a lunchbox that gets approved by your child and puts an end to your search for the right contender.
The importance of a good lunch box and drink bottle
Before we dive into the best options, here's why a good lunch box and drink bottle are important.
For starters, they help keep your child's food and drink fresh throughout the day – like I said, no one wants to open a lunch box to find a soggy sandwich or warm juice box – least of all, your child!
But it's not just about keeping food fresh. A good lunch box and drink bottle can also be a reflection of your child's personality. From cute and colourful designs to sleek and modern options, there's something out there for every taste.
Top recommended lunch boxes for a 6-year-old:
It's time to put an end to the lunchtime drama and invest in a lunch box and drink bottle that can handle the rough and tumble world of the playground.
Here are our top 5 recommended lunch boxes and water bottles for your little one:
If you are looking for a lunch box that's as fun and colourful as it is functional, look no further than Smiggle! With their signature neon colours and bold patterns, Smiggle's lunch boxes are sure to catch the eye of even the pickiest of eaters. And with multiple compartments to keep food separated and durable materials that can handle even the roughest handling, this lunch box is a must-have for kids who want to make a statement at lunchtime.
Whether you're packing a smaller portion or just looking to add a little fun to your day, Smiggle's lunch boxes offer a positive and exciting lunch experience that's perfect for any young adventurer.
What stands out most about these lunchboxes is their ability to adapt to different dietary needs and preferences, thanks to their multiple compartments and sizes. There's plenty of space to store it all, whether you're packing sandwiches, snacks, fruits, or veggies.
Another great feature of the Ecococoon lunchboxes is their leak-proof design, which makes them ideal for packing items that might otherwise spill or leak in transit. This is a dream solution for parents who want to pack soups, sauces, or yogurts for their children's lunches without worrying about making a mess.
Cleaning these lunch boxes is also incredibly easy, thanks to their stainless steel material, which is resistant to stains and odours. Parents can simply rinse them out with soap and water or pop them in the dishwasher for hassle-free cleaning.
Overall, the Ecococoon lunch boxes are a fantastic option for parents who want to reduce waste and make sustainable choices for their families. Made from high-quality stainless steel, these lunchboxes are built to last and can withstand the wear and tear of daily use. If you're looking for a practical and eco-friendly way to pack your child's lunch, the Ecococoon lunchboxes are definitely worth considering.
One of the standout features of Stuck On You personalised bento boxes is the customisable design. With a variety of fun and colourful designs to choose from, your child can pick their favourite and have their name printed right on the box. Not only is this a fun way to show off their personality, but it also makes it easy to identify their lunchbox in a sea of other lunch boxes. But these bento boxes aren't just stylish, they're also incredibly practical. The compartments in the box make it easy to pack a variety of healthy snacks and meals for your child. The bento box is also made from high-quality materials, ensuring that it's both durable and long-lasting.
Another feature that sets Stuck On You personalised bento boxes apart from others on the market is the fact that they're eco-friendly. The boxes are made from BPA-free materials and are designed to be reusable, making them a great choice for parents who want to reduce their environmental impact.
This lunch box is an excellent choice for parents who prioritise sustainable living and reducing waste. It is made from durable, eco-friendly materials such as stainless steel and silicone, a fantastic alternative to disposable plastic containers and bags. It's compact and lightweight, making it easy for kids to carry to school or outings.
The individual compartments make it convenient for packing a variety of snacks and meals, which can help keep kids energised and focused throughout the day. It is also leak-proof and easy to clean. This means that parents won't have to worry about spills or messes, and they can simply wash the lunch box between uses, eliminating the need for disposable packaging.
Overall, the Zero Waste People Lunch Box is an excellent investment for parents who want to teach their kids about sustainable living and reduce their impact on the environment. With its durable and practical design, it's sure to be a reliable and long-lasting addition to any family's collection of lunch containers.
This lunch box is not only durable and leak-proof, but it also makes packing a healthy and well-balanced meal easy and fun for kids. You won't have to worry about your child skipping out on important nutrients any more, thanks to its bento-style design with pre-portioned compartments that encourage a variety of foods. And let's not forget about the fun colourful designs that are sure to make lunchtime a little more exciting.
Personally, I love how easy the Yumbox is to clean and it's even dishwasher-safe! It's a convenient option for us busy parents, and it's made with high-quality materials, which means it's eco-friendly and sustainable too. Overall, I highly recommend the Yumbox for anyone looking for a practical, fun, and healthy way to pack lunches for kids. Trust me, you won't regret it!
Top 5 Recommended water bottles for a 6-year-old
Here are the top 5 recommended lunch boxes and water bottles for your little one:
The Klean Kanteen Kid Classic is a durable water bottle that is made from stainless steel. It has a leak-proof cap and comes in a variety of fun colours. It is also compatible with a range of different lids, including a sippy lid and a sports lid.
The Sistema Quick Flip is a budget-friendly water bottle that is perfect for kids who are always on the go. It has a twist-off cap and a pop-up straw for easy sipping. It also comes in a variety of fun designs.
3. Thermos Funtainer 12 Ounce Bottle
The Thermos Funtainer is a great option for kids who like cold drinks. It has vacuum insulation that can keep drinks cold for up to 12 hours, and it comes in a variety of fun designs.
If you're looking for a durable, fun, and eco-friendly way to keep your drinks cool, Adventuresnacks' insulated drink bottles are a great choice for kids! With colourful designs and easy-to-use features, these bottles make staying hydrated on the go a fun adventure.
The CamelBak Eddy+ Kids is an updated version of the original Eddy Kids water bottle. It has a leak-proof cap and a straw for easy sipping. It also comes with a removable bumper for extra protection and is available in a range of fun designs.
Final Thoughts:
So there you have it! Choosing the right lunch box and drink bottle for your little one doesn't have to be a daunting task. By keeping in mind the factors we've discussed, you can make a well-informed decision and find a lunchtime companion that both you and your child will love.
Remember, a good lunch box and drink bottle not only keep food fresh and cool but also add a touch of personality to your child's lunchtime routine. So go ahead, choose a fun and functional lunch box and watch your child's eyes light up with joy as they open it up to reveal their favourite foods. At least now you can fully dedicate yourself to the dilemma of what food to pack in your child's lunch box with distraction!