The ultimate guide to cleaning up all the messes our little ones make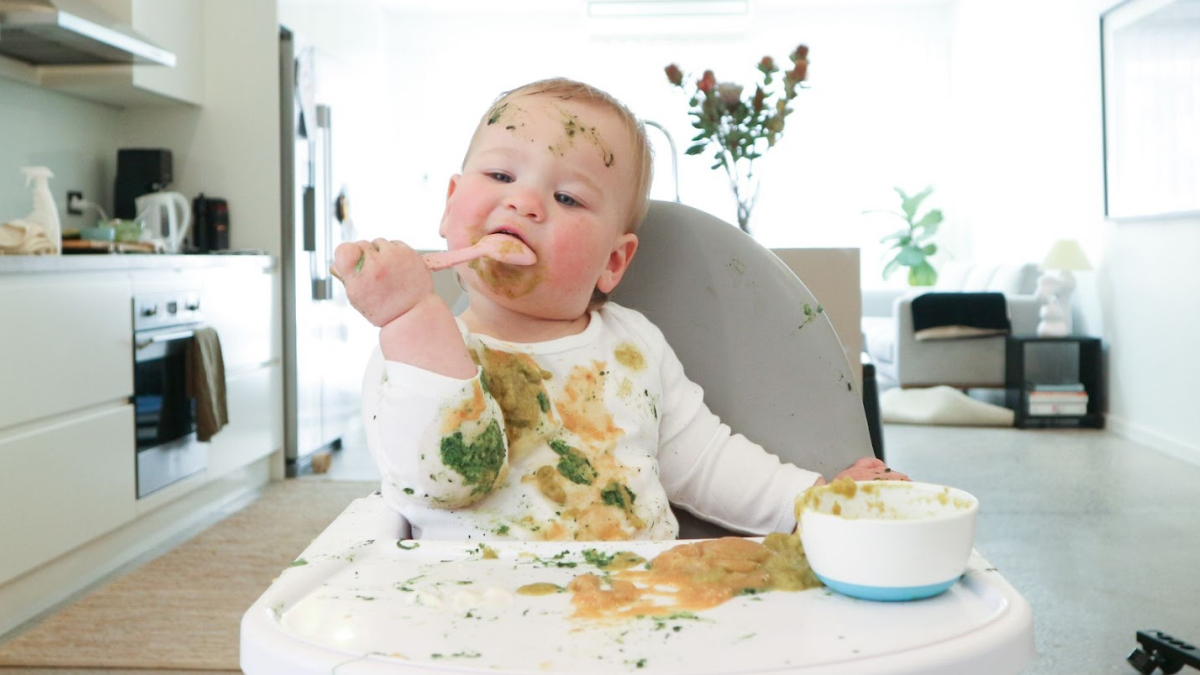 Along with all of those gorgeous snuggles, gummy smiles and each 'first' that melts your heart — come some of those other less-talked-about parts of life with little ones… Yep, we're talking about the mess! Because life with babies is amazing – but it's also really, really messy.
From poo explosions to baby vom to that glorious moment when they try solids for the very first time – only for 99% of it to end up on their clothes, the floors and somehow the walls… We can all relate to watching them pick things off the floor and put them directly in their mouth, to silently crying inside as you see them crawl through mud in that adorable new outfit you just put them in.
That's why when it comes to cleaning up after your precious bundle, you need products that are hard-working and that will remove germs and stains – minus any harmful chemicals. So to help parents, we've partnered with Euky Bear to share our top cleaning tips as well as which ingredients are safe to use when cleaning up baby surfaces, from the highchair to their baby toys.
Starting solids – oh my!
You were SO excited to finally get your little one to try solids – trying food for the first time is such an exciting and big milestone for you and your little one! But then you quickly realise it comes with a whoooole lot of mess!
Whether you're going down the puree or the baby-led weaning route, strap in because it's going to get messy.
Highchair selection is key! Purchase a chair that is easy to wipe (read: hose down), nothing with lots of nooks and crannies… keep. it. simple. The Euky Bear Baby Nursery Cleaner is non-toxic and food-prep safe so it's perfect for wiping down the high chair after meal times.
Then you're also going to want a good bib with a catcher for grabbing food that doesn't make it into their mouth, a sheet underneath the highchair you can just scoop up and wipe down. And finally, if you don't have one, maybe consider getting a dog because there will be more food that ends up on the floor than going in your child's mouth for at least that first year – someone might as well get to enjoy it!
Stock your cupboards with products you trust
When it comes to cleaning up after little ones, one of the most important things to consider is the products you are using. Making sure there are no harsh chemicals that can be harmful or cause irritation to their delicate, sensitive skin is essential.
Tip: Look for paraben-free, sulphate-free, phthalate-free and fragrance-free products.
Naturally powered with 100% Australian eucalyptus oil, Euky Bear's range of non-toxic laundry and cleaning products remove stains and common household bacteria while still being gentle on the skin and safe to use in the areas they eat and play.
Chemical-free and plant-powered formulas help keep germs at bay and baby's clothes, toys and surfaces clean and fresh without harsh ingredients. They are perfect for high chairs (food-prep safe), toys, change tables, potty, baby baths and other nursery surfaces.
Washing the toys
There are obviously all those cleaning tasks you can't avoid daily, but it can be a good idea to have set days per week or month where you give things more of a thorough clean. For example, when it comes to your baby's toys it can be a good idea to have a set day where you do a toy clean-up.
Throwing the soft toys in the washing machine, and using Euky Bears' laundry detergent containing antibacterial Eucalyptus oil, removes dust mite allergens and will leave their beloved soft toys clean and fresh. Then give the nursery and bath toys a quick once-over with the Baby Nursery cleaner.
Tip: Teething toys or anything that your baby is loving on the regular (read: putting in their mouth) you should give a daily wash/wipe.
Floors
When your baby is tiny they'll be getting lots of floor time so it's important to keep the floors clean and dust-free… a task which gets trickier and trickier as they begin moving and walking around on their own. It's a good idea to get into the habit of taking shoes off at the front door (if you don't do that already) as this will help limit the bacteria that is walked all over the floor.
Get down at your baby's level and make sure you're decluttering anything that could be dangerous to them, things that may have fallen under the table or the dog's toy they stashed under the lounge.
As a rule of thumb, you should aim to vacuum 1-2 a week and mop high-traffic areas at least once a week. Depending on what type of flooring you have or if you have pets etc, you may want to clean the floors more regularly.
Tip: If you constantly feel like you can barely see the floors for all the toys and clutter, try keeping a basket in each room that you can quickly chuck things in to clear up the clutter in a flash.
The 'Take 10' nightly rule
After a long day you just want to slump on the couch… but the 'take 10' rule can make a huge difference. Depending on your level of exhaustion, you can choose to take 10 mins to tidy up – or just opt to pick up 10 things.
In just 10 mins you can pick up toys off the living room floor, load up the dishwasher and give their change table a quick once over. Either way, you'll feel like you've achieved something and there won't be quite so much mess waiting for you in the morning.
Lower the bar…
Life with little ones is messy. Period. So during these early years (and maybe even a few more) lower your expectations, as long as your home is clean enough – it's good enough. It doesn't need to be spotless and you don't need to remove all signs a little one resides there – lean into the chaos! And if there's a choice between going to the park with your little bestie or cleaning the kitchen – always choose the park. The mess can wait – but time with your little one is precious (and fleeting!)
This is a paid partnership between Kiindred x Euky Bear.
Related Posts
Euky Bear Laundry and Cleaning Range
Why it's time to make the change to all-natural cleaning products 
All the ways cleaning changes when you become a parent