How to find your style again after having a baby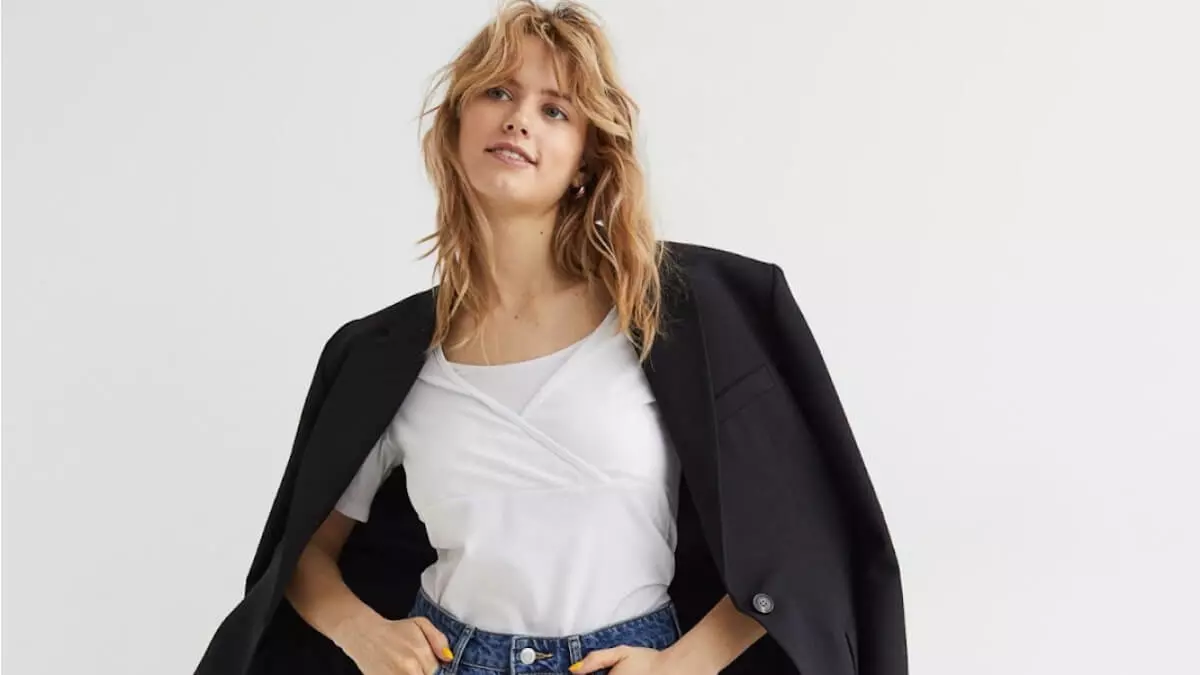 You're tired, you're sore, you're emotional – and the last thing on your mind when you've got a tiny newborn who relies on you for their very survival is what you look like. Until one day you catch your reflection in the mirror and you're not quite sure who is staring back at you. So many of us mums have been there, so we promise you, you're not alone.
Those early days with a baby are all-consuming, there is so much to focus on and your priorities might change for a while. Somewhere amongst the late nights, nappy changes and feeding around the clock your ability to stay up to date with the latest fashion trends fall by the wayside. Your shopping cart is suddenly filled with onesies and nipple cream rather than heels or handbags.
Not to mention we haven't exactly got the luxury of time we once did – and a little thing called mum guilt creeps in to try and trick us into thinking we shouldn't focus on ourselves, shouldn't spend money etc…
But you know we are all about ditching that mum guilt, so when you're ready to venture out of the house, or you just want to start feeling a little more like YOU again we've got you covered. Because there is absolutely no shame in wanting to look and feel your best – or even just like the you that is still there hiding beneath the spit-up.
In partnership with H&M, we want to help you navigate postpartum fashion with ease, style and of course just a hint of practicality because #mumlife.
Embrace your new shape
Um hello, your body is an absolute machine mama – and one that must be celebrated! We know that's easier said than done when it feels foreign and new and not quite you. Sure you might have bigger boobs, a little more weight than you might have had now and curves in different places. But that's ok.
Lucky for us the oversized trend is in right now – but if you're going to go oversized think tailored and clean lines – not baggy and dowdy.
Don't wait until you 'get your body back'
Let's ditch the idea that you need to lose the baby weight – because that's an unnecessary pressure none of us needs! Embrace the body you have now and celebrate it for what it's been through. Ditch the idea you need to fit back into your pre-baby wardrobe or that you need to be a certain size. Buy clothes that fit the shape you are now and that make you feel great.
Tip: Pick a feature you love and accentuate it. If you're not loving your midsection right now then get those pins out! Or if you'd rather cover your legs, then embrace that fuller bust and draw the focus to an area you feel good showing off!
Establish your needs
Think about what your needs are, are you heading back to work full time and need a work wardrobe overhaul? Or are you going back part-time so you need hard-working pieces that can be dressed up and dressed down? Are you a stay-at-home mum that needs practical everyday pieces and just a couple of special pieces for here and there? This will help you work out what your priorities are and will give you a starting point.
Tip: Don't forget if you're still breastfeeding factor this into any purchases you make that you'll be wearing when out and about with your little one. You don't have to stick to the nursing section if you don't want to but just remember to think button-up, wrap style or loose and flowing for easy access.
Do a wardrobe cleanout
Speaking of your pre-baby wardrobe… It's time to do some culling. Go through it Marie Kondo style and throw out anything that no longer sparks joy. Don't hold onto things from 10 years ago in the hopes that one day you'll get back into them (unless of course, that is something that brings you joy). If there's no joy and no sentimental value then donate it and make space in your wardrobe for new things that make you feel 100% fabulous.
Tip: H&M's Garment Collecting programme allows you to bring old and unwanted clothes to be recycled into any store. You'll earn 20 Conscious points and a 15% off one item via a digital voucher for your efforts as part of their Conscious points program aimed to encourage H&M members to lead a more sustainable lifestyle. Not a Member? Join here now.
Treat yourself
That little nagging voice in the back of your head that tells you that you should be saving money, or buying for your baby instead can take a walk! You deserve to invest in you – that doesn't mean dropping big bucks but buying a few key pieces that make you feel fab is going to get you a serious return on investment.
Build a capsule wardrobe
Whether it's just a few staple pieces or a handful of items that you can mix and match. Taking the time to plan out your purchases can give you serious bang for your buck. Think neutral tones and classic styles and shapes that will see you through season after season. Then you can always throw in your pops of colour or update with accessories to keep it feeling fresh and up-to-date each season.
Capsule pieces include things like:
Stripe t shirt
White shirt
Trench coat
Black dress
Print dress
Jeans
Blazer
Dress up/down leisure ensemble
Ballet flats
White Sneakers
Comfy pair of heels
Boots
Carry all handbag
Crossbody handbag
Quality basics
Basics are the foundation of any good wardrobe so investing in a bunch of pieces you can throw on with your active wear or dress up with a pair of jeans and a blazer will help make getting dressed in the morning easier.
Keep it simple
Speaking of making those mornings easier – take away too much choice. How many of us stand in front of the cupboard staring at dozens of clothes hanging there and say 'I have nothing to wear?' Too much choice can overwhelm an already cluttered brain, so take the hard work out of getting ready and pair back your wardrobe. Less time spent staring blankly at your wardrobe means more time doing something you love.
Becoming a mum is exciting and it's overwhelming all in the same breath. There are so many amazing moments, but so many unexpected twists and turns that we often don't see coming. So go easy on yourself ok, get to know this new you – she might feel a little like a stranger right now, but with a little time you'll realise she's actually the new and improved YOU.
This is a paid partnership between Kiindred x H&M.
Related Articles:
10 things I learned about dressing for pregnancy and postpartum
The newborn wardrobe guide: What's essential & what's not?
A guide to dressing your little ones for winter