The newborn wardrobe guide: What's essential & what's not?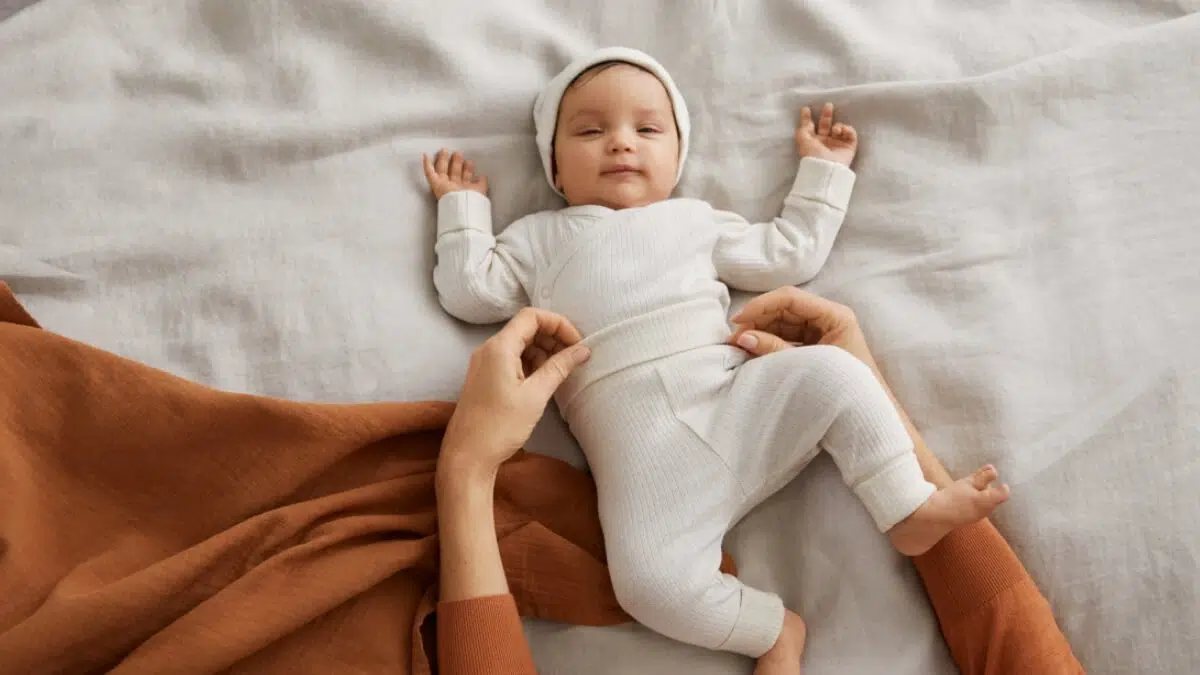 For most pregnant women, nesting begins at some point in the second trimester and kicks into high gear in the third. In addition to buying baby a cot, pram, changing table, chest of drawers and perhaps a feature rug or animal mobile – for that extra je ne sais quoi – expecting mums are also normally thinking (a lot) about their little one's wardrobe.
When I was pregnant with my first, online baby clothes shopping cascaded me into a Bermuda Triangle of elaborate knits with too many buttons, tutus and gimmicky bonnets. Not only did I have zero experience on my side, my baby-making hormones often left me blindsided by the 'cute' over the 'practical' – and economical.
To help make this process a little simpler for you, we've partnered with H&M to put together an essential newborn wardrobe guide. H&M's baby clothing range is affordable, sustainable and has functionality at its core.
The essentials
It's important to remember: the days (and nights) are long but the months are FAST. Your newborn will only be a newborn for 3 months. They grow so quickly! So, when it comes to deciding on their wardrobe, don't blow your budget on this precious but fleeting first stage. And when choosing newborn clothing, remember that this is the period when you will likely be changing the most nappies the most frequently – often in the middle of the night!
So, we recommend choosing functional, comfortable (soft fabric), breathable (organic cotton), easy to wear and easy to take on and off baby clothing. Avoid buttons (where possible), tulle and complicated 'dressy' outfits. Here are some pointers.
For the first few weeks of your baby's life, they will likely have a belly button clamp. As your baby is so tiny in these early days, the clamp can appear quite big and cumbersome. This is all normal.
We recommend that you're prepared for this first week with a few 2-piece sets. That way your newborn's belly button clamp won't get irritated by being repeatedly rubbed or caught in a button or zip and prematurely ripped off. H&M's Rib Cotton Set is organic, sustainable and comes in a palette of single-tone unisex colors.
The concealed press stud button on the shoulder of the long sleeve top makes getting it on and off over the baby's head seamless.
Once that belly button clamp has gone, it's onesies all the way! Unless your baby is born in the heat of summer, we recommend footed onesies since the only other layer they will likely sleep in is a cotton swaddle.
I never realised just how many accidents my newborn would have – until she was having them several times a night – from vomiting up breastmilk to nappy leakage… So, make sure you're stocked up with several newborn onesies for multiple changes a day.
H&M's 3-pack Zip Up Pyjamas is an affordable (and sustainable) way of building on your newborn onesie collection – and the zip is a must-have for those late night nappy changes!
Like onesies, bodysuits are a newborn baby staple. Be mindful, however, that due to the amount of time they will spend sleeping in those early weeks and months, your newborn will likely be dressed in a onesie for much of the first stage of their life (unless you're in a hot climate). So, while bodysuits are essential newborn baby wardrobe items, there's no need to get carried away with too many.
H&M's 2-pack Long Sleeve Bodysuits in soft organic cotton jersey have press studs at the crutch, making them ideal for quick nappy changes, and can be paired with H&M's 3-pack Jersey Pants.
Now that we're talking bodysuits, unless you're expecting to give birth during winter (or in the Antarctic!), an essential daytime clothing option for a newborn is a short sleeve bodysuit. Buying a pack of these is the most economical way to go – and one H&M 5-pack Bodysuits, with press studs in the crutch for easy access, will have you covered.
Hint: These ones also have the envelope shoulders which is an absolute game changer for getting the bodysuit off when a dreaded poo explosion occurs.
If you're expecting to give birth in the tropics – or in the height of summer, sleeveless bodysuits will be your baby's friend, especially during the day. H&M's 2-Pack Cotton Bodysuits in soft organic cotton jersey have press studs at the crutch, making them ideal for nappy changes and can be paired with leggings when those little legs need some extra covering.
These H&M soft jersey leggings include an adjustable elasticised waist, promising to fit your baby for longer!
Does anyone else squirm when they see a newborn with bare feet on a cold day? I squirm even more when I see said newborn's parents themselves wearing socks and shoes! Not surprisingly, socks have made it onto our list of newborn wardrobe-essentials. In addition to their functionality, baby socks are an affordable way of upping your baby style-cache. Have some fun and remember to buy a pack for ultimate value.
Why are newborn babies so frequently photographed wearing beanies? You ask. Well, because after 9 months in warm and snug in utero, newborns have a huge amount of acclimatising to do. They don't often have much hair and a beanie helps keep them insulated – and, along with a swaddle, helps recreate those womb-like vibes.
H&M baby cotton Beanies come in packs and in unisex patterns.
Preparing for the arrival of your baby is an expensive – and emotion-fuelled time. With so much to prepare, set up, learn about and buy, we recommend you keep your baby's wardrobe as simple as possible. Don't buy up big in newborn sizes – chances are your baby will only get a few weeks out of those garments. And save yourself the hassle of fiddly specialty outfits and onesies with buttons. Organic cotton, zips and press-studs will be your friend. You've got this.
This is a paid partnership between Kiindred x H&M.