Hitting a holme run! How makeup artist Hilary Holmes is empowering women to back their beauty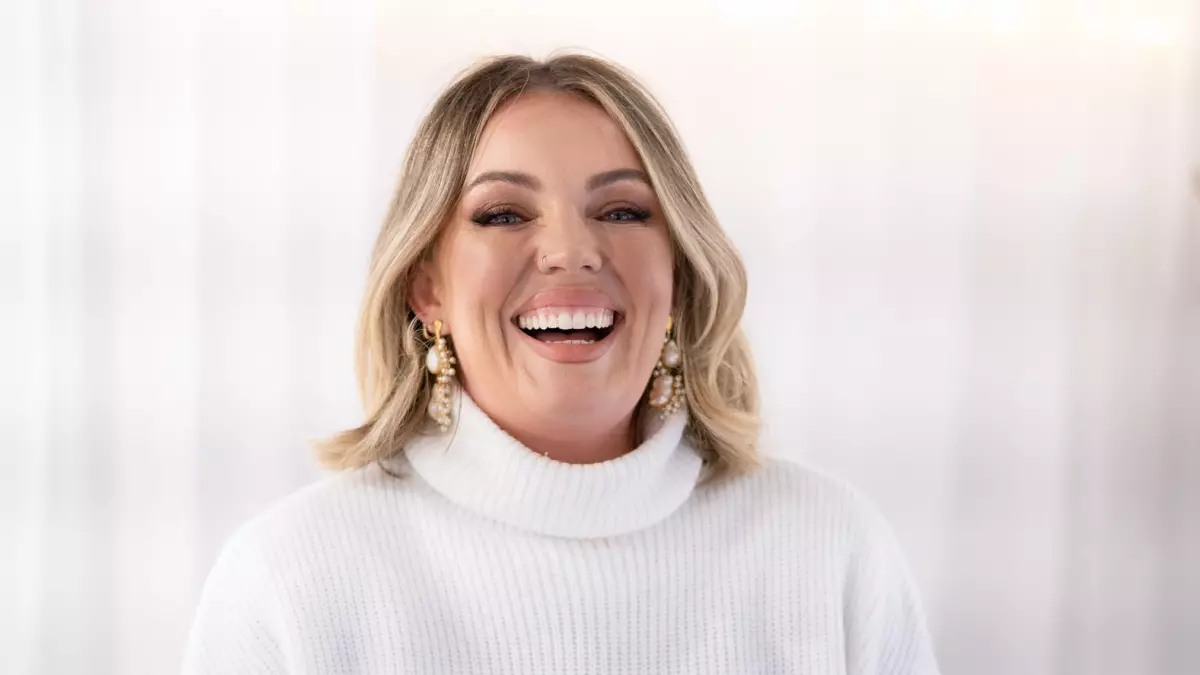 There's a revolution happening in the makeup bags of thousands of Aussie women and it's all thanks to Hilary Holmes. After decades of decorating the faces of some of the nation's most high-profile women, the makeup artist saw a huge gap in the market for products that don't patronise the customer and instead, celebrate them.
The mother of two, who also runs online masterclasses to share her best tips and tricks, wanted to create a beauty brand that empowers women to feel fabulous, glowy and gorgeous in their skin. 
Last year, her cult primer flew off the shelves with many dubbing the hardworking product — which can be worn on its own, or as a base — 'golden hour in a tube'. Even better is the fact that it was created especially with pregnant mamas in mind. It's vegan, fragrant, and nasties-free, while packed with nourishing ingredients that work on strengthening the skin barrier function to reduce inflammation and reactions.
Now, the Geelong-based entrepreneur has launched two more cult products — the Holme Beauty Highlighter and the Holme Beauty Setting Spray. Not surprisingly, they're being added to cart quicker than you can say glow get 'em!
Here, Hilary chats to us about why her products are flying off the shelves, the best way to use them and why she's on a mission to reshape the beauty industry.
Why did you decide to launch the brand and why do you think it's resonating with so many Aussie women?
Because I am speaking to them like no one has spoken to them before. I started Home Beauty because I felt after all my work as a makeup artist and working in beauty retail, I saw huge gaps with women walking into any space hoping to be supported, empowered, seen, heard, and walking away feeling like they weren't good enough.
I think I stepped into the space of beauty as a makeup artist because I couldn't feel good enough. I used to weigh 135 kilos, I had a really tough upbringing so I saw just how little people were supported in feeling good about themselves and owning who they were. I wanted to create a brand that not only spoke in that message and wanted to show women that they could own all of who they were and I could provide amazing performance-based products. It's been a joy since I started it and it's going crazy. It's going amazing.
What's the best feedback that you've received so far?
I was just crying in the car after getting this message: "Hilary, just wanted to share with you a story about my daughter Hannah, who turned 13 last week. She's pure joy, all sass, smart, sensitive and has a wicked sense of humour. She has curves to die for, loves football and musical theatre and tells it exactly how it is. In a town where playing netball, being skinny, and acting quiet and compliant reign supreme, this has been a tough year for her. But a few months ago, through her drama production and some beautiful friends, she discovered makeup. she now spends most nights cross-legged in front of the mirror in her wearing trying new looks, YouTube and Tiktok tutorials going and mess everywhere and she's discovered you on Instagram, it has taught her about her own beauty, her ability to use her own body for fun. And that transforming herself should always be just for herself. So thank you so much."
I just received that five minutes before speaking to you. And I get that all the time. And it's not just for 10-year-olds, it's for 25-year-olds, it's for non-binary people. It's that 70-year-old woman. This is about speaking to individuals.
We love the fact that your primer is safe to use during pregnancy. Can you tell us about this formulation and why you had pregnant mamas front of mind?
Well, I formulated it when I was pregnant with my second child, my son, who is now two years old. So I had already had my daughter two years prior and I had really bad hyperemesis and I had really, really tough pregnancies. I felt so crap the entire time I was pregnant… I needed to create a product that you could just chuck it on in that moment of not having much time.
I wanted to create a product that could instantly uplift someone really quickly and they could feel really great. I feel like there was a really big gap with conscious, healthy products that are good performance products, too. We are vegan, we are fully cruelty-free, and everything that we do is very conscious in what we're formulating with.
But I always felt like as a makeup artist, I could never find those brands to stock in my kit because they just didn't perform the way that I wanted them to perform. So I wanted to do both. I wanted to as an actual consumer, as a mum, myself as a makeup artist, create a product that I knew would hit and touchpoint all of those facets and the primer exceeded all expectations.
What would your best tips for any pregnant mums to look after their skin, or any mamas who need to fake fresh skin after a bumpy night of sleep?
We age significantly when we start having children because there's so much pressure on our bodies. I'm currently in a deep two-year regression [with my son] and I'm getting an average of three hours of sleep a night, and there's only so much I can do with what I've got, right? And so I have to invest in other areas to make up for that.
I'm not going to allow life to tell me how to feel, I think it's really important to support the message of being like, I got given these cards, what am I going to do with this?
So, for me, I'm very much about backing myself. Our hashtag is #BackYourBeauty and I just have to wake up every day going, Right! How can I feel better today? How can I change this dynamic? How can I change this narrative that's going on? And for me, it's investing in skincare. I go and get treatments regularly on my body and my face.
I don't have any Botox currently in my face or any filler. I definitely advocate for anything that makes you feel good. And if it's done in a way that comes from a great place mentally. I'm very much about advocating owning who we are. I've used Botox for many years. I'm never going to say no to filler if I need it but for me, I'm a very big advocate for whatever feels good for you.
I have so many women sitting in my chair and a lot of them are women and mums. It's your choice of how you want to feel. And if you are feeling really yuck and deflated and tired — what are you doing about that?
I think any opportunity we can to feel good, go for it. Great skincare, great facials, good massage. Meditation is becoming an important part of my life that I have to constantly work on. We can do all the things in the world but if we don't feel good about ourselves and feel really grounded in who we are, then none of that matters, you know?
What would your ultimate skincare tip be for sleep-deprived mums?
You've got to understand what your skin type is. Go see a dermal therapist and ask what it is. Really investing in your skin by seeing a dermal therapist and that'll play a part in just how little makeup you have to wear.
You also need to make sure your skin's hydrated, and having hyaluronic acid in your routine is an absolute must!
Your recently-launched highlighters are going gangbusters. Can you explain to anyone who's not sure how to use a highlighter what the basics are?
I love the liquid highlighter, because you can mix it in with your moisturiser to give you more glow, you can mix it in with your foundation to make it more glowy and bring it down a little bit in terms of coverage. I love to use it underneath foundation or concealer if I want more of a lighter ambience, but they are designed to be used on top of your cheekbones and the high points of your face.
But because they are a water base means they dry down, which is why I design them because a lot of liquid highlighters don't last on your face. You know a lot of people like using oil or use, you know, use this really glowing glossy thing. That's great. But in the real world, we're wearing sunglasses, we're kissing people's faces, we're moving around without kids rubbing our faces – they aren't going to last. I wanted to do something that was really gorgeous and glossy looking. And it looked like a liquid but it held really tight.
The response from people is amazing. People are just obsessed with it!
What does your day-to-day look like with two little kids and this enormous business?
I have a phenomenal partner; I have a husband who is very much a co-parent. But more than that, he probably does a bit more of the things around the house because he works from home and, and he has that ability.
We're really in the thick of it at the moment, we don't have people to look after our kids if we need it. We have to just battle through and it's hard.
My husband works full-time and is very successful in his career. And it's hard, I'm not gonna lie. I wish I could do things better. But I was listening to an amazing speech the other day of a woman who's very successful, and she said: "If you're thriving in one area, you're probably failing in the rest." And I'm okay with that. My house is a mess. And the clothes haven't been put away for quite literally months, I'm working off a pile on the floor.
And that's just how I function and could it be better? Absolutely. But I'm doing what I can do. And I'm meeting the needs of my children. I'm not necessarily meeting my own needs, but I'm working on it. And we're just getting through. So each day is a learning lesson. And each day is a new day. So we just want to take it one day at a time.
Thank you for saying that! I think it's so easy to think that everybody else is nailing it in every aspect of their life. But like you say, if you're gonna pour your attention into one thing, something else just naturally has to fall by the wayside because you can't do all of the things.
You can't! Someone said this to me yesterday: "You can do anything, but you can't do everything."
And you know, I'm going for it! I'm going for this, I'm really passionate about what I'm doing. I want to make sure that my son and my daughter never have to exist in a world of being told that they're not worthy.
It sounds like leaving behind a powerful legacy is really important to you.
Legacy is really important to me, I think I've been from a long lineage of people who didn't leave much good behind. And for me, I find if I've got to break that, that generational cycle of abuse, trauma and alcoholism, all of the addictions, then I'm in I'm going to do it because if my daughter knows that she hasn't been impacted a night, and I was the one that stopped it I know that her life is going to lead to a whole lot fuller and for me.
I'm really proud of so many people in our generation because I think that a lot of us are saying enough's enough. And we don't want to continue this cycle. And if we think that I mean, I think it'd be really naive to think that no one would be impacted by what we've had to be handed we're all impacted as women were impacted every second of every day of what's happened before us and in beauty and as moms and we have to take now to leave legacies, their opportunity to say, what can I do to positively impact those around me and a lot of what we do at home beauty is the message and those get aligned to our people who are using their platforms and their voices to create positive social change.
That's something that's really important to me. I don't want to align with people that are just mooching off others or monetizing themselves off others. I'm pretty non-unapologetic about my beliefs around that. I'm here to support those that are even those that are pushing against the grain so much that people judge them for that if their ultimate goal is to create that change that we need to see. I will support them wholeheartedly and I'm one of those people that will have to take the heat if doesn't align with everyone that's okay but I'm so excited to get to leave that legacy behind
What would your advice be to any other women or mothers who have an amazing idea but are too scared to launch it into the world?
I mean, I'm your hype girl! DM me please because the world needs more phenomenal, strong women and there is no one more strong and more phenomenal than a mother.
Just give it a bloody go! I did a shoot in the Maldives recently for the setting spray and I couldn't afford a model so I modelled! I'm a size 16/18, I was 10 kilos heavier at the time, and my thighs have got a lot of excess skin. I shouted to myself saying I have to own what this is right now! And I'm going to put that out in the world, whatever that is because what I'm trying to do is so much greater than myself.
And so if a woman or anyone has a business idea, or they know that there's something that the world needs from them, they need to back themself, because no one is going to hand it to them.
And I am a big believer that we have one life. We have one day, we have one minute and one hour. What are we doing with that? And I think it's a whole lot of life to be lived in just getting uncomfortable and putting yourself out there as opposed to sitting in a regressed state, hoping that things will get better. I think getting uncomfortable and putting yourself in uncomfortable situations is where growth happens.
What does success look like to you?
Success is a hot mess! Success is authenticity. Success is knowing that you are truly living your real life and you're not living the life of someone else… Not living up to other people's expectations or values. It's about living wholeheartedly as yourself. Success is really about spending your life choosing to back yourself and own all of who you are. That's success to me.
Related Articles
Samantha Brett is educating the next generation about skin cancer prevention, one book at a time
How mother's group landed Beatrice Roy and Jessie Crockford not only a friendship but a business
"All we've got is this moment!" Osher Günsberg on the biggest lesson his son Wolfie has taught him