Behind the brand: When two best friends make baby carrier magic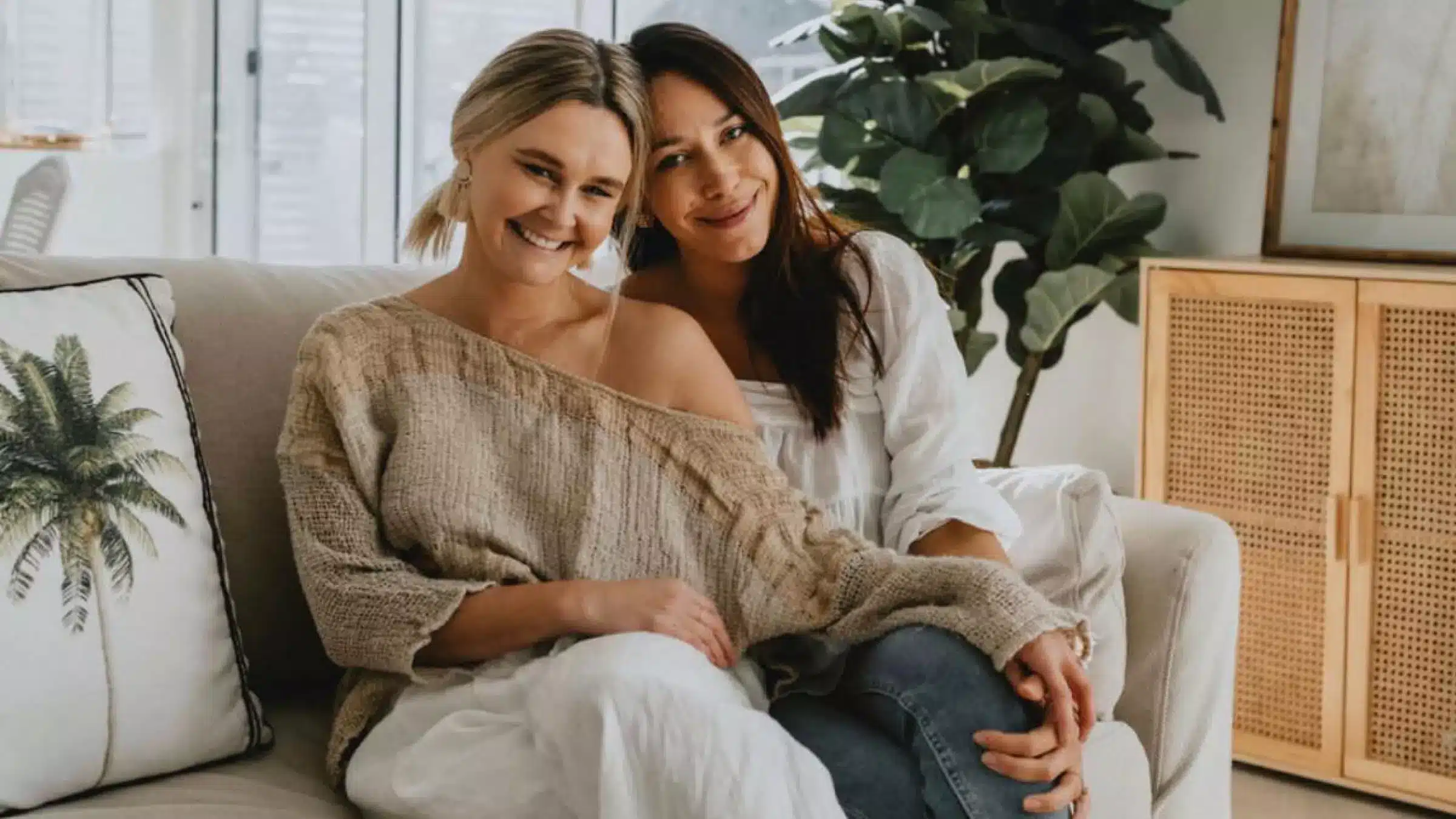 When childhood best friends Alexandra Caisey and Chantelle Lewis became mothers, they noticed a gap in the baby carrier market. Sure, there was a whole range of functional carriers out there, but where were the fashionable ones?
"We wanted to feel more like 'us' again and felt a lot of the carriers on the market made us feel frumpy and didn't have the functions you need with a growing family," the Sydney-based business owners explain of their lightbulb moment when they dreamt up their business idea four years ago.
Enter Sia baby — comfortable, functional, and stylish baby carriers made from luxurious linen. With three hand-illustrated and gender-neutral prints, Sia baby is the ultimate babywearing accessory for the fashion-forward mum or dad. Because who said we can't look good while soothing our unsettled newborns to sleep?
With three daughters between them, Chantelle and Alex know exactly what a busy parent on the go needs and the Sia baby carriers boast a slew of game-changing features, including easy-access pockets for all your essentials (think nappies, wipes, phone), a baby bottle holder, and multiple ergonomic wearing positions.
We caught up with the ladies from Sia baby to talk about their stunning line of carriers, what they've learnt along the way, and their top tips for starting a business.
How did the idea for Sia Baby come to life?
The idea came to life from raising our girls. We both had a strong connection to babywearing, and wanting to keep our babies close and safe. We also needed to be hands-free so that we could enjoy life — particularly while juggling a toddler and a newborn! Special toddler moments like ballet lessons and teaching your little one to ride a bike are so much easier when you don't have your hands full.
We wanted to create a baby carrier that was premium and luxurious but was still accessible to parents.
It's one thing to think of a product but another thing entirely to actually make it real. There are so many elements to launching a business. Can you talk us through the timeline and process?
The great thing about our brand is that we are our customers. We came to the table with first-hand experiences of what it is like to try and conceive, be pregnant, and have newborns and toddlers. The journey to motherhood is a lot like the journey to launching a business! We knew it was going to take time and patience, but the result would be something we would be so proud of.
From our initial brainstorming, it was a good four-year process to get to market. Once our maternity leaves ended, we became even more time-poor as we went straight back into our nine-to-five jobs.
The idea of the design was definitely the first thing we had, but bringing that to life took lots of prototypes, fabric samples, and good old-fashioned whiteboard sessions. We knew our carrier needed to have world-class features, but it also had to be safe for growing families — so we worked closely with our manufacturer to make sure we were only using the safest eco-friendly dyeing technologies on our prints and that the carrier supported multiple ergonomic wearing positions, and then eventually was approved by the International Hip Dysplasia Institute.
In terms of branding, we knew how important it was to create strong eminence and storytelling for our audience. When we first launched our Instagram page, we were very clear in communicating that Sia baby was about delivering something that was quality (all carriers are made from 100% pure organic linen) and served a genuine need. From a business planning perspective, we created brand guidelines to keep us honest and on track.
The name behind Sia baby is very sentimental. Tell us about how you landed on that?
Well, it's our babies, our world — Siána-Rose, Isla, and Arlia-Mae. Our girls are everything that made us the people we are today and the mums we were when we developed our first product. Sia baby is a family business, so our name needed to reflect that.
Having a brand with strong ethics is at the core of your business, what kind of initiatives are you implementing to carry this out?
We are committed to building a brand that will contribute to a healthier, happier planet for our children's future. Because of this, we have partnered with i=Change, a revolutionary social movement that uses a donation from your Sia baby purchase to make an impact in our local community. From sustainability projects to help children in need — we wanted to make sure our customers could purchase with a purpose.
To ensure we reduce pollution and our contribution to wastewater discharges, our eco-friendly dyeing technology also meets a global set of environmental standards (STANDARD 100 by OEKO-TEX®).
Can you tell us about the collection and the stunning designs by illustrator Erin Donati?
Being a female-led business is something that we are really passionate about, and it was important for us to extend this throughout all elements of our business. As soon as we had perfected our carrier designer, we connected with Erin to help bring the unique vision to life.
Being a mum and having a creative background in fashion and all things handwritten, we knew pretty quickly that Erin was the perfect fit for Sia baby.
Erin's hand-illustrated designs are very special to us and speak to our experiences during motherhood and our family lifestyle.
SAND: The arch layers symbolise rainbows — beauty after rain, the calm after a storm. Rainbows hold special meaning in the parent community; they symbolise hope and of course rainbow babies.
BOTANICAL: The botanical print represents the layers of life coupled with the rawness of nature. It is soft and tonal, with hand-illustrated designs. The earthy and raw pattern is perfect for that eco-loving family.
GINGHAM: Our Gingham carrier is a modern twist on a classic print. Hand-painted, the gingham brushwork is playful and sweet, making this carrier timeless.
Let's talk about some of the genius features the carriers have including THE POCKETS! Like seriously, where have they been all our life?!
We know, right? We don't know how parents are getting around without them. We always felt like we were carrying way too many items. If it wasn't for our baby girls, it was for the toddler.
The pockets gave us a place for either bub's or toddler's bottle and the front pocket is the perfect size for a nappy and a small bag of wipes (this is hoping they only have one change). The easy release and access system was also a must for us. It allowed us to transfer the babies into their cots once we were successful in getting them to sleep.
What was the process like to get the carriers approved by The International Hip Dysplasia Institute (IHDI) as a hip-healthy product?
It was essential to our brand (and for our customers) to be approved as a hip-healthy product. The international approval and recognition gives parents security in knowing they are purchasing a product that's been tried and tested and is safe for their baby's hip development.
To be approved by the IHDI, your carrier needs to support the baby in the natural M-position, promoting "healthy hips" — we are so proud of this acknowledgment!
You two are best friends in real life, what's it been like working together?
AMAZING! We wouldn't want to do this with anyone else. Initially, we did a personality quiz to find out our different working styles and strengths. This helped set the tone for roles and responsibilities, but it just affirmed things we already knew.
We very much have our lanes but we also have many lanes that we share. We love it when we need to do things together, mainly because it never feels like work. Our friendship (which is more like family) was and still is the most important thing to us.
Have you learnt anything new about each other?
We don't know if we should say 'new' but we certainly now see different layers of each other's make-up. We are both hard workers and dedicated people individually; but working together, we have proven we really do compliment each other. We have also become experts in reading each other's body language and cues!
The juggle struggle is something all parents relate to. How do you both navigate launching your own business on top of your actual day jobs, young children, and a pregnancy?
With lots of love. We are both very special to each other and I think when you can openly talk to your business partner about life and the juggles, it makes it easier. One week, one of us might be out of action because of LIFE (not to mention toddler daycare bugs); the next week, it could be the other.
It's special because you don't even need to ask; we just know the other will hold the fort. Also, we have a lot of love from our husbands who are our biggest supporters.
What's the feedback on the product been like so far?
The feedback has been overwhelmingly positive. We have been so humbled by the love and support. Our hand-illustrated neutral prints have captured the hearts of so many parents (especially our Sand) and the modern functionality of our features has allowed our parents to be hands-free enjoying moments with their family and their newborn.
What's been the biggest highlight since you launched?
Ummm….being featured in VOGUE Australia's gift guide! An absolute pinch-me moment.
What's been the biggest challenge?
As all parents will agree, being time-poor is one of the biggest challenges. Throw in working full-time and trying to develop and launch a business during COVID — we had to keep each other motivated and on track to persevere with our dream.
It was crucial to our success that we created a product that actually delivered on what we said it would, too. The product development stage took what felt like forever; but in hindsight, we absolutely did the right thing in taking our time and not rushing the process.
Being a new brand on the market, we didn't have anywhere to hide and didn't have the heritage to leverage off. We had to make a splash and make sure it was perfect when we did.
What would you say to any other women out there thinking about starting their own business but are too scared to?
Our key takeaways would be:
Research, research, and more research — you want to eliminate as much risk as possible.
Don't be afraid to reach out to people who have started their businesses, for advice and guidance. We had countless meetings with friends and acquaintances — anyone who was willing to chat with us.
Have a contingency plan and wiggle room with timelines and buffers in your budgets.
Try not to get too emotional — keep focused, keep positive on the goal, and always look for ways to problem-solve.
If you are going into business with someone, make sure you have a strong foundation from the beginning so there are no surprises along the way.
But most importantly, if you will always wonder "what if?" then you should jump in, take your time, and give it a go.
What's coming up next for Sia baby?
We are so excited to be expanding our collection and are currently working with the lovely Erin to create two new timeless, elegant, and gender-neutral prints for our range.
Where do you see your business in five years?
We see Sia baby being an international brand that designs products of convenience, comfort, and functionality to support parents and our growing families.
What do you love most about what you do?
It's simple — we get to do this together! Plus, our husbands love that our families get to spend even more time together. We feel very lucky.
Related Articles
Behind the Brand | Boody with Shaun Greenblo
Tips for deciding which baby carrier, wrap or sling to use
The big-ticket baby items: What do you actually need?