Samantha Brett is educating the next generation about skin cancer prevention, one book at a time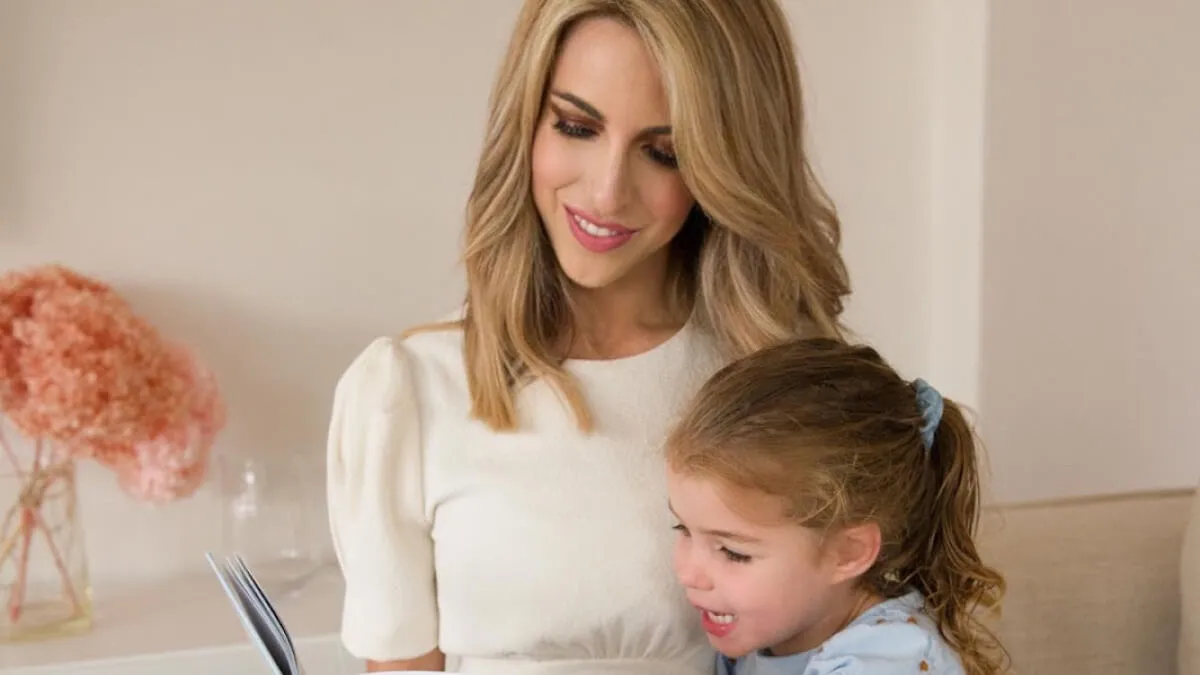 Getting our little ones to put on sunscreen can be SUCH a battle! The tears, the tantrums, the negotiations. It's enough to make you not leave the house and skip the beach altogether.
It can be hard to explain to very young children just how important applying sunscreen is — there's no way they can fully comprehend why Australia is more at risk of harsher UV rays as a result of the reduction in the ozone layer. We can just imagine their stunned faces if we even attempted to explain it to them. 
So that's where author Samantha Brett steps in. The media personality and founder of cult SPF skincare label Naked Sundays has armed parents with the ultimate weapon to shield their little ones from the harsh Aussie sun. Inspired by her young daughter's reluctance to wear sunscreen, Sam launched her book The Magic Sunscreen book to teach children about the importance of sun safety.
"Like many parents, I struggled with getting my five-year-old daughter to wear sunscreen every day," the author explains.
"The Magic Sunscreen was written to teach little ones fun and positive lifelong habits to protect them from the sun."
Melanoma is estimated to become the third most commonly diagnosed cancer in 2022. As the most common cancer affecting young Australians aged 15-39, there is a greater than ever need to teach skin cancer preventative measures to children from a young age. UV damage acquired during childhood and adolescence is strongly associated with an increased risk of skin cancer later in life.
"Going into summer we need to have constant conversations with our kids about why they must be sun smart starting with wearing hats and applying sunscreen," says Samantha. "We are an outdoor-loving nation, but the fact is the UV index is incredibly high in Australia. Unless we're actively educating kids on how to protect their skin, they're at risk of UV damage just by enjoying themselves outside."
She's now on a mission to prevent skin cancer in the next generation one book at a time.
"Learning about sun safety is important, but that doesn't mean we can't approach it in a fun and age-appropriate way," says Samantha. "I read The Magic Sunscreen to my daughter every single day and soon enough, she actually wanted to wear sunscreen and now even puts it on by herself!"
Kiindred sat down with the bestselling author to chat about her book and her best sun-safety tips for kids as we head into summer.
This book was inspired by your daughter, what does she think about it?
Harper absolutely loves the book and honestly thinks sunscreen is so much fun now. For young kids, they need putting on sunscreen to be fun, colourful and see their friends doing it too even to be remotely interested in it.
How long after reading the book to her did you notice a change in her behaviour and an acceptance of putting sunscreen on?
I actually created an SPF mineral stick for her to try when I started creating my sunscreen brand, Naked Sundays. She was always trying our new sunscreens and I very quickly got to learn what she liked and what she didn't. I based the book around her thoughts on sunscreen so I think by the time we got to the book, she was already putting it on herself every morning!
Trying to get suncream on our kids can be such a battle, especially living in Australia it's something we can't skip. What are some of the strategies you've used to try to get suncream on your little one?
I love sunscreen sticks for kids, so I've created one. I think colourful packaging is key too, and something that isn't white or sticky, and doesn't smell like sunscreen… no easy feat!
I also love mineral sunscreens for kids because it is gentle on their skin and won't sting their eyes. We also have cute stickers that kids can decorate their sunscreens with – anything to make it entertaining!
Education around skin cancer for the next generation is certainly progressing (especially with resources like yours!) what was it like when you were growing up?
I think growing up we were all aware of the "slip slop slap" campaigns, but the government really struggled to make sunscreen something that was cool and fun. It was just such a boring category and felt like such a chore. Plus it was messy, white, sticky and not easy to put on.
What's the feedback on The Magic Sunscreen been like?
We've been getting incredible feedback about the conversation around sunscreen being started up within families. But I think it's then up to the parents to continue that conversation by introducing an SPF their kids will love and then encouraging everyday use.
You're the proud owner of cult sunscreen product Naked Sundays, so what do you look for when you're buying kid's sunscreen and what are your go-to sunscreen products for kids?
I always look for mineral sunscreen with no fragrance and something as natural as possible. I also look for ease of application — a sunscreen stick is so easy because kids can apply it themselves and they don't have to rub it in.
What other sun safety accessories do you love for your daughter?
We are definitely into long-sleeve swimming costumes and high necks, swimming hats, sunglasses and lots of sunscreen!
What advice would you give to other parents struggling to get sunscreen on their kids?
If you can get them to start doing it as a daily habit and making it fun with cool packaging and enticing colours, that helps!
You've raised over $10K for the Melanoma Institute with Naked Sunday's hugely successful "Give Melanoma the Cold Shoulder" campaign – you must be so proud of this achievement.
We really love doing campaigns that give back to the community. Despite melanoma being so prevalent in Australia, it's still underfunded and anything we can do to help, we try and be a part of.
Where to next in your mission to fight skin cancer?
We are continuing to make sure that everyone can love sunscreen by making it as cool and fun as possible. Whether it's through books or our charity events, or new products that are colourful and easy to apply.
To buy a copy of The Magic Sunscreen, head here!
Related Articles
Tips for planning a constructive holiday for your kids
Body safety education: Starting them early
The 4 things you need to know about treating babies for burns and scalds