How to plan your kids' birthday party at home
2020 has drastically changed the way we celebrate. But if this year has taught us anything, it's that the show must go on, even if that means staying indoors. We still need to celebrate the milestones, both big and small, but now it's about finding new ways to do it.

So if you're upset your little one won't get the birthday party they (or you) had hoped, we've got some fun DIY ideas, from decorations to games for kids of all ages and for all budgets that will help you throw the ultimate celebration at home.
Host a virtual party
Where you live and what your current level of restrictions are will determine exactly what you can and can't do. But if you are in full lockdown or are restricted by numbers why not host a virtual party using Facetime, Zoom or Google Hangouts. This will help keep things inexpensive, just buy a few small decorations for your backdrop (or even just superimpose them and cut costs right back!), play some fun music and have everyone sing happy birthday while your little one blows out their candles.
You can even plan ahead and organise a game that the kids can play over Zoom, and send a little party-pack ahead of time with toys or props.
Quality over quantity when it comes to guests
You might not be able to invite everyone you had hoped, so stick with quality over quantity when it comes to the guest list. Be upfront and tell parents that (depending on their age) they won't be able to stay or if they are small, only one parent will be able to attend. Remember that even though you won't be able to have a lot of people, this will give you more money to spend on other things.
Budget
Once you have your guest list sorted you need to work out your budget and from there everything will fall into place. Budget will determine what type of party you throw and where you will allocate the money. Ask yourself what you really want, what is negotiable, and what you can do without and work from there. Remember that if you have fewer guests there are fewer mouths to feed – and opting for canapes or finger food as opposed to a full meal will also cut costs. And then that means more money to allocate to the fun stuff like decorations or entertainment.
Pick a fun theme
Whether you're hosting people in person or over Zoom, you can go all out on a fun theme. Nothing makes it feel like a party like decorations and you can go all big or as small as you like. A few balloons and streamers will work a treat, but you can also go more specific with your little one's interests with space, circus, princess, unicorn, race car, train or any theme you can think of. And these days you can order everything online so you don't even have to leave your house and you can still create a masterpiece.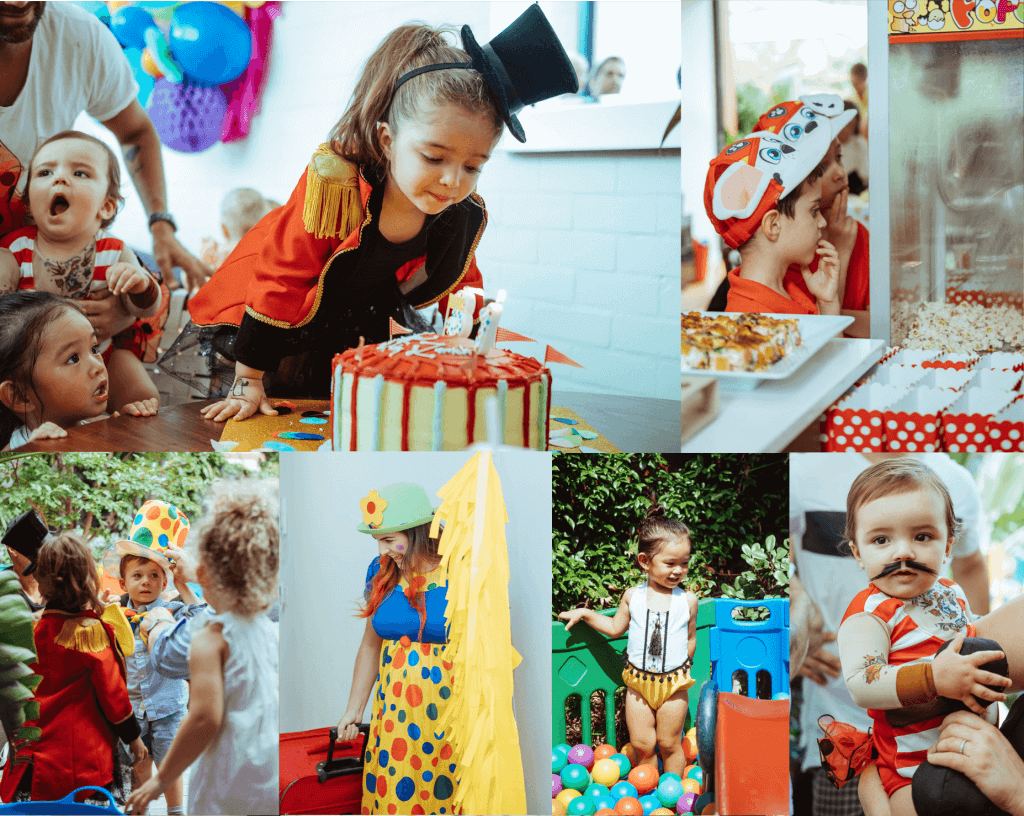 Plan an activity or entertainment
When you're hosting a party at home, one of your biggest concerns might be how you are going to keep the kids entertained and not destroying your house. Whether you have the budget to hire an entertainer or face painting or get creative and think about what you can organise yourself. Set up activity or art and craft stations, music and dancing or a scavenger hunt or even set up a projector in the back yard with some bean bags and big cushions and make it a movie day.
Games
Don't stress about googling the latest and greatest party games, think old school games like musical chairs, duck, duck goose or pass the parcel. It doesn't have to be fancy but kids will love it. You may not even have to pull out the games, but it can be good to have a plan on hand in case the kids start to go a little wild and need a little direction.
Food
When it comes to food you can be as extravagant or as low-key as you like. But having a party at home means you don't have to pay for a venue and might have a little more money to spend on catering. Outsourcing the food is a great idea to save time, stress and not to mention cleaning.
But you also don't have to think too big, bring it back to basics – set up a picnic for the kids to sit and eat, they will love that. Or a big grazing board or table, kids love when they can help themselves so keep healthy/age-appropriate snacks with easy access and let them DIY it.
Just remember to keep the sugary treats to a minimum – or at least the ones they can reach themselves. Have fun with some yummy options but also provide a mix of healthy snacks to balance out those sugar highs.
The cake
Cakes are really a personal choice; some parents are adamant about making their own cake and some want the most Insta-worthy masterpiece money can buy. But take into consideration how many people are coming and weigh up budgets and wastage. But remember if you love the idea of a big special cake for your little one and you only have a handful of people (or a Zoom party) just do it anyway – you can always do a walk around and offer your neighbours some leftovers (just remember not to blow out the candles if you do!)
And on the other hand, if the budget doesn't allow, pick your child's favourite flavour packet mix (or premade one) and guaranteed they'll love it just as much.
Gifting
Remember that kids are very easily pleased when it comes to goodie bags, so going back to basics with a lollypop or fun-size chocolate and some bubbles or stickers (just remember to keep it age-appropriate and no choking hazards). Most parents won't appreciate a bag full of sugary treats after their kid has probably gorged themselves already so you don't need to go overboard. Something to distract them enough to help their parents get them out of the party and in the car.
If you do want to go a little fancy – think about your theme and work to that, or something chic like M&Ms in a little jar or themed sugar cookies, or depending on the kids' age you could forgo treats for a donation to a charity or a little tree to plant.
When all is said and done, celebrating a milestone or birthday at home can be just as special – if not more – than a big party. Making memories in your own home, surrounded by your nearest and dearest will be what your children remember.
Related articles
Party favours
7 Timeless Birthday Party Themes for 2020
Wildlife Sydney Zoo – Gruffalo Birthday Party