Game On: Making the most of screen time for children through educational games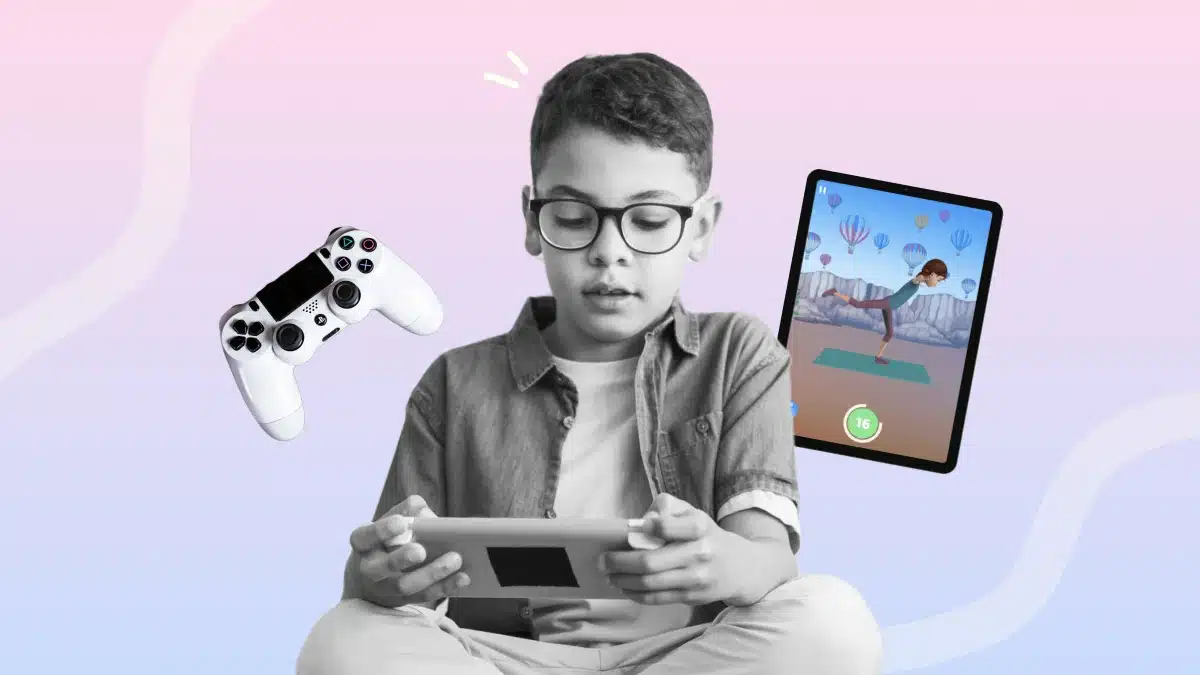 Ah, online media, our constant frenemy! As parents, we love to hate it and hate to love it. One minute, we're scrolling through Instagram, admiring pictures of our friends' children and the next, we're tearing our hair out trying to protect our own little ones from the evils of the internet.
It's a bit of a rollercoaster ride – we love the convenience of being able to connect with others and get the latest news, but we hate the fact that we have to be constantly vigilant about what our kids are watching, reading, and interacting with.
However you feel about it, online media is here to stay, so we might as well put it to some good use. Why not use it to educate our five-year-olds? After all, they're growing up in a digital age, and it's important that they learn how to navigate the online world safely and responsibly.
Just remember, the internet is like a box of chocolates, you never know what you're going to get. But with some careful monitoring, we can make sure our kids get only the good stuff!
Benefits of online educational learning games
As a parent, I know firsthand the importance of keeping our little ones entertained and educated at the same time. That's why I'm a big advocate for online educational learning games for 5-year-olds. Not only do they provide a fun way to learn new skills, but they also offer a range of benefits that can help our children thrive. For a start they:
Improve hand-eye coordination and fine motor skills
Help kids learn important academic concepts in an interactive and engaging way
Keep kids occupied and entertained
Provide a fun way to learn new skills
Help kids thrive and develop to their full potential
And let's just point to the elephant in the room, it allows parents to get things done while kids are engaged in learning. I can see a guilty nod. Don't worry, yours truly is guilty of it too. But of course, the key is in moderation, keeping things balanced. That means making sure your little ones are getting plenty of outdoor playtimes, reading, and creative play too. That way, they'll be soaking up knowledge and skills like a sponge while keeping their bodies and brains healthy.
Things to consider when choosing online games for Kids
If you're on the hunt for the perfect educational game for your 5-year-old, the first thing you need to do is consider their interests. Are they all about animals? Do they go gaga for space? Maybe they're into puzzles and challenges? Once you've got that down, you're well on your way to finding an online game that will tickle their fancy and keep them engaged.
The top online educational learning games for 5-year-olds
With the mission in check, I would like to recommend the following as one of the best online educational games for 5-year-olds that strike a balance between fun and learning.
MentalUP
It's called MentalUP, and let me tell you, it's the real deal. This educational platform has it all, from games to exercises that help little ones develop their skills. My child can't get enough of the Design Game, which lets them create their own playground and flex their creative muscles. Not only does it spark their imagination, but it also teaches them how to plan and execute their ideas. So, if you're looking for an online game that's both fun and beneficial, MentalUP should be at the top of your list!
ABCya
I've also got another ace up my sleeve and it's called ABCya. It's basically a goldmine of fun and educational games. They've got a whole section dedicated to kindergarten-level games that cover everything from math to reading and problem-solving. Their online colouring game is the perfect way to unleash your little one's inner artist while also working on their hand-eye coordination and colour recognition skills. They have many highly recommended games, which help kids develop their vocabulary by encouraging them to create word associations and identify similarities and differences between words. And if you're looking for a game that promotes logical thinking and spatial reasoning, their shape patterns game is a fantastic option. Overall, ABCya is an excellent resource for parents and educators who want to make learning fun and engaging for young children.
But wait, there's more…
When it comes to online educational games, there are endless options available. However, not all of them are created equal. Here are a few more games that I've found to be particularly engaging and educational for 5-year-olds:
Turtle Diary – This website offers a range of games covering topics like math, science, and reading. One game that my child loves is called "Alphabet Cloud." It challenges kids to pop bubbles with the correct letter on them, helping them to improve their letter recognition skills.
SplashLearn – This website offers a variety of games and activities that cover essential math and reading skills. Their game "Shape Match" is a fun way for kids to learn about different shapes and how they fit together. You won't believe how amazing this website is! It offers an incredible amount of customisation options that are tailored specifically to your child's needs. It's like having a personal designer just for your little one's online experience.
Hop into the fun with your 5-year-old
Have you ever considered playing online games with your kids? Not only is it an excellent way to spend quality time together, but it can also be a fantastic opportunity to bond and learn together! It is not only an excellent way to connect with them, especially if you have a busy schedule but also helps you understand their interests better and can even improve their cognitive and problem-solving skills. Imagine sharing laughs, challenges, and victories as you navigate through various online games with your little ones. You'll be surprised at how much you can learn from each other and how much fun you can have while doing it.
So there you have it. These games can help young children develop important skills like problem-solving, critical thinking, and even early literacy and numeracy skills.
As a parent, it's important to remember that screen time should be balanced with other activities like outdoor play, reading, and creative play. By incorporating a mix of different activities into your child's day, you can ensure that they are getting the most out of their learning experiences while also fostering a healthy and well-rounded lifestyle. So go ahead and make an exception to screen time with these online educational learning games – just remember to keep it balanced and fun!
Related Articles
Screen time and your children: What every parent needs to know
5 Entertainment ideas for preschoolers to replace screen time
How to nail digital age parenting and keep your tweens safe online