Heading to the Sydney Royal Easter Show? Here's your guide to loving it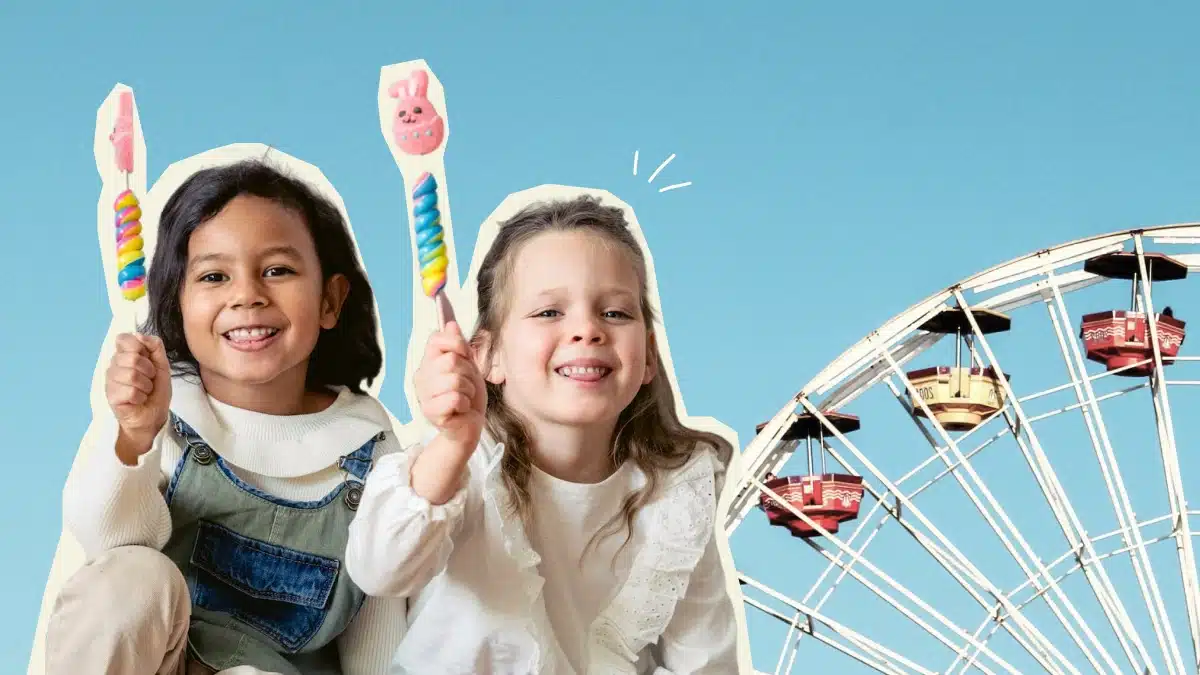 If you're a parent who is trying to psych themselves up for the chaotic fun that a family trip to the Easter Show can be, you're in the right place.
The Sydney Royal Easter Show is a staple of the school holidays and a firm favourite with kids who can't wait to eat their body weight in fairy floss, spend their pocket money on show bags and put their bravery to the test on the rides.
For parents, it can be an exhausting day of waiting in lines, dealing with meltdowns and patiently trying to explain why eating three hot dogs prior to going on the Gravitron is a (really) bad idea.
So, if you're heading to the Easter Show this year, here's what you need to know about the event and how to make it a day to remember.
When is the Sydney Royal Easter Show on?
The Sydney Royal Easter Show will take place from April 6 until April 17, 2023.
Where is Sydney Royal Easter Show on?
The Show is held at Sydney Showground at Sydney Olympic Park in Homebush.
How much are tickets to the Easter Show?
A family ticket to the Easter Show (2 adults and 2 kids) is $126.00, but you can save $20 by purchasing them before 11:59pm, April 5th, 2023.
Discounted rates apply for seniors and people with disabilities.
Tickets for the show are only available through Ticketmaster.
How do I get to the Sydney Royal Easter Show?
The show easily is accessible via train, bus and ferries. Your ticket to the Show includes entry and return travel on public transport.
If you do choose to drive, it is highly recommended that you pre-book your parking space in order to avoid disappointment.
Is the Easter Show accessible for people with physical disabilities or mobility issues?
The Sydney Showground has been designed so that everyone can enjoy the show. All temporary structures at Sydney Showground are also compliant with Federal Disability Discrimination Act (DDA), the NSW Anti-Discrimination Act (ADA), and the relevant Australian Standards including National Construction Code Series (NCC) and AS 1428 Design for Access and Mobility.
This ensures that inclusions such as compliant ramps, height of serving counters and full accessibility to the space is across the whole site.
What is there to see at the Easter Show?
Too much to list! Agricultural displays, hands on animal experiences, rides, show bags, dog sports, woodchopping, competitions, live music – you name it, there is something for everyone in the family.
Okay, so now you've got all of the basics under your belt, here are some tips on how to actually survive the day with your sanity (somewhat) in tact.
Plan ahead
You can make your day run smooter by signing up to My Show, which enables you to bookmark your favourite attractions, create a personalised itinerary and just generally plan your day in advance. This can help to manage expectations on the day so that everyone can hopefully see and do the things they are excited for.
Pack snacks!
There are loads of food options at the Easter Show – from burgers to bbq to various fried delicacies that are served on a stick. However, if you're looking to save time queuing in the lines everytime your child is hungry (and save some cash too) pack some healthy snacks for the day.
Prepare for the elements
This is a bit of a no-brainer but come prepared with hats, sunscreen and water so you don't find yourselves dehydrated after standing in line for an hour for the dodgem cars.
Wear comfortable shoes
You're going to be walking around and waiting in line a lot. So, make sure your footwear is up to the test!
Pack light
Again, you're going to be walking around all day so you don't want to be weighed down with unnecessary bags and possessions. Try to only pack the essentials for the day (easier said than done when you have kids!), but if you find yourself feeling bogged down, there are lockers to hire on site.
And speaking of bags, here's a pro-tip: Apple AirTags for the win! These little guys are so handy and can make finding lost property so much easier.
Prepare for stimulation overload
The Royal Easter Show is a wonderful array of sights, sounds and smells. Add to that adrenaline pumping rides and sugary treats at every turn and you are looking at sensory overload galore!
If you notice your child becoming overstimulated (for example, getting grouchy, aggressive or bursting into tears) try to find a quiet place where they can calm down – and remember to stay calm yourself.
Quiet Days and quiet areas
As we just mentioned, the Easter Show is a riot of things to see and do, which people with invisible disabilities may find to be challenging. If you or one of your family members would benefit from attending on a slightly quieter day, the Easter Show advises that the following are good options:
Thursday, 6 April, please note that there are School Excursions taking place on this day as part of the Sydney Royal Easter Show education program
Tuesday, 11 April
Wednesday, 12 April
Thursday, 13 April
Monday, 17 April, please note that it's Kids' Day and 2 for 1 rides whilst most traffic is in the carnivals it's good to keep this in mind, Person With Disability (PWD) tickets are also 50% off on this day
Additionally, there are quieter areas of the show including:
A Quiet Room is located at the Members Entrance gate on Showground Road, near Sydney Olympic Park train station
The Arts & Crafts Pavilion is a quiet zone with locations for taking a seat or viewing the gallery
The Paddock with wide-open green spaces to relax is a fantastic place to find the shade of a tree to have a picnic
On the corner of Hawkesbury Street and New England Ave, opposite the horse office are some picnic tables and you can watch the horses relaxing
For more information on the Sydney Royal Easter Show 2023, head to the official website.
Related Articles
Wondering what to do during Easter holidays? Look no further!
How to navigate Easter with your little one