What the TOG?! Understanding TOG ratings and layering for sleep in winter
Ensuring your little one is dressed properly for bed can be an art form. Are they too hot? Too cold? Are they comfortable enough? Because our babies aren't able to tell us how they're feeling, we have to do the guesswork for them and it's even harder in the cooler months to make sure you get the balance just right.
If they sleep through the night (can we get a hell yeah 👏), you'll do anything to try and recreate that magic. One of the key elements to making sure your baby has a solid slumber is how you dress them and the TOG ratings you use.
If you're blinking in confusion and wondering what the TOG we're on about, then keep reading as we break down everything you need to know about TOGs and dressing your baby for sleep in winter.
What is a TOG rating?
When you join the parent club, you're suddenly bombarded with acronyms and new words galore. It can be like learning a whole new language. One acronym you may have spotted on the tags on your little one's sleepwear is the word TOG with a number on it. 
TOG stands for Thermal Overall Grade and is a unit that measures the insulation and warmth of bedding and sleepwear. In a nutshell, the lower the TOG rating the lighter the fabric is. The higher the TOG rating, the more insulated it is to keep your bub warm and snug.
TOG ratings are crucial when it comes to keeping your child cosy in winter and cool in summer as babies can't regulate their body temperature like we can.
See below ergoPouch's TOG guide for reference: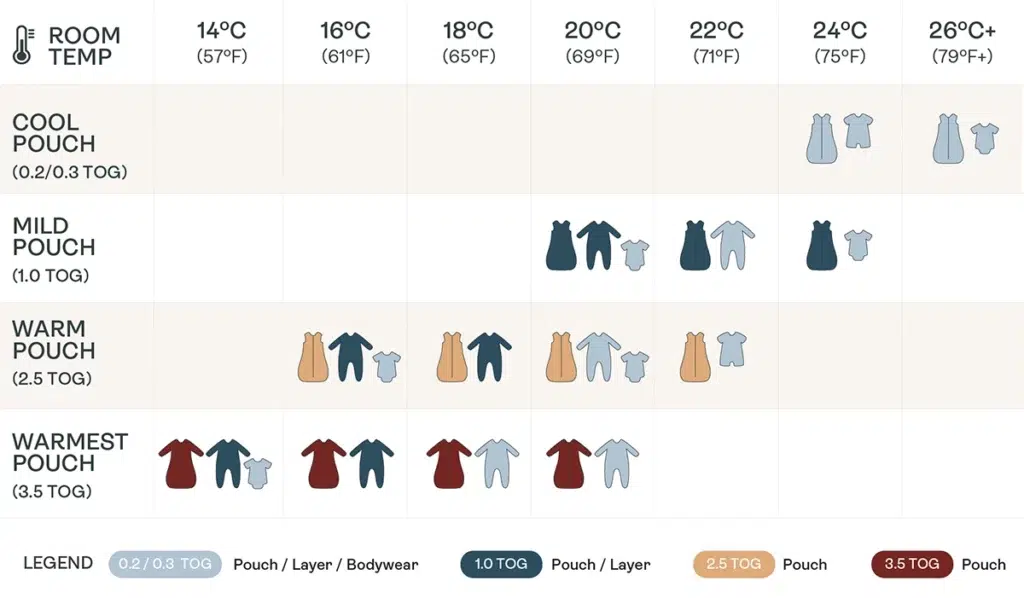 How to dress my baby for sleep in winter?
This will depend on a number of factors such as the temperature where you are, the airflow inside your house (if heating is available) and the type of clothing your baby is dressed in. How many layers your little one will need will really depend on your local climate, but the general rule of thumb is to dress them in one extra layer to what you would wear yourself. 
Get 10% off access to Mothercraft Nurse and baby whisperer – Chris Minogue
Use code 'EXPERT10' at checkout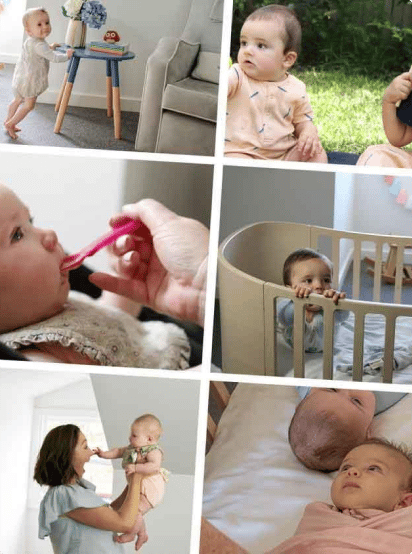 Chris Minogue
View Course
The ideal temperature for your baby's room is between 20 to 22.2 degrees celsius. You can measure the temperature with a thermometer to double-check but a good rule of thumb is you don't want it too cool or too warm. Much like Goldilocks and her quest for the perfect porridge, you want it just right.
Dressing your little one for bed in winter is all about layers. You want to opt for breathable, organic and natural fibres to help them keep an even body temperature – which will in turn hopefully result in comfortable and uninterrupted sleep. On those extra chilly nights, you can give them an added layer of warmth with a thermal long-sleeve singlet under their onesie. Underworks have an amazing range of thermal base layers for your little one, which are not only made from deliciously soft cotton but also super affordable too.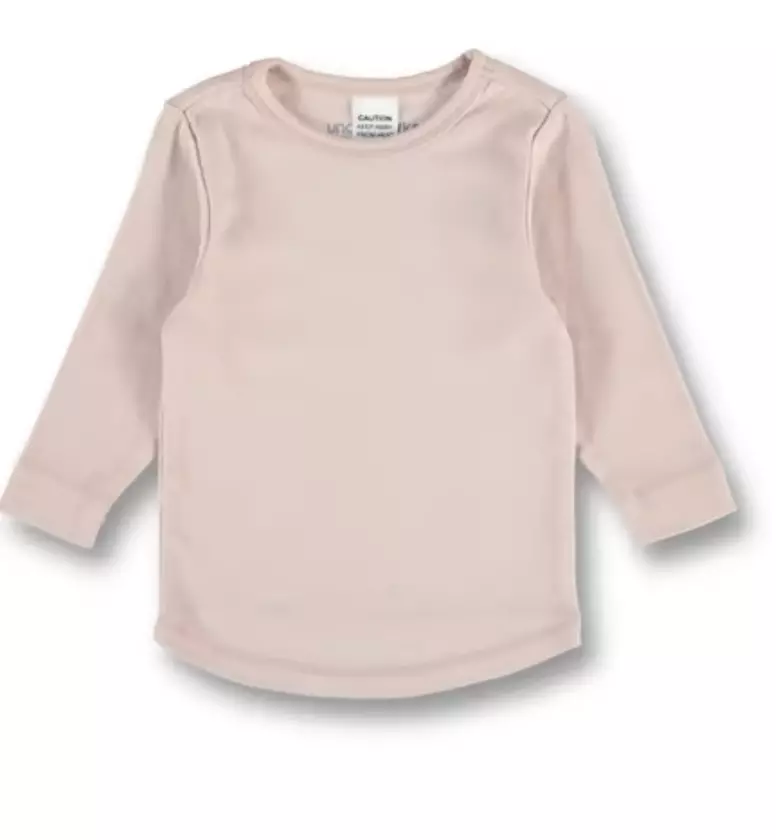 A good quality onesie is key to keeping your baby warm and comfortable overnight so you're going to want to have a few in rotation. ergoPouch has a fantastic range of sleep onesies in a diverse range of TOGs that you can team with their super snug sleepsuits.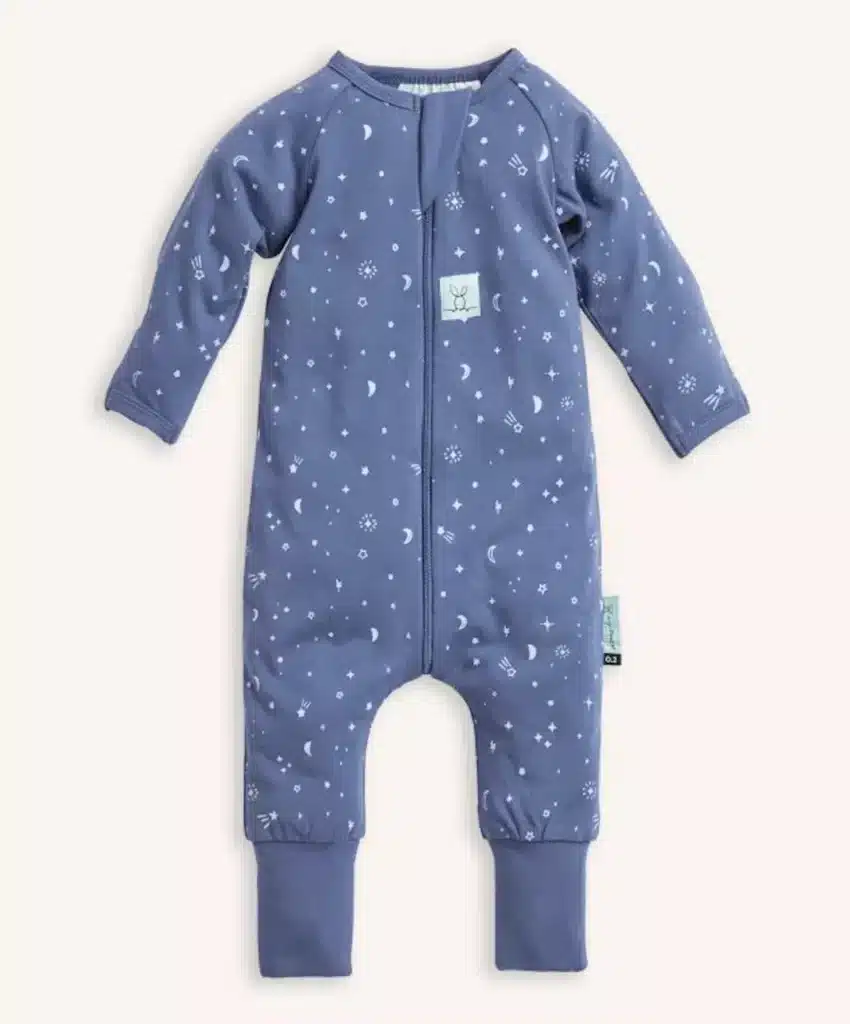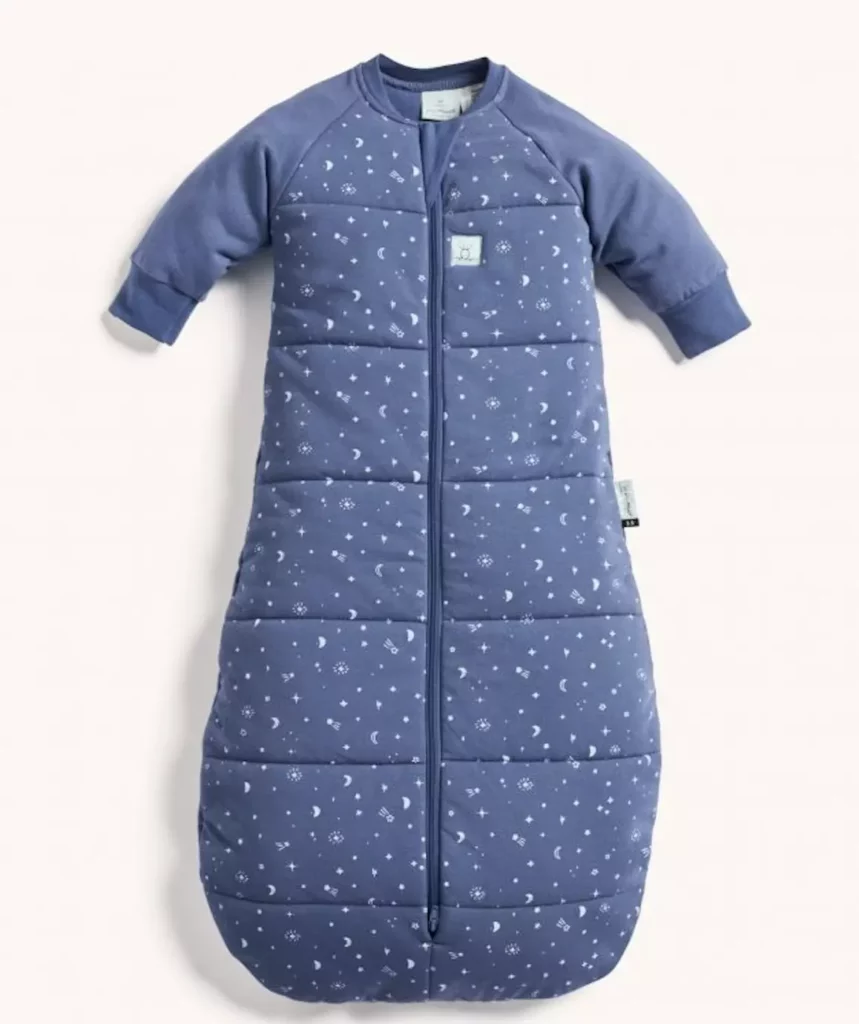 If you are using a sleeping bag, you should select the TOG rating that matches the temperature of the room. These bags usually come with a guide to help you to ensure you get the right level of warmth for your little one and your present environment.
So for example, if your baby's bedroom is 18°C as per the ergoPouch Tog Rating guide, you'll need to dress them in a onesie and a 2.5 level TOG warm sleeping bag.
Tip! Keep the guide close by in your baby's room so you can easily refer to it at bedtime, it has a thermometer strip that actually takes your room's temperature!
If your baby is waking up overnight and isn't hungry, it could be because they are cold. Between 3 am and 5 am is the coldest part of the night and the most common timeframe in which they wake so always check the temperature of their room and ensure they have enough layers on.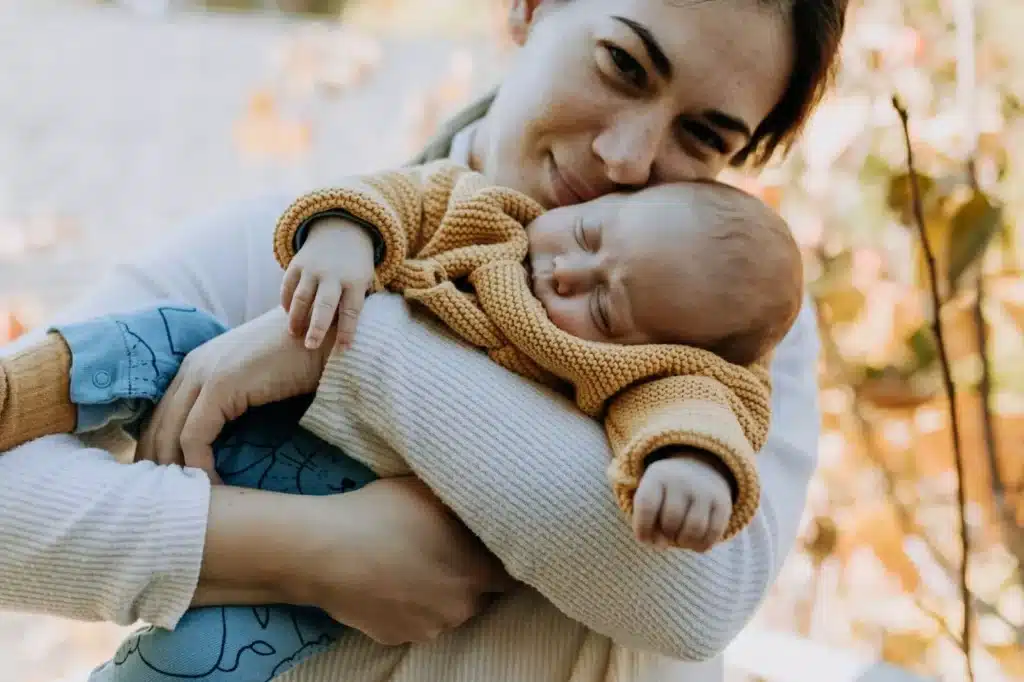 Try the Cubo Ai Plus Smart Baby Monitor, which not only gives you access to your baby via a live stream but you'll also be able to measure the temperature and humidity of their room with it. The Cubo Ai will also automatically record sleep events, schedule sleep efficiently and rack overall sleep time and then deliver you a daily sleep report. This helps give you a good indication of how your baby is sleeping and helps you assess their sleep needs.
Bedding in winter
Another clever way to give your bub extra warmth is to opt for flannelette cot sheets or bed sheets. Flannel is a hardworking fabric that traps in the heat with its insulating air pockets, so even when you're not in your bed it will still retain the warm air – genius, right? From the age of 12 months, you can introduce a soft, breathable, warm blanket for sleep. Once your child graduates to a bed, you can give them a doona.
If you are considering the use of flannelette sheets it is important to remember to dress your baby accordingly and not to overdress them, which may lead to overheating.
For more information on bedding, check out Red Nose's guide to bedding and safe sleep.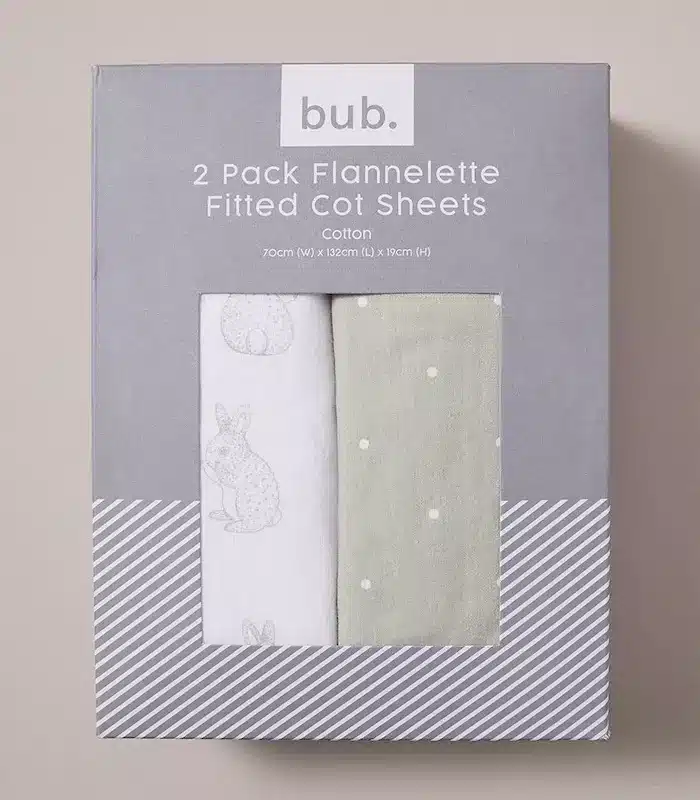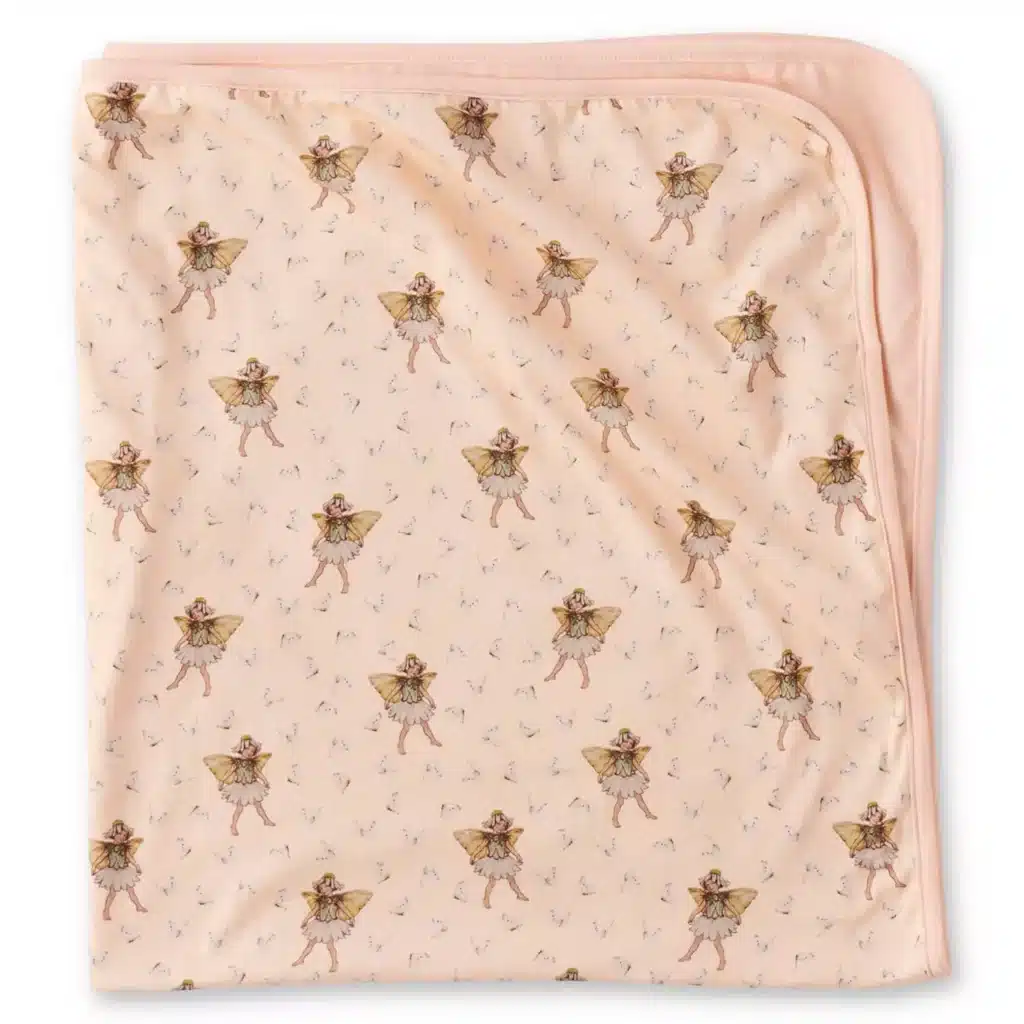 Cracking the code to dressing your little one in winter can feel like a minefield but when in doubt just remember – a base layer + a onesie + sleeping bag = road to sleep success. Always be guided by the room temperature in their room to help inform what you decide to dress them in and don't be afraid to double-check the TOG chart if you're ever unsure. Happy sleeping!
Related Articles
A guide to dressing your little ones for winter
How to settle your newborn and establish good sleeping patterns
5 reasons your baby is suddenly waking during the night…