What to look for when shopping for a double pram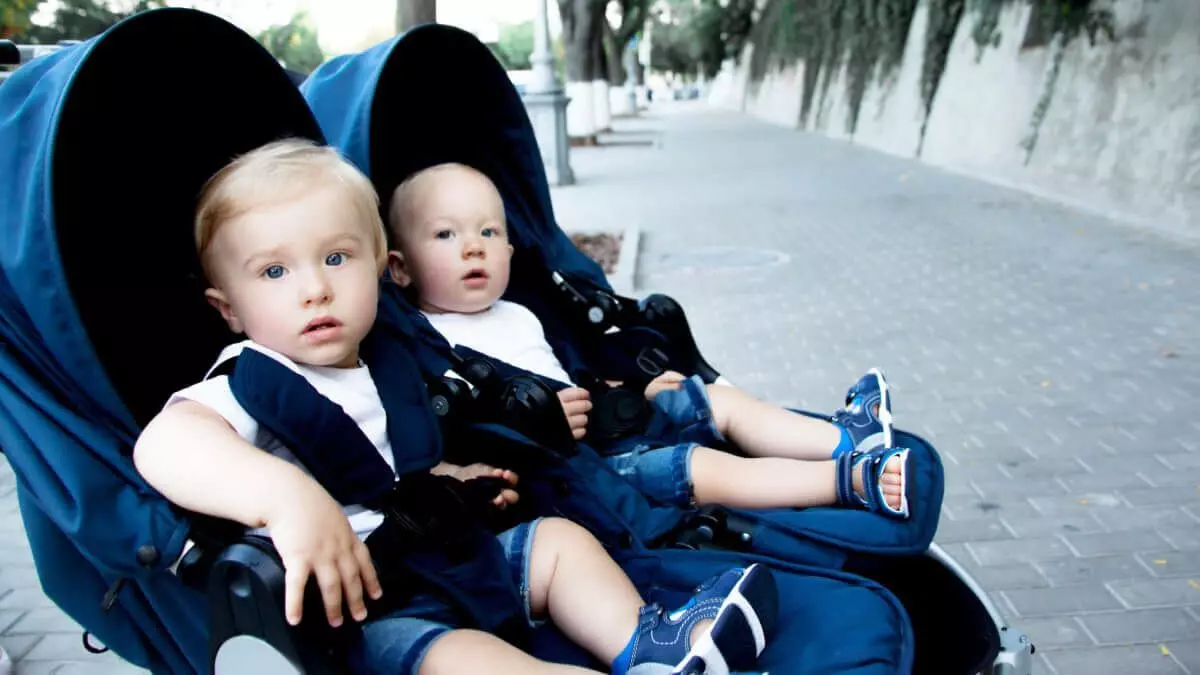 If you're expecting twins or if you're looking at a small age gap between your kids, the chances are a double pram is going to be one of the items on your baby list.
First of all, you need to ask yourself, do you actually need a double pram at all?
If it's twins then the answer is a definite yes, but otherwise there's a few questions you need to ask yourself.
What will be the age gap between your kids? And probably more importantly, what your eldest one is like? Do they hate the pram and try to Houdini out of it at all costs or will they happily sit in it for long walks, shopping trips etc.
If you've got a Houdini on your hands, you might be able to think about your options here, do you really need a double pram? Will your little one actually sit in it or could you look at other options like an attachable seat or skateboard for your eldest to ride on your existing pram or stroller while you push your baby in it?
If this is suitable this is a much more affordable option than forking out for a whole new pram, however some reviews do note these to be quite bulky and people found they hit their shins on them a lot when pushing. But a great cost-effective alternative if needs be.
However, if you do have a toddler who will happily keep going along for the ride – or your age gap is so small it's not really an option, then let's break it down as you have two main choices here: side-by-side or tandem.
Side-by-side or twin prams
Side-by-side options work for twins, newborns and toddlers. But if you're using it for a newborn make sure it comes with a bassinet that is safe for use in those early months.
Pros:
You can see both kids at once

Tend to be the best option for twins

Both kids have equal viewing out

Children sit next to each other so they can interact

Easier for feeding both children at the same time

Tend to be a better all-terrain option if you are an outdoorsy family

Cons:
Wider than a regular pram so can be difficult fitting through some doorways and in supermarkets aisles

Can be quite heavy, bulky and difficult to maneuver in and out of the car

Their weight can also make them harder to get up and down steps or kerbs

Tandem prams
Tandem prams come with one seat in front of the other, with varying configurations depending on the brand.
Pros
They are more narrow than the double so easier to fit through doorways and supermarket aisles

Some tandems can be available in both single and double which means you don't always have to commit to the double if you have an older child that might grow out of it quicker

Cons
They are longer than regular prams and can be difficult to manoeuvre

These too are heavy and make getting up and down steps or kerbs difficult

Getting it in and out of the car also difficult due to weight and size

Not suitable for newborn twins as usually only one seat reclines enough for babies under six months

One child often has obstructed vision from their seat (often only a possible problem for older children and not all children will be bothered by this)

Harder to see the second child
What to look out for when shopping for your pram:
1. Unfortunately all double prams are going to be heavy and larger than your standard pram, so when shopping look for the lightest weight possible, or at least one that you can comfortably lift. Also, check that it fits in your car's boot.
2. Ensure your pram comes with a rear-wheel safety brake, and that it is easy and accessible to use.
3. Make sure the pram you select is suitable for the age of both children, if it will be used for newborns it must be able to recline – and preferably you want to look for one that lets each seat recline individually so that they can be adjusted separately for each child.
4. If using for newborns, you might want to go for a detachable capsule option so you can put the capsule into the car but ensure yours meets safety standards for newborns if this is the case.
5. Ease of maneuverability – this can really come down to personal preference, so test out both options and see which you find easier to use.
For more information on Australian pram safety standards, you can visit the ACCC website.