A SAG strike, Robodebt revelations and a new epoch – here's what happened in the world this week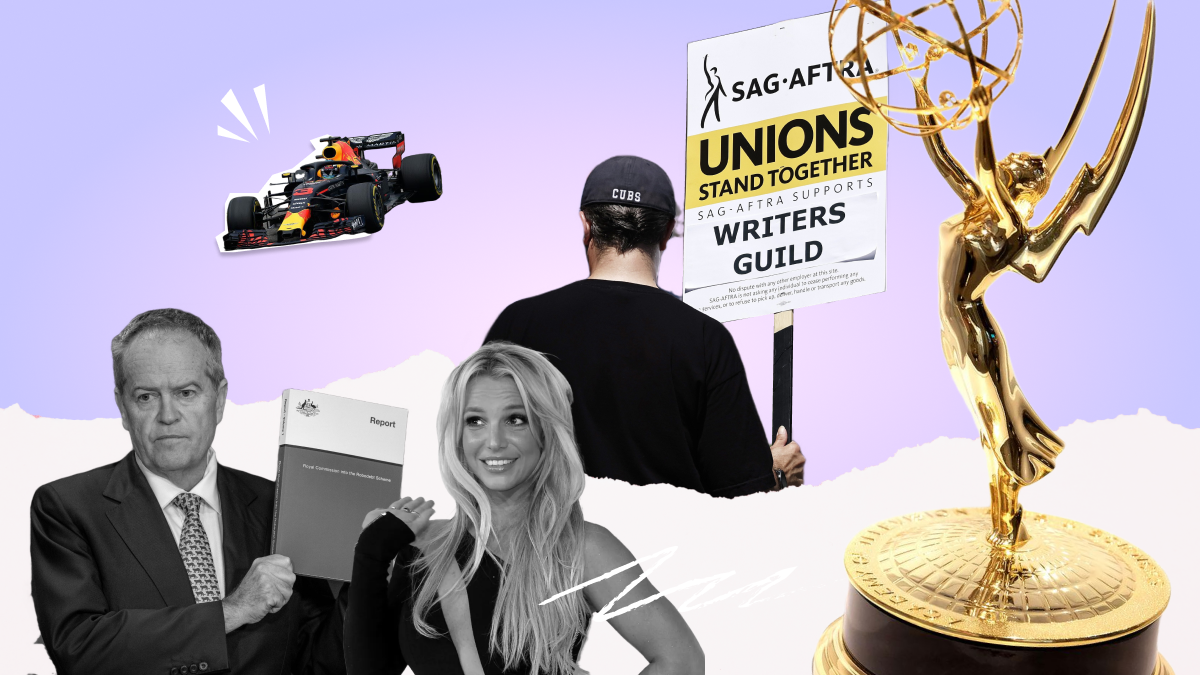 Phew, what a whirlwind of a news cycle! It feels like we only just wrapped up last week's big topics and now we're back with even more stories hot off the press.
This week, the Emmy nominations have dropped and HBO has totally sweeped the floor. Meanwhile, the Screen Actors Guild has officially gone on strike. The Robodebt royal commission came out with some scathing criticism, and scientists are on the verge of announcing a new epoch (yeah, for reals.) Pop icon Britney Spears has revealed her tell-all memoir and we're pretty stoked, plus Daniel Riccardo is making his F1 comeback. Nepal has been hit with another aircraft tragedy, meaning that the country has had about 70 airplane crashes since 1955.
We told you, there's a lot to catch up on. So without further ado, it's time to get you up to speed.
Emmy Nominations are up, but it comes at a pretty awkward time
There are plenty of big hitters in this year's Emmy nominations and it's shaping up to be a pretty tight race.
HBO has grabbed the top three spots with "Succession" getting 27 nods for its final season as the "Last of Us' ' and the "White Lotus" follow close behind with 24 and 23 nominations respectively. Zombie fighters Bella Ramsey and Pedro Pascal have each got lead acting nominations, along with Succession's three nominations for best actor in a drama. "Ted Lasso" has topped comedies with 21 nominations, including best comedy series and best actor for Jason Sudeikis.
Australia's also got some prime talent pooled in, as Murray Bartlett scoops up two Emmy nominations, and Succession star Sarah Snook goes in the running for the competitive Best Actress category. Other big-ticket nominations have gone to the casts and crews of Disney Plus' "the Bear" and ABC's "Abbot Elementary."
The nominations have come in the thick of the Film and TV writers strike, which has been going on for two months now with the actors' union "SAG-AFTRA" now joining the picketing action. A ton of Emmy nominees have touched on the strike in their response, so a boycotted or delayed awards ceremony (which is set for September) doesn't seem totally out of the question. "Abbott Elementary" writer Brittani Nichols has scored her first Emmy nomination, but wrote on Twitter that, "because of the ongoing writers' strike, my ability to enjoy this accomplishment has become more complex than usual." There's definitely a bittersweet feeling in the air, but whether that impacts the ceremony is yet to be seen.
SAG-AFTRA is officially on strike
As we touched on above, the Screen Actors Guild is now on strike with picketing of the streaming giants such as Netflix and Disney scheduled to begin Friday, July 15 Los Angeles time. The strike, which is happening simultaneously with the Writer's Guild strike which has been going on since May, will impact around 160,000 performers.
According to a report published by The Hollywood Reporter, "The union's national executive director Duncan Crabtree-Ireland said that the talks left the union 'with no choice' but to call a strike, while union president Fran Drescher said that the studios 'plead poverty' and that the producers 'stand on the wrong side of history.'
Among the requests being made by the performers on strike are assurances that they will not be replaced by AI and computer generated faces and voices.
"The entire business model has been changed by streaming, digital, AI," said Drescher. "This is a moment of history that is a moment of truth. If we don't stand tall right now, we are all going to be in trouble, we are all going to be in jeopardy of being replaced by machines."
SAG is also seeking tighter regulations on self-taped auditions due to the belief that performers unfairly absorb the cost of home auditions.
The start of the strike will force the vast majority of US film and television productions to halt, adding to the list of projects that have already been halted or paused due to the writers' strike.
Per the rules of the strike, all primary on-camera activities, including acting, singing, dancing, and stunts, will be restricted for 160,000 impacted members, in addition to off-camera work such as voice-acting and narration.
Because promotional work is also barred under the strike rules, it means that interviews, award shows and podcasts are off the table and talent will be prohibited from walking the red carpets at the upcoming Venice and Toronto film festivals – which will still go ahead albeit without its usual slew of A-list stars.
Disney CEO Bob Iger has responded to the demands of the striking performers, telling MSNBC that "There's a level of expectation that they have, that is just not realistic," he said. "They are adding to the set of the challenges that this business is already facing that is, quite frankly, very disruptive."
The Robodebt royal commission report has been released
Victims of the Robodebt scheme are finally getting answers after the landmark royal commission inquiry issued its final report this week, and it's pretty damning.
If you need reminding, "Robodebt" was an automated government scheme between 2016 and 2019 which falsely asserted that welfare recipients owed debts to the government. More than half a million Aussies were demanded to pay back thousands of dollars based on an incorrect algorithm that assumed people had received income at a time when they hadn't. This algorithm was meant to calculate the income of welfare recipients by averaging their Australian Tax Office Data and then comparing those averages to the Centrelink applicants' self-reported incomes. Those found to have discrepancies were then told they owed significant debts, but no one actually checked if those numbers were right (like, seriously?)
Hence, thousands of vulnerable Aussies were demanded to pay money that they, firstly, didn't have, and secondly, didn't actually owe. Whilst the government has refunded incorrect debts that were paid (around $720 million) and reached a settlement of about $1.2 billion in 2020, there is still so much damage that's been done.
The report's findings reveal that the financial demand on victims led to severe anxiety and depression, and at least three known suicides. It said that the scheme was "crude and cruel," and "neither fair nor legal," stemming from "incompetence and cowardice." The report critiqued the scheme's lack of manual review, the victim blaming that occurred, and government ineptitude in failing to act on clear system faults. Former PM Scott Morrison was directly called out for not making proper inquiries, and a sealed section of the report refers to key figures for civil and criminal charges.
Ex-Manson follower is out on parole after 53 years
If you're someone that's binged every cult documentary to date (no shame here), you might remember Leslie Van Houten. The now 73 year old was sentenced to life in prison for assisting in the infamous murders by the Charles Manson cult when she was 19. Specifically, her role in the killings of a California grocer Leno LaBianca and his wife Rosemary in 1969.
But on Tuesday morning, she walked free. Out on parole after 53 years behind bars, her lawyers claim she's been completely reformed. The court noted Houtens achievements whilst in prison, including working as a tutor, earning a masters degree in humanities and participating in mental health and self-help programs.
Van Houten has been denied parole dozens of times now. In the hearings, she expressed regret for her part in the killings and admitted she let Charles Manson overpower her "individual thinking." She's now expected to spend a year at a halfway house where she'll be transitioning to a completely unfamiliar reality.
It is, however, still a controversial move, with victims' families describing the decision as "gut-wrenching."
Scientists are about to declare a new geological epoch
I'm sure you've heard of the term "Anthropocene" – the epoch defined by human's impact on earth. It's been thrown around a fair bit, but it's only now that scientists are on the verge of announcing the end of the last epoch, the Holocene, which began after the last Ice Age 11,700 years ago.
So what's changed? While we've already seen the impact of humans on the planet, scientists need a specific historic marker to make their example. Now, they've found sediment deposited in Canada's Crawford Lake that's preserved an annual record of human activity, including everything from nuclear fallout to pollution and climate change. It holds layers that record " fuel combustion products, plutonium, changes in geochemistry, changes in micro-ecology – all the sorts of things that chart environmental change," the secretary to the Anthropocene Working Group told the BBC.
There are distinct signals starting around 1950, so that's when this new epoch's estimated to have begun. It's a time known as the "Great Acceleration," where human population and behaviours significantly sped up. The lake's sediments show this year by year quickening.
The proposal still needs to get approved by different groups of geologists, but it's looking pretty solid.
Britney Spears announces a "tell-all" memoir
Pop idol Britney Spears has definitely been through the wringer, but the singer is taking control of her story in an upcoming memoir titled, "The Woman in Me." It's set to cover her rise to fame, her tricky family relationships (an understatement) and her experience living under a legal conservatorship for 12 years.
The press release by Gallery Books describes it as "a brave and astonishingly moving story about freedom, fame, motherhood, survival, faith and hope."
Her story comes fresh off of fighting her court-ordered conservatorship in 2021, where she gave a powerful 23-minute testimony that resulted in the dissolvement of the arrangement. The now 41 year old claimed that "this conservatorship is doing me way more harm than good. I deserve to have a life … I'm great at what I do. All I want is to own my money … [and] share my story to the world. I want to be able to be heard."
After over a decade of other people speaking for her, this is a huge win for Spears and we're all for it.
Daniel Riccardo returns to F1 Racing
Formula One racing fans have had some big news this week, with Australia's Daniel Riccardio making his F1 comeback at the Hungarian Grand Prix.
Ricciardo, the 8-time Grand Prix winner, has been a support driver for Red Bull this season, and will now replace Dutchman Nyck de Vries after a slightly shabby debut season from de Vries. This comes after Ricciardo's tricky two year stint at Mclaren when he was paid millions by the team to part ways with them with still a year left on his contract.
Red Bull is notoriously brutal with its driver selection, with the pressure facing drivers becoming a key theme in the "Drive to Survive" series, so Ricciardo will need to impress quickly to guarantee a proper comeback. It's a gamble to say the least, but the Red Bull team insists that Riccardio "hasn't lost any form while away from racing and that the strides he has been making in his sim sessions translate on track."
The racer has said that it would be a "fairytale ending" to his career to race for Red Bull again.
Helicopter crash in Nepal leaves six dead
A tourist helicopter heading towards Nepal's capital, Kathmandu, lost contact eight minutes after taking off on Tuesday morning. It was later found crashed in Solukhumbu's rural municipality of Likhupike.
All six people onboard the Manang Air flight, including five Mexican passengers and a Nepali pilot, have died and their bodies were retrieved at the crash site. The cause has yet to be determined, but Nepal is notoriously known for dangerous flying conditions. Factors like the turbulent weather, low visibility and mountainous topography all contribute to a history of plane crashes. Despite this, Nepal has a booming private helicopter industry, flying tourists and goods to areas with limited road access.
Last January, 72 people were killed when a plane crashed in central Nepal in the nation's deadliest plane crash in over 30 years. In 2018, a US-Bangla Airlines plane crashed near Kathmandu's international airport, killing 51 people and seriously injuring 20. In total, the country has had roughly 70 airplane accidents since 1955, 45 of them deadly. Safety concerns from the European Union has led to all Nepali carriers being banned for their airspace.
An overdue book has been returned to Massachusetts library 119 years late
Stressing out about that overdue library book sitting on your desk? Well, this story is about to make you feel a whole lot better.
All the way back in 1904, a curious soul decided to borrow James Clerk Maxwell's "An Elementary Treatise on Electricity" from the New Bedford Free Public Library in Massachusetts. And by "borrow," we mean "pass down his family for 119 years."
A rare books curator stumbled on the discovery after a donation of books and realised that book still technically belonged to the library. So he sent it back to them. The library's director, Olivia Melo, has said it "came back in extremely good condition," and that the event "speaks to the value of the printed word."The book was published back in 1881, which makes it pretty old but not quite a rare edition. Just to give you an idea, the year this book was borrowed was also the year the New York City's subway line first opened and Theodore Roosevelt won his second presidential term.
Luckily for the borrower's family, late fees were capped decades ago at $2 to encourage people to return their books.