Outdoor activities for toddlers during lockdown
Now that spring is here and the weather is starting to warm up, there is nothing quite like getting out in the sunshine. Even if most of us are still in some form of lockdown due to Covid-19. But we know for both our sanity and theirs, getting outside and active is so important – and children love it too.
But you might be stumped at what activities you can do with your toddler to keep them occupied and happy, whilst also developing their skills (and not to mention tiring them out too!)
Here are 10 fun outdoor activities you can do with your toddler to help make those lockdown days go a little quicker…
Nature walks or hikes
Going on a nature walk can allow your toddler to explore a different area that they've never been to, which is exciting for them and you. You can even create a little notebook of things for them to find around (e.g. a stick, a leaf, a type of bird).
Bring along a magnifying glass, this can let your toddler be a little explorer like Dora, and can give you the space to enjoy the walk while your toddler runs around finding rocks, bugs and more!
Art and crafts
Arts and crafts are a staple for any household with toddlers and can also be implemented for outdoor play. Painting and other messy activities are perfect for outdoors – set them up on an old sheet or tarpaulin and let them go wild. Collecting sticks, leaves and sticking them onto old toilet paper rolls or paper can be an inexpensive and fun activity for your kids. Having your toddlers be creative and imaginative will further their development, and will promote their brain activity.
Sand play
Though it gets everywhere, playing in the sand will always be fun for a toddler and is also a great learning activity – scooping, pouring, building, smashing, digging – all great for their gross motor skills. Beach days might not be possible during lockdown, but you don't have to go to the beach to have fun with sand.
You might think about opting for little sandpit if you have space, or you can create a small sensory sandbox with tools that allows them to expand their senses (which is vital for their development) with a little less mess. Be sure to securely close the sandbox after every play to prevent spiders or other insects going in, which can be a nasty surprise. Or you might have a local park that has a sandpit for the kids to play in and explore and you can leave (most) of the sand behind!
Family time
Your toddler doesn't have to be alone in playing when they're outside. Coming up with some fun family activities like running through the sprinklers (when there's no water restrictions of course!), having an alfresco family dinner together or even playing hide and seek can promote family bonds and can create a fun atmosphere for all your children. When your children see you being active and having fun outdoors, they will want to do the same.
Bike or scooter rides
Learning how to ride a bike is a right of passage for everyone, while your toddler may be too young to balance on a real bike on their own just yet, try a push or balance bike or a scooter if they prefer. This allows them to develop their balance and walking skills. Involving the whole family for a fun bike ride around your neighbourhood or a park will be exciting for your toddler – and is great exercise for you too which we all need during lockdown!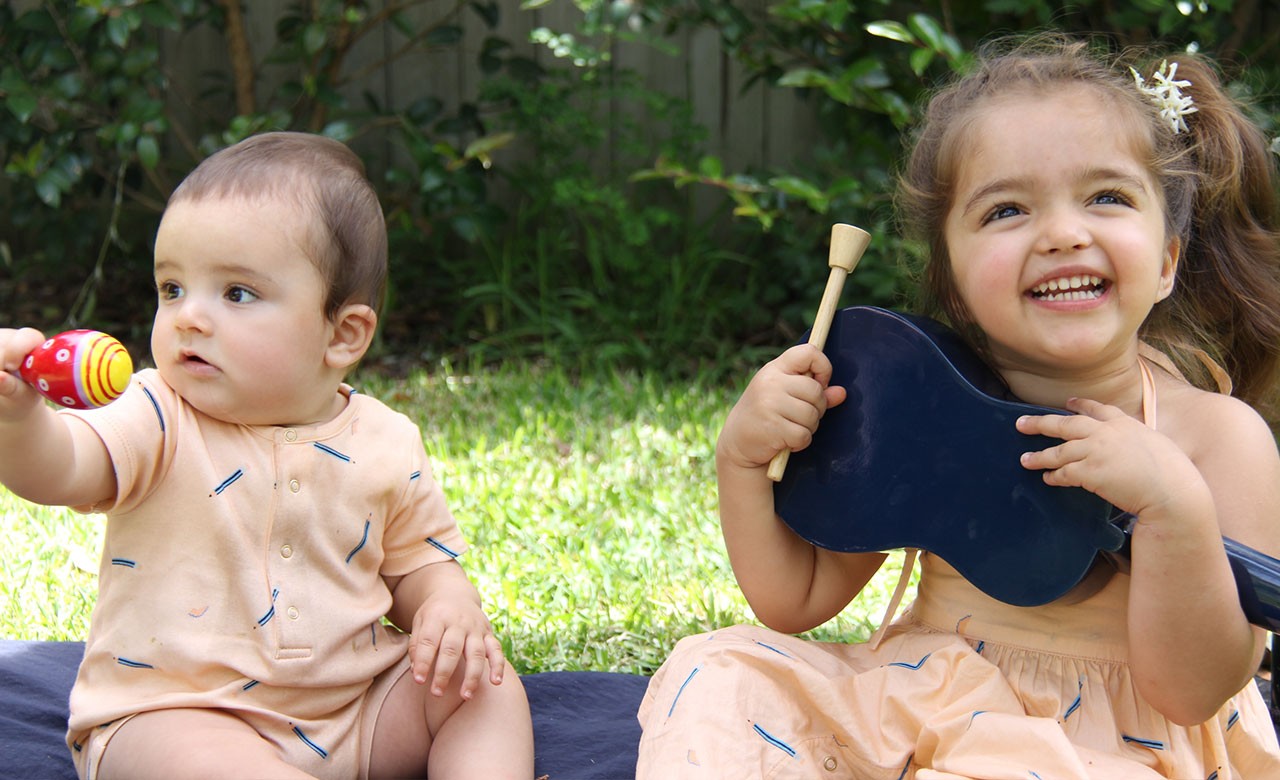 Gardening
Playing in the dirt, getting messy and maybe even seeing a few worms can be fun for your toddler and can be another great way to bond. Planting anything (even toys) can allow your toddler to heighten their sensory skills whilst also enjoying their time outside. Helping you pull out weeds or plant a new herb garden can also act as a fun chore and teach them about food and how things grow.
Games
You don't need to overthink it, classic games like I-Spy, Simon Says and Duck Duck Goose can be an easy way to entertain your toddler whilst also getting out all their energy. Remember that physical movement is vital for your growing toddler. Teach them games and get them to lead them, they will love learning something new and getting to be the one in charge!
Blowing bubbles
Who doesn't love bubbles? Need we say more? Bubbles are cheap, fun, and can entertain your baby for hours. Splurging on an automatic bubble machine can let you rest while you enjoy watching your toddler chase after the bubbles but the classic hand-held one will never disappoint. Bubbles are also a great sensory activity, which is a bonus.
Adventure time
Creating a scavenger hunt for your toddler in your own backyard promotes their creativity and can immerse them into another world. You can usually find pre-made ones easily online or make up your own by hiding toys or making quests around the house can help your toddler develop their problem-solving skills and enhance their vocabulary all while having fun. You can pretend your garden is a jungle, a pirate ship, a castle and much more! These adventures can be given at any age and will create lifelong memories for your child.
Storytime
Not all outdoor play has to be high-energy or messy, outdoor storytime can be another fun activity to do with your busy toddler. Picking their favourite book and reading it under the sun can calm them down after a long day of playing. It can also wind down the day for them before dinner and bathtime. This is also a perfect opportunity to ask your toddler to reflect on the day and tell you which games they liked the most which can help you for the next outdoor day.
Whatever activity you decide to do your toddler will be better for it. It can be a great idea to get your toddler to help you come up with a bunch of fun activities to do for the month (or summer) ahead – which also makes your life easier and tick them off as you go. Now go and enjoy making these fun memories!
Related Articles
Foods and kids during lockdown
Get 'Wild at Home' during lockdown with fun activities for all ages
Working from home with a toddler in tow