10 tips for planning the perfect babymoon
If you're in the baby way then chances are you're thinking about maybe doing some sort of babymoon in the not-too-distant future. One last chance to have a getaway with your loved one before baby makes three (or four, or five…) sounds like bliss, but there are some things you do need consider.
Where to go for that one last hurrah? Do you pick somewhere you've never been and always wanted to go, or someone you know and love? What is the safest time in pregnancy to travel and does travel insurance cover me for pregnancy?
Here are 10 helpful tips and things to think about when planning your getaway. Because it might be your last chance for some R&R so you've got to make it count!
1. Who is going?
Usually, the partner will be top of the list for the babymoon as a last romantic trip before baby arrives. However, some mums-to-be prefer a little alone time to be by themselves before they'll have a permanent attachment to them for the next, oh 20 years or so, or even a bestie if the partner can't make it.
2. When to go?
This is a big one, so you really need to think about the best time to go according to your pregnancy. Most people tend to do the baby moon in the second trimester as the tiredness/nausea of the first trimester has passed and then before you get too big and uncomfortable to enjoy yourself. Most doctors will also advise against travelling too late in the pregnancy, and most airlines have rules about flying in the third trimester.
Airlines vary in these rules but many will require a letter from your doctor around about 28 weeks and won't let you fly from 38 (some earlier). Always check with your specific airline for their rules and speak with your doctor as it might depend on how your pregnancy is going and any possible complications.
3. Where to go?
This is the fun part! While the world is your oyster (pending Covid-19 travel restrictions, of course) there are some things you need to consider here. Never been to Europe and thinking that it's the perfect last hurrah? Well, you might want to make sure you go earlier in your pregnancy, and consider how you're going to deal with being on a long-haul flight and with transfers etc. If you're lucky enough to fly business class (or above – lucky you!) then this might not be such a big deal. However, if you're stuck in cattle class with very little leg room then you need to be wary of deep vein thrombosis (DVT) – request an aisle seat where possible so you can stretch out your legs and get up for walks (and trips to the bathroom) easily.
You also need to think about what you're going to be doing when you get to your destination. Places like Europe where there is so much culture and so much to do and see are great, but they don't tend to be the most relaxing if you're trying to pack everything in you might come home more exhausted than when you left.
Or if R&R is more your thing, so look for somewhere with a pool, beach, day spa, room service etc. Then once you've narrowed it down from there it can be easier to decide, domestic or international, coastal or rural, summer or winter etc.
4. Check with your doctor
Always double check with your doctor before you lay down any money to make sure you are fit and cleared to travel – and that there are no travel or health warnings associated with where you are heading. Also make sure you take your doctors contact details with you so if you do need to get in touch with them while you are away you can.
5. Accommodation
Once you've narrowed down where you want to go, it's time to pick your accommodation. When you're looking at options, again ask yourself what you want out of your babymoon. Airbnb or home stays can be great ways to save some money but if you're keen to leave all responsibility behind and want to be waited on hand and foot then you might be better looking for a hotel.
Then have a look at what facilities the hotel offers, pool, restaurant, room service, day spa etc. With the babymoon industry booming, many hotels offer specific packages which include accommodation, food and spa treatments so keep an eye out for these.
Tip: Also look at where your accommodation is located, if you're not going to have a car it is easy enough to get aroun. You won't want to be walking too far when you're pregnant!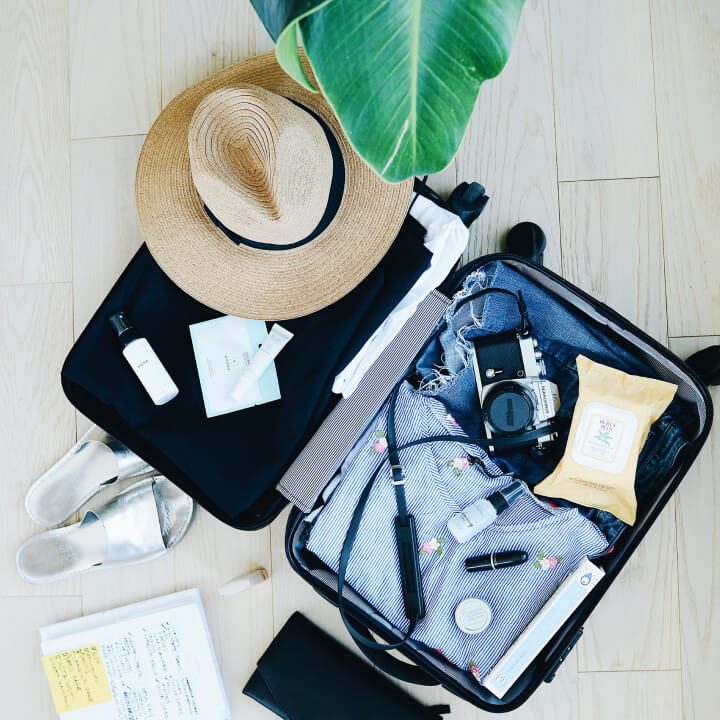 6. Day trips, restaurants and activities
Check out what the local area has one offer by scouring Instagram, websites and forums to make sure there are plenty of pregnancy-friendly things to do (if that's your thing) as well as finding some good reliable places to eat.
7. Watch what you eat
Speaking of food, pregnancy is not the time to be sampling rare local delicacies, especially if you are somewhere remote. You need to be particularly careful with what you eat when you're pregnant so make sure there are plenty of decent options that won't put you at risk of contracting food poisoning. Street food or roadside trucks are not your friend when pregnant so do your research before you go and note down a few options as there's nothing worse than being hungry and having nowhere to eat.
Also if you're somewhere remote check that the water is safe to drink and if you're not sure just stick to bottled/filtered water.
8. Go with the flow
Even if you do go on your trip with the best of intentions for getting out and about and doing a lot, don't be afraid (or surprised) to find that all you want to do when you get there is sit by the pool with a good book – and a mocktail! Best not to go booking and paying for any activities/tours etc until you get there and see how your energy levels are and know you actually still want to do them.
9. Pack light – and pack comfy
Ditch the high heels and uncomfortable clothes, you won't wear them and you'll just end up lugging them around (or your partner will a least). If you're flying (or going to be in the car for a long time), invest in some compression socks to help keep DVT at bay as well as a water bottle and some healthy snacks so you don't get caught out. Also, don't forget to pack anything essential like your prenatal vitamins or other medications that you won't be able to get once you're there.
Tip: Don't forget to pack the letter from your doctor saying you are fit to travel if you need one – and save a copy on your phone in case you lose it.
10. Make sure you have travel insurance
If you are heading off overseas then make sure you invest in travel insurance and make sure it covers you for pregnancy – and specifically at whatever stage of the pregnancy you are at. Some policies don't cover you past a certain week or won't cover you if you have to give birth overseas so make sure you read the fine print. Remember to check if your policy covers you if you reach your travel dates and something has changed in your pregnancy and you cannot travel – will you be able to get a refund?
Related articles
15 reasons why you should go on a babymoon
13 ways to pamper yourself during your pregnancy
The benefits to being organised before baby