How to be well prepared in the last trimester of pregnancy – it can be done!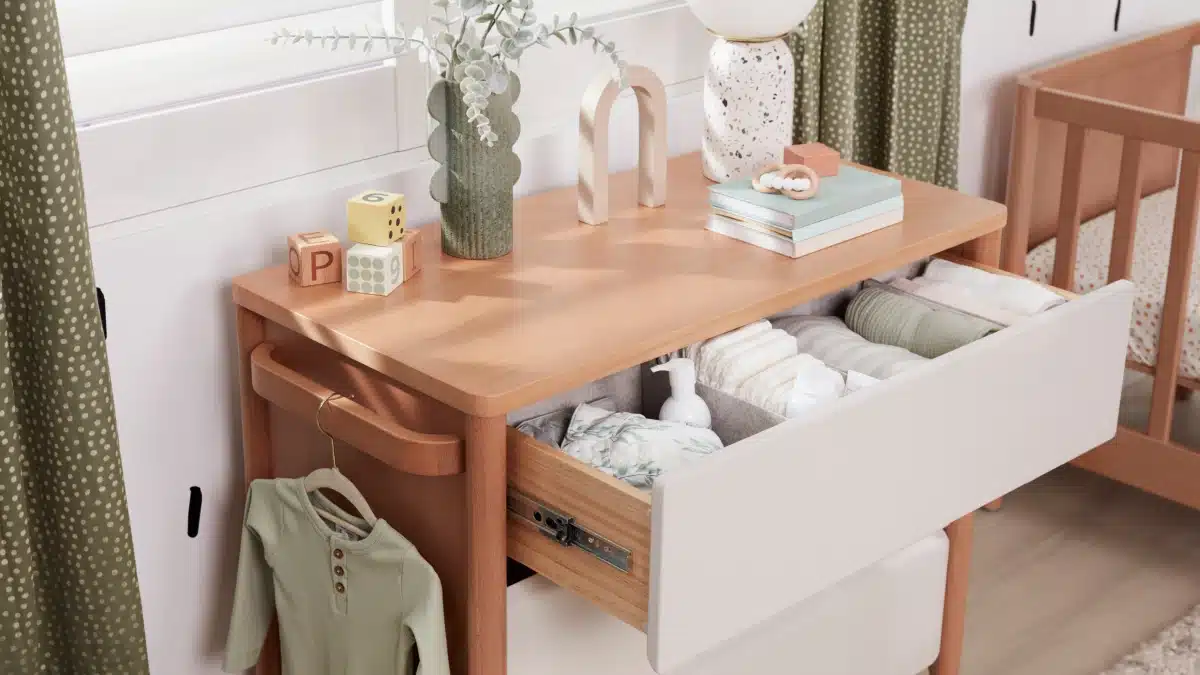 If you're reading this, then you're soon-to-be sleep-deprived parents! Congratulations on hitting the final trimester of your pregnancy. This is where the real fun begins, and it's time to get your nesting instincts going. So, let's explore some tips on how to ace the last trimester and get ready for the miniature human invasion. Are you ready to take on the challenge?
Tip #1: Get your home ready for the baby
When it comes to getting your home ready for the baby, there are a few key areas you'll want to focus on. Let's break it down room by room.
Preparing the nursery during your third trimester
First things first, you'll need to get the nursery ready. This is where your baby will spend a lot of time, so you want to ensure it's a safe and comfortable space (for you too!). Here are a few things to consider:
You will soon find out that sleep time is gold! So making sure your baby has a safe, comfortable place to do that will make your life that much easier (and your nights a little less exhausting). This includes having a safe, sturdy crib and mattress meeting all current safety standards.
You'll need a sturdy chest of drawers to store all of your adorable baby clothes and nappies. They take up way more space than you think, we promise. Having these items nearby for an exploding nappy change will be a game-changer for you! And again, safety is imperative – so any furniture needs to be made with a future crawling and chewing toddler in mind.
This is why we love the newly released Joey by Koala range for your nursery needs. Their Wombat Chest of Drawers ticks all of the above boxes – with no handles or knobs on the doors and made of non-toxic materials to ensure that when your newborn grows to a toddler, they will remain safe and sound.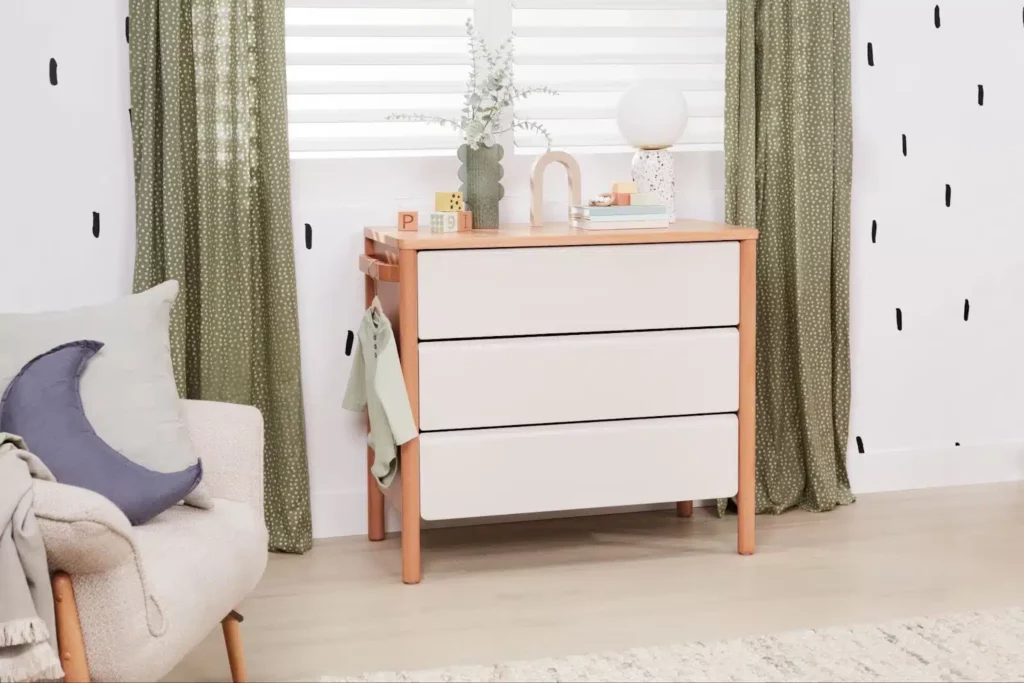 Plus, their Kookaburra cot won't just make the nursery come together; it's also sturdy and made to grow with your baby with a high and low mattress height setting (note: this will also save you from unnecessary bending and backache in the coming months).
And the matching Joey Baby Mattress (which is Australia's most safety-certified baby mattress) won't only help your little one sleep comfortably, but the safety features will let you sleep easier too.
Also, a general new parent life hack loading… if you can't clean it – you probably shouldn't buy it. This mattress has removable and washable covers, and the inner is water resistant for when those nappies are just no match for your new baby.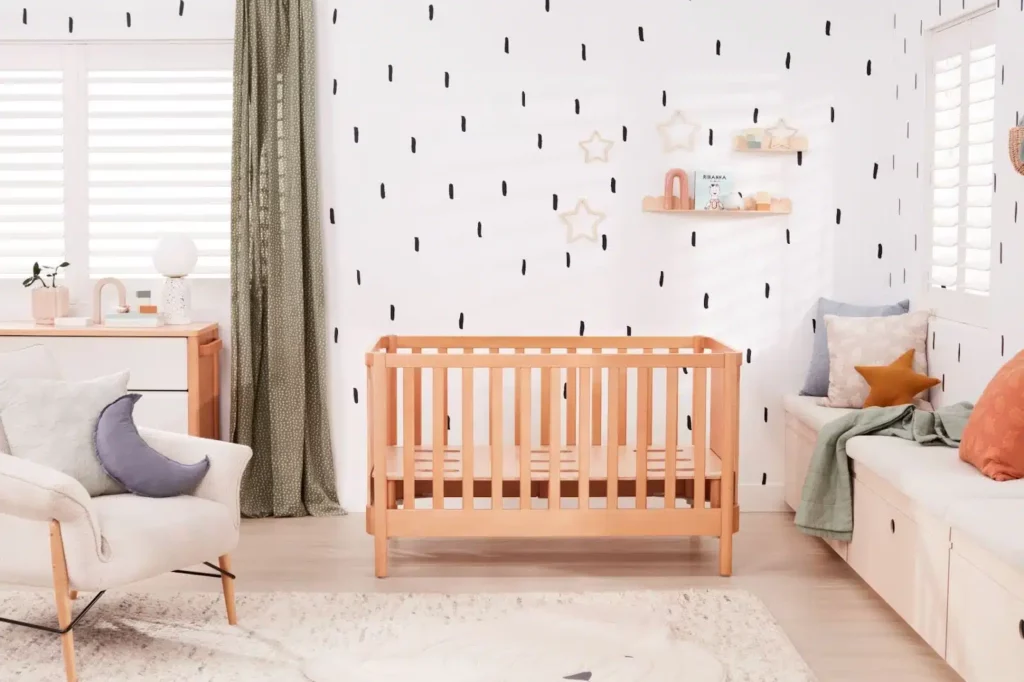 Preparing your kitchen during your third trimester
The kitchen is another critical area to focus on. If the nursery is your baby's zone, this may just become yours. Whether that is a good or a bad thing for you, we're here to help ensure the space is as organised and efficient as possible. Here are a few things to consider:
If you're planning on bottle-feeding, make sure you have plenty of bottles and nipples on hand. You may think washing after every feed is doable, and in a perfect world, it may be. But this is not always a perfect world, and you may want to drink a cup of tea between feeds instead. So stock up.
A good UV steriliser that takes as many bottles as possible is a great idea to have on hand. This will come in handy if you start bottle-feeding (by expressing or formula) and will be used for a good while.
Stocking up your freezer for when you get home with a newborn is a trick that not many people share. What a pity! Because this will be a lifesaver when you are recovering from having a baby, waking every few hours and generally just living the newborn baby life. Having nutritious meals ready to pop in the oven when needed will help you out. A lot. Thank us later.
Preparing the bathroom during your third trimester
This could apply to your bathroom or any area where you will bathe your little one once you get home from the hospital. Some people prefer using their regular bathtub, others the kitchen sink (just sterilise first!), and others a small baby bathtub in the room. Here are a few things you will need in arms reach. And we really mean arm's reach – once you start the bath, your hands will be full.
A small baby bathtub if that is the route you are taking.
Have plenty of soft washcloths and towels on hand for bath time. The softer, the better!
Gentle baby soap and cream for during and after.
Cotton wool for cleaning their eyes and ears.
Nappy rash cream.
Tip #2: Get organised for baby to come
In addition to getting your home ready for the baby, there are a few things you can do to get organised for baby to come. Here are a few tips:
Make a third-trimester to-do list
There's a lot to do before the baby arrives, so make a to-do list and prioritise the most important tasks. This will help you stay on track and ensure everything gets done before the big day.
Pack your hospital bag
You'll want to pack a bag with all the essentials you'll need for your hospital stay. Make sure to include comfortable clothes, toiletries (hello, thick maternity pads), and any items you want to have with you during labour.
Prepare for breastfeeding
If you're planning on breastfeeding, now is the time to start preparing. Attend a breastfeeding class, talk to other mums who have breastfed, and make sure you have all the supplies you need, such as a nursing pillow and breast pump.
Stock up on essentials
Make sure to stock up on essentials such as nappies, wipes, and baby clothes. You don't want to be caught without these items when the baby arrives.
Tip #3: Take care of yourself
You didn't think we would leave you hanging, did you? This last stretch is also about looking after you! If you are a dad-to-be looking at your to-do list or a mum-to-be staring at your swollen feet and wondering how, here are a few ways we suggest:
Get plenty of rest during the third trimester
Yes – you can use this as your permission slip. Getting plenty of rest is essential during the last trimester of pregnancy. Make sure to prioritise sleep and take naps whenever you can.
Stay active during the third trimester
We realise that we're contradicting ourselves, but you know deep down we are right. Staying active can help you feel better during pregnancy and make labour and delivery easier. Going for gentle walks, taking a prenatal yoga class, or a nice swim to cool down does wonders too.
Eat healthy during the third trimester
Eating a healthy diet is vital for you and your baby. Make sure to eat plenty of fruits, vegetables, and protein, and avoid too many processed foods (this will also help alleviate heartburn – which is probably starting to sneak up on you right about now).
Take time for yourself during the third trimester
You read that right. And no feeling guilty about it either. Take a relaxing bath, read a book, or watch a movie. Make sure to do things that make you happy and help you relax.
We know that the last trimester of pregnancy can be overwhelming, but with a bit of planning and preparation, you can be well-prepared for the big day and a few of those that follow. Focus on getting your home ready for the baby, getting organised, and caring for yourself.
This is a paid partnership between Kiindred and Joey by Koala.