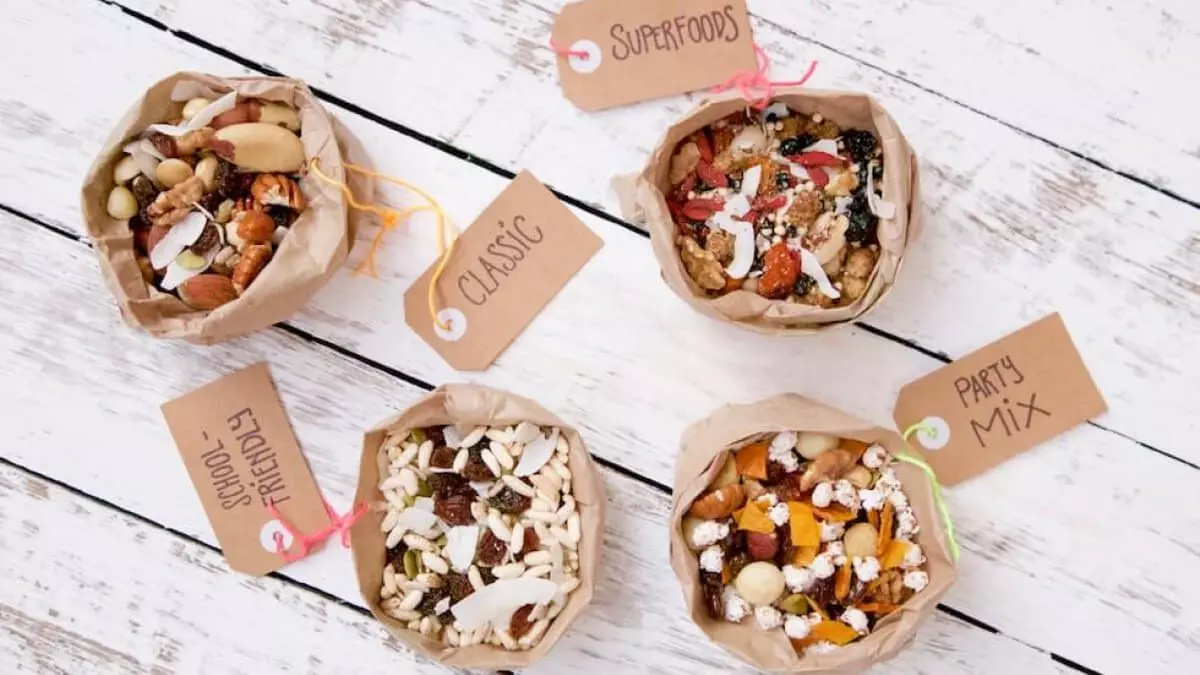 Trail mix is an easy snack to prep in advance and have on hand for when the hunger strikes! We've put together four different trail mix recipes, so no matter your flavour preference, there's one to tempt your taste buds.
Ingredients
Classic Mix
Activated Nuts (Almonds, Cashews, Brazil Nuts, Hazelnuts, Pecans, Macadamias)

Sunflower Seeds

Pumpkin Seeds

Unsweetened, Unsulfured Dried Fruits (Apricots, Sultanas, Cranberries, Cherries)

Coconut Flakes

Fun Mix
Popcorn Or Puffed Sorghum

Dark Chocolate Chips Or Dark Chocolate Coated Goji Berries/Pumpkin Seeds

Dried Mango, Unsweetened

Activated Nuts

Pumpkin Seeds

Sultanas

Nut-free
*School-friendly for older siblings
Sunflower Seeds

Pumpkin Seeds

Sultanas

Coconut Flakes/Chips

Puffed Rice

Superfoods
Goji Berries

Inca Berries

Hemp Seeds

Puffed Quinoa

Walnuts

Flaxseed

Macadamia Nuts

Dried Blueberries, Unsweetened

Coconut Chips

Method
1. In a large bowl, combine your favourite mix and stir through to combine.
2. Place in little mason jars or snack bags if you want to take away. You can also sprinkle the mixture on top of your yoghurt or boost your smoothie.
Tip
Serve immediately, store in an airtight container/mason jar for up to 3 weeks or in the fridge for up to 2 months.