Let's talk about SEX: Sexologist Aleeya Hachem on fertility and sex after birth
"There is a misconception that scheduled-sex isn't sexy, and that isn't true at all. Having a conversation with your partner, or even a sexologist about how to make this process more fun is essential" – Aleeya Hachem
When Sexologist and Fertility Counsellor Aleeya Hachem studied psychology, sexology was "an emerging field". Today, sexologists are in high-demand – and sexology graduates are on the rise. Sexology is fundamentally about supporting sexual health, including human sexual interests, behaviour and function. Sexual dysfunctions can include anorgasmia, erectile dysfunction, vaginismus and sexual pain.
Because pregnancy is most commonly the result of having sex, sexology is particularly relevant to fertility, baby-making and postpartum life.
As an editor working in the parenting space, I'm often presented with questions like: How do I boost my fertility? How do we try and get pregnant while not killing the romance? When should I seek fertility support? And, how do we rekindle our intimacy post baby?
Since Aleeya is primarily interested in the "interrelationship between sex and fertility", I decided to sit down with her and get into the nitty gritty.
How did you get into sexology?
I have always been curious about sex and relationships, which led me to study psychology in the hope of learning and understanding more about the impact that this has on human behaviour. Back then, sexology was an emerging field, and after a five-year hiatus in marketing, I applied for my Masters in Sexual Medicine in the hope of furthering my knowledge and creating my dream job. My passion is the interrelationship between sex and fertility, and I feel so fortunate that I get to work with patients in this field.
Sounds like you really have created your dream job! And congratulations on recently having a baby! Has giving birth and becoming a mum changed your relationship to your work as a sexologist?
Thank you! It has given me incredible insight into what individuals and couples go through during pregnancy and postpartum, and how this unique time impacts sex and relationships. What stands out for me particularly is how adding a third member to your family can change the relationship dynamic with your partner. It's a lot harder to find those pockets of time where it is just you two, and even so you are probably exhausted and touched out. This first-hand experience has given me a greater understanding of what my patients are going through, which can be incredibly validating.
I think that fertility – and infertility – are under-discussed. Since that's one of your areas of focus in the work you do, let's chat about it.
I completely agree. At school, sex education largely focuses on how to avoid getting pregnant. Yet when individuals want to start a family we have no knowledge of the best ways of optimising chances of pregnancy, or even factors that can limit that. Infertility is also something that individuals and couples rarely consider until they try to conceive.
For couples wanting to get pregnant, what's your best advice to them?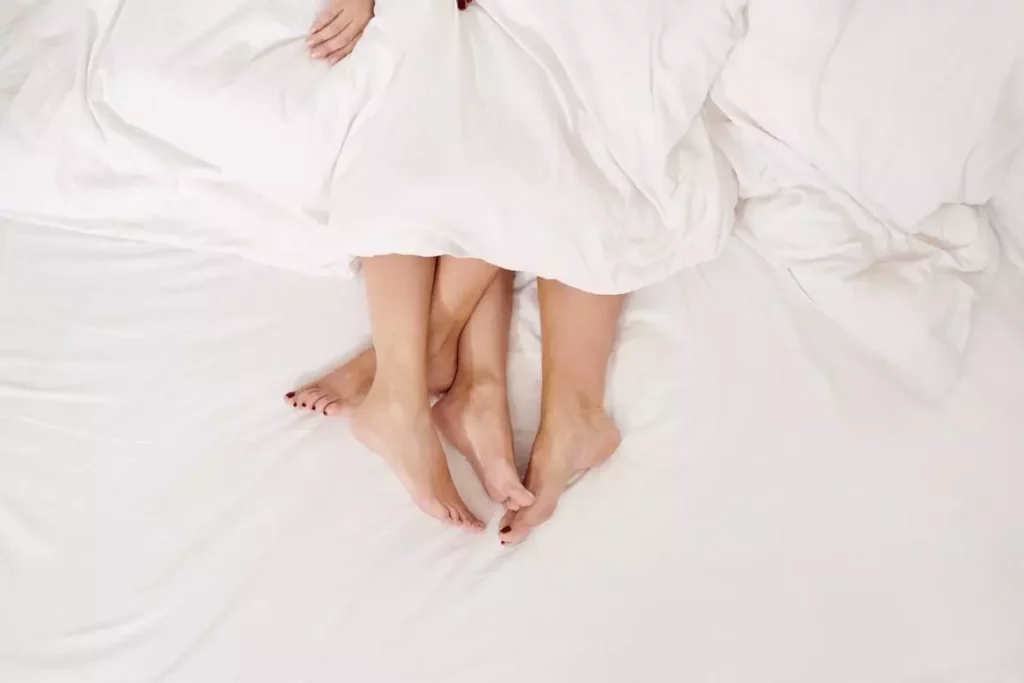 From a fertility counsellor perspective, having an understanding of your fertile window is crucial for optimising chances of conception. If your cycles are irregular, seeking assistance from an OBGYN or fertility specialist will help you determine this and educate you on the best time to have sex.
From a sexologist perspective, have fun! It doesn't have to be all about baby-making, see it as a time to try new things and explore your sexuality even further.
What are the best sex positions to get pregnant? (I ask because this happens to be a common fertility question.) Does having a retroverted or anteverted uterus weigh into this?
It is a myth that certain sex positions increase or decrease the chances of conception. The best sex positions to get pregnant are the ones that feel most pleasurable for you.
Are you an advocate for the scheduled sex approach for baby-making purposes?
I am, so long as your partner is involved in the process. I see a lot of women carry the burden of tracking their cycles and trying to initiate sex in that time to protect their partner from the baby-making aspect of sex. That is a lot of pressure on the woman! Best way around this is to sync your partner up to an ovulation tracking app, or adding it to a shared calendar so that both of you are across timing.
There is a misconception that scheduled sex isn't sexy, and that isn't true at all. Having a conversation with your partner, or even a sexologist about how to make this process more fun is essential.
Before going down the IUI or IVF route, for couples struggling to conceive, what would you recommend they do?
If you have been trying to conceive for 6-12 months with no success, seek support from a fertility specialist to undergo fertility screening of yourself AND your partner. It doesn't necessarily mean that you will need to undergo assisted reproductive treatment straight away, as they may be able to recommend certain lifestyle changes to optimise your chances of conceiving naturally.
Now to some post-baby sex talk.
Sex can often be put on the backburner once a baby enters the equation. What's your advice to couples who are in the baby or toddler trenches and have lost their sex/intimacy oomph?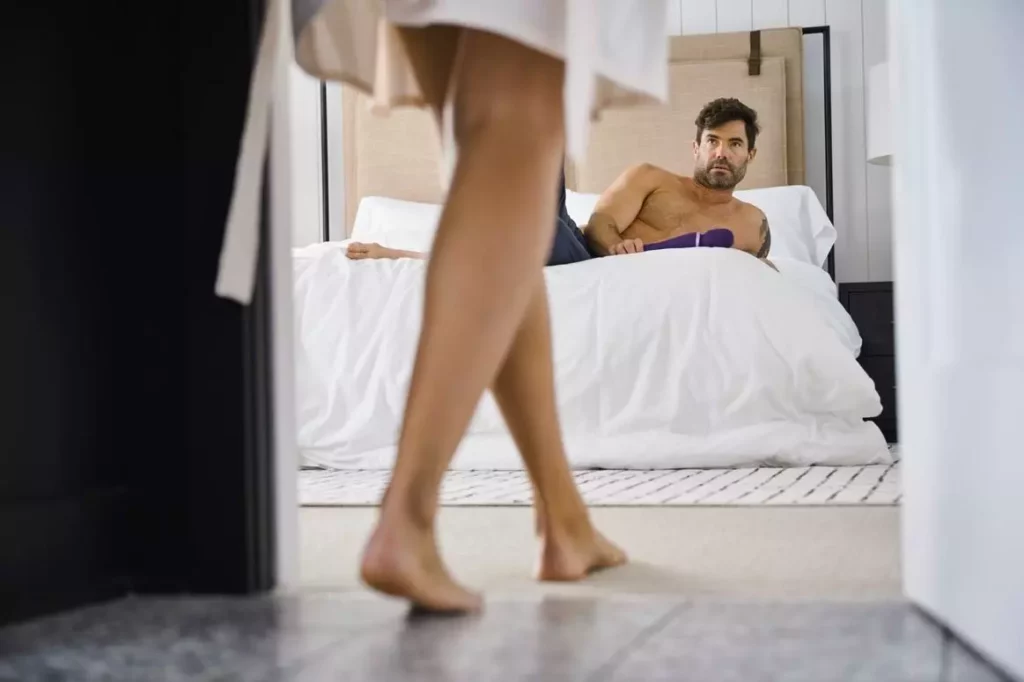 I am in this stage right now and completely understand. I think understanding that sex and intimacy is going to look a little different at this time is ok, and that it isn't a reflection on your relationship in any way. Prioritising intimacy rather than penetrative sex is essential for maintaining connection with your partner. What this looks like is different for every couple – is it a make out session in the kitchen? Or spooning in bed?
If you really feel like you are struggling in this area, see a sexologist. We are here to help, and you don't have to go through this feeling isolated and alone.
What's your advice to women who may well feel quite different in their body post birth about reengaging in sex with their partner?
Body changes during pregnancy and post birth can be challenging as we often associate our appearance with our identity and self-esteem. I always encourage women to focus on what their body does for them rather than what it looks like. You have grown and birthed a human being, and that deserves to be celebrated. It is easier said than done and can take some practice. In the meantime, prioritise self-care that makes you feel good in your body – anything from 30 minutes of pilates to getting a blow wave.
And lastly, we often hear about women being too 'touched out' and tired to have sex after they've had a baby – and the emotions their partner may have to process as a result (not to mention blue balls!). But what about the reversal? How common is it for men to lose their sex drive or interest in having sex with the mother of their baby/child/children? And what can be done about this?
Incredibly common and often not spoken about. Babies are a full-time job and it can be very draining for the partner as well – they are exhausted too but in a different way. Additionally, some partners may be reluctant to initiate intimacy and sex as they can see how touched-out and exhausted their partner is. Communication is key here. Consistently talking about how you are both feeling and prioritising acts of self-care (for both parents) allows you to come back to your family as a better partner and parent.

You can follow Aleeya Hatchem on Instagram @great.sexpectations