Vivid Sydney 2023 is here and these are the best family friendly events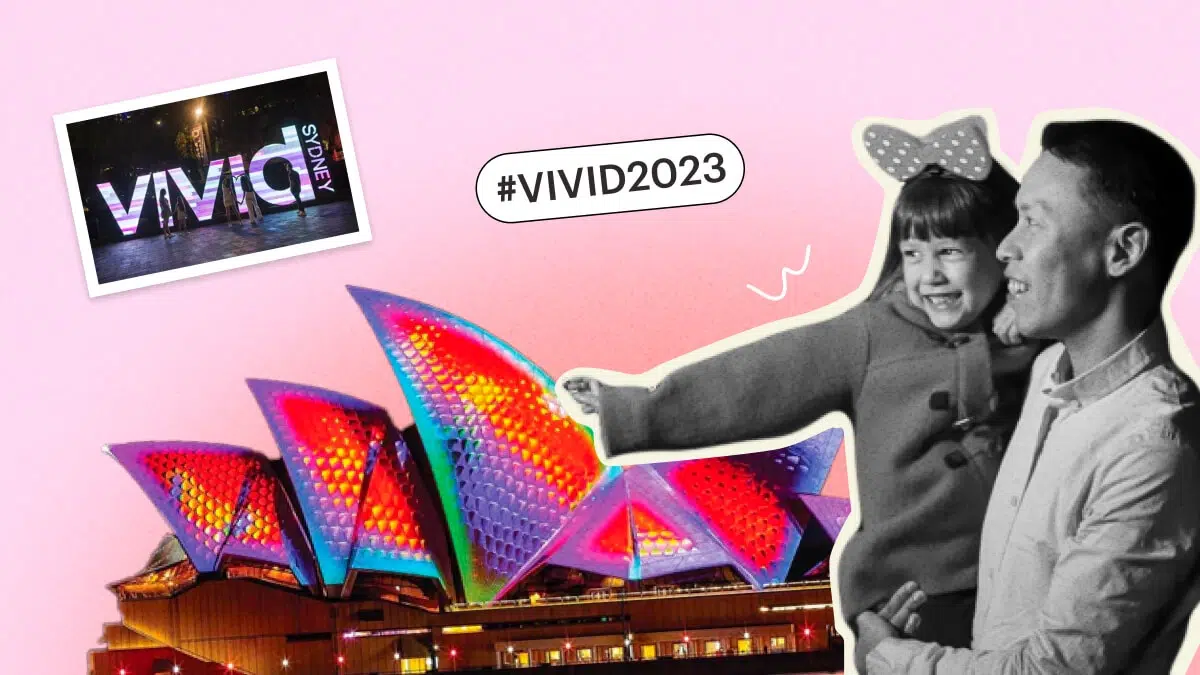 Vivid Sydney, one of the world's most renowned light, music, and art festivals, never fails to captivate the imagination of visitors. This year promises to be yet another brilliant chapter in the festival's history, offering a kaleidoscope of breathtaking installations, mesmerising light displays, and engaging interactive experiences.
It's a pretty special time in Sydney as historic landmarks and much-loved spaces come alive with lights and ideas, live music and mouth-watering food. While there are certainly Vivid After Dark events that are for adults, Vivid Sydney 2023 also offers plenty of opportunities for families to enjoy the sight of the Emerald City coming to life.
The heart and soul of Vivid Sydney is, of course, its stunning light displays that transform the city into a magical wonderland. Sydney's iconic landmarks, such as the Sydney Opera House and the Harbour Bridge, become vibrant canvases for the creative genius of light artists. Beyond that, there are music and art events for all of the family and – better yet, a lot of the activities are free!
So, if you're looking to experience Vivid Sydney 2023 with your children, here are some of the standout events you should bookmark.
Vivid Kids
This year, 12 young artists will project their imaginative worlds onto one of Sydney's oldest buildings. Guided by the theme of 'endangered species', these budding creatives – ranging from 7-14 years old – collaborated with a team of animators and designers from Spinifex Group to bring their art to life. See anew, as these curious kids share their inspiring visions of our native species and remind us of the importance of ensuring their survival.
Address: Cadmans Cottage, 110 George Street, Sydney
When: Friday 26 May – Saturday 17 June, 6pm-11pm
Cost: Free
Website: vividsydney.com
Tumbalong Nights
Tumbalong Park is your Vivid Sydney go-to for free and eclectic contemporary music, in the very heart of the Light Walk.
Australian children's acts kick things off before the lights turn on, every Saturday from 5pm.
Free kids music schedule:
May 27 – Zindzi and the Zillionaires
Zindzi and the Zillionaires perform upbeat songs of friendship, confidence, joy and positivity all set to a head-bopping mix of RnB, Pop, Hip Hop and Rap. Join Zindzi and her fluffy friends The Zillies as they take you on a musical adventure for the whole family to vibe to!
June 3 – Junkyard Beats
Everything's an instrument with Junkyard Beats, who use household items and rubbish like old cardboard boxes and plastic bags to create a rhythm symphony. This groovy show follows four musical misfits in a journey of body percussion, drumming, dance, circus, hilarious skits and junk!
June 10 – Peter Combe and the Bellyflop in a Pizza Band
With more than 40 years under his belt, Peter Combe knows how to get kids up and dancing. Catch the legend behind classics like 'Toffee Apple' and 'Juicy Juicy Green Grass' and new viral hits like 'Mr Clicketty Cane' and 'Spaghetti Bolognaise'.
June 17 – Tiptoe Giants
This fresh and funky trio is all about delivering empowering messages and teaching skills through fun, catchy music. With backgrounds in teaching and music therapy, Tiptoe Giants encourage individual expression with a vibrant live show packed with plenty of instruments and surprises along the way.
Address: Tumbalong Park, Darling Harbour
When: Every Saturday night for the duration of the festival
Cost: Free
Website: vividsydney.com
Kids Neon Paint Party
Join the Kids Neon Paint Party at The Greens North Sydney on Saturday 3 June and 10 June. They've teamed up with Pinot & Picasso North Sydney to bring you an unforgettable experience this Vivid season. Join them on the greens for two Saturdays of creativity and fun at our Neon Paint Party for Kids! Give your little ones the opportunity to unleash their artistic talents in a vibrant painting class.
Address: The Greens North Sydney, Ridge Street, North Sydney
When: Saturday 3 June & Saturday 10 June, 5.30pm-7pm
Cost: $35
Website: thegreensnorthsydney.com.au
Lightscape at the Royal Botanic Garden
Lightscape is a 2.1km journey through a spellbinding and multi-sensory world.
Stroll beneath towering tree canopies illuminated in mesmerising colour, be awestruck by larger-than-life flowers and travel through gorgeous glowing tunnels. Secure your spot – tickets are on sale now. Don't miss this world-acclaimed event.
Address: The Royal Botanic Garden, Sydney, Queen Elizabeth II Gates
When: Friday 26 May – Saturday 17 June, 6pm-11pm
Cost: From $30
Website: vividsydney.com
Waterlight Graffitti
Part dishu (a Chinese art that involves painting with water), part 'Etch A Sketch', Waterlight Graffiti is a large electronic blackboard that you can 'paint' with water, each stroke immediately transforming into light. Unleash your inner artist, or just have a scribble – whatever your creation, it'll shine bright for minutes, before it fades to make way for a new 'layer' of graffiti.
Address: The Goods Line Walk, Ultimo NSW 2000
When: Friday 26 May – Saturday 17 June
Cost: Free
Website: vividsydney.com
Vivid Light Walk
This is the best way to see the amazing sights of the festival! Across 8.5 kilometres, this year's Vivid Sydney Light Walk is a journey of endless adventure and discovery of light, history, art and nature. With 59 attractions, including light installations, 3D-mapped projections, venue takeovers and jaw-dropping spectacles, families will be truly mesmerised by this immersive experience.
Address: Circular Quay
When: Friday 26 May – Saturday 17 June, 6pm-11pm
Cost: Free
Website: vividsydney.com
Wild Lights, Taronga Zoo
Head to Taronga Zoo for an incredible light show, 65, 000 years in the making! Inspired by an ancient and present wisdom of the oldest continuing culture on the planet, Australia's miraculous and rare wildlife are transformed into magical light art sculptures never seen before.
With a strong focus on caring for Country and driving change, this year's Wild Lights will debut a variety of new breathtaking lanterns that shine a light on some of the country's most iconic species and the landscapes they call home.
Address: Bradleys Head Road, Mosman
When: Friday 26 May – Saturday 17 June, 5.30pm-9.30pm
Cost: Adult: $30, Child (4-15 years): $25, Infant (under 4): Free
Website: taronga.org.au
For more information, check out the official Vivid Sydney Website.