Club Med. The all-inclusive family holiday you need to take
Before babies, holidays were usually spontaneous, adventurous or an opportunity to get away and do absolutely nothing at all – preferably on a beach and with a cocktail in hand.
You could take off without worrying about the details of what was going to happen at the other end, and just embrace it for what it was worth. For us it was usually a reward after a busy working year to explore the likes of Africa, New York, the Italian Coast, the Maldives, Mexico, Caribbean – you get the drift – we liked summer holidays!
It's no secret that life changes when you become a parent. Before you know it, you give up on things you once found important and life has a new meaning and purpose. Holidays usually fall off the priority list (fairly quickly) during those early months and in our case – it became years! Either it's through fear of embarking on a journey that requires getting an 'active toddler' on a plane or the fact that it gets put into the 'too hard basket' without a second thought. Life as you know it has changed and you are likely spending your days just trying to find a balance in this thing called parenthood.
So you can imagine the preparation and logistics that come into play with three kids under the age of four years – it's an overwhelming task! This is likely why it has been the same amount of years since our last holiday.
Here's the thing. It doesn't need to be that way – or so we recently discovered. These places that talk of 'family friendly' holidays do exist and when it comes to the likes of Club Med, they were the pioneers of the Kids Club service and offer a whole lot more than what you see in a holiday brochure or website.
When Club Med invited us to visit their all-inclusive Bali resort and shared the depth of their child-friendly offering – we were sold! We hadn't really considered the all-inclusive thing before and figured that if we only needed to organise our bags and get on (read survive!) the plane, then surely we could manage.

Leave The Excess Luggage Behind
So when I talk of the 'depth' of their child-friendly offering, this isn't just related to Kids Club. Club Med lives and breathes family holidays and it shows in the detail of their offering. Things like cots, prams*, baby baths and even bottle warmers will ensure you don't need to pack everything but the kitchen sink. If you can save on just a few pieces of luggage, it can be a game changer when travelling with small children.
They also have changing and feeding rooms around the resort, a special baby corner in the restaurant (with freshly made baby food & meal prep equipment) and of course they are the pioneers of the Baby/Petite/Kids Clubs that offers guilt-free time away from the kids – but I'll share more on that shortly.
*limited availability so request upon booking

The All-Inclusive Experience
Let's start with the fact that prior to kids, we weren't really into the whole all-inclusive thing. Purely because we wanted to travel like nomads and create our own adventure as we saw fit. But as we know, life with kids is a whole other ball game and not having to worry about exchanging cash or tipping trumps the alternative any day.
Where you once might have wanted to be adventurous and try the local restaurants, this suddenly doesn't sound so fun when:
A. Street food is risky at the best of times
B. You have small children to manage logistically.
In saying that we didn't feel like we missed out on the local food or culture at all.There was a huge variety of foods on offer each day (important for hungry toddlers), thanks to the amazing family restaurant. Not once did we have to worry about preparing snacks for the kids, because we knew that between the main meals, we could find plenty of snacks pool or bar side.

So, here's what comes standard as part of the package at Club Med:
Accommodation, ranging from lead-in Superior Rooms, to Deluxe and Suites with interconnecting capabilities for larger families
All-day dining and snacks at multiple resort restaurants, one buffet-style and one a-la-carte, with a range of local and international cuisine to suit even the pickiest eaters
Open bar including wine by the glass, beer, spirits, cocktails, sodas, mocktails, juices and more. Bottled wine and top-shelf liquor available at extra cost
Activities from tennis, trapeze, golf, archery, and soccer, to yoga, pilates, surfing and paddleboarding
Evening entertainment, ranging from pool-side acoustic music, local markets, and shows performed by the resort staff with themes like circus, comedy, and even Beyoncé
WIFI throughout the resort
Basic travel insurance
…as well as family services including award-winning Kids Clubs, divided by age with highly-trained supervision:
Baby Club (children aged from 4 to 23 months). Baby Club focuses on senses and feelings, with engaging play areas and a staff ratio that ensures each baby receives special attention. *at extra cost
Petite Club (children aged 2 to 3 years). Petite Club focuses on discovery and socialising with activities such as face painting, pyjama parties, and puppet shows. *at extra cost
Mini Club (children aged 4 to 10). Mini Club focuses on energy and fun activities such as Club Med's famous Circus School program, arts and crafts and sports. *included
Club Med Passworld and Junior Club (older kids, aged 11 to 17). Passworld and Junior Club are dedicated teen spaces offering everything from creative activities to movie and disco nights, as well as sports and technical arts. *included
…plus, extras you can expect at Club Med Bali:
Baby Welcome Pack, sleeping cot, baby bath, bottle warmers and steraliser, games, bedtime stories, care pack
Bugaboo prams for use within the resort
Baby Corner with sweet and savoury purees and food preparation equipment, as well as individually steralised and wrapped high chairs and booster seats
Infirmary for basic medical attention and lifeguards on duty at the main pool
Amazing Family Activity Program – which I'll talk more about below
Kid-Friendly Pool
Speaking of pool side, they had a fantastic pool which was the same kid-friendly depth all the way across, with shade overhead and a life-guard. My little one's can't swim but by the end of our trip, the eldest was diving underwater and swimming to the edge, proudly showing off her newfound skills to all her new 'friends' she made in the pool area. There were plenty of floating devices and water paraphernalia being shared around and worst case, you could always buy one from the gift shop.

Promoting Independence and Autonomy
Another value of Club Med is that they support their little guests by instilling autonomy. From the very first moment they greet you at the resort (and introduce themselves directly to the children) right through to the end of your stay. Every. single. thing. your little one experiences, will help them to build independence and confidence to become real little people of the world. They had a set of stairs reserved for the kids at the bar (kid's corner) where they could order themselves a fancy juice at the bar. My two also loves the bento-style trays at mealtimes which encouraged them to fill it with a well-balanced meal… although the ice cream station still became a bit of a daily 'holiday treat'.

Kid Club Activities
Which brings me to the amazing experience that is Kids Club, which is better described as a comprehensive day care. A concept that is thrown around the family-friendly holiday circuit but one that can only be truly credited to Club Med. Sure they were the innovators that originally brought this concept to life but it's more than just a babysitting service. They offer such a wide range of experiences that align to the Club Med values when it comes to Autonomy – the trapeze, performances in stage and sports to name a few. They make friends from all over the world and whilst each may not be able to speak the same language, they find a universal language in their shared experiences. Kids Clubs are divided by age, ensuring your little ones are interacting with kids of a similar age, while all games, activities, and supervision is also adjusted accordingly. All of these memorable experiences are facilitated by the wonderful team of GO's (Gentle Organisers), who very naturally leave a lasting impression on each child.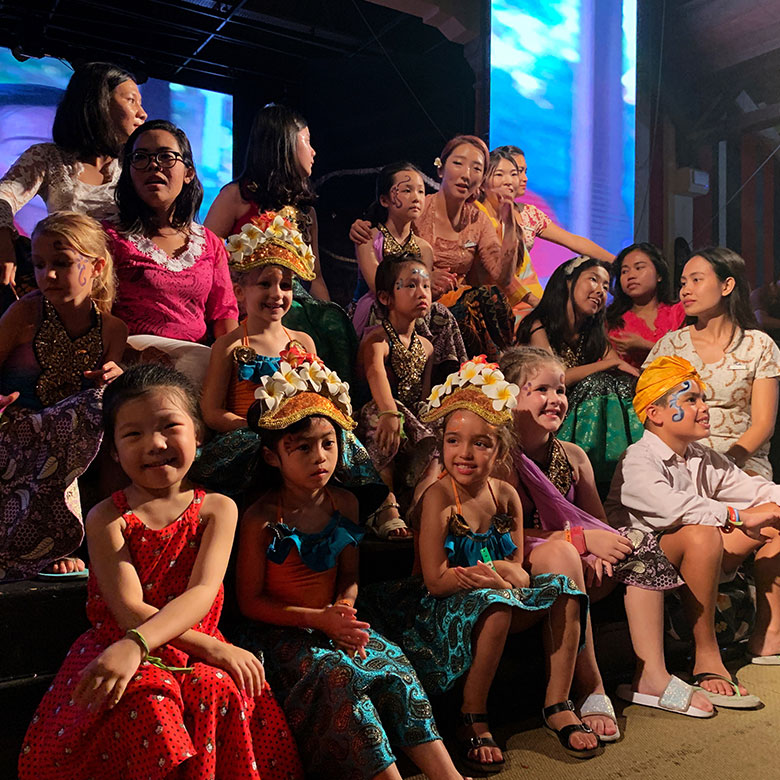 Adults-Only Zen Time
So whilst your little one is off rehearsing for the evening concert and having the time of their lives, you can spend a guilt-free afternoon lazing by the adults-only Zen Pool. Where all you can hear are the birds or your waiter popping by with that glass of Rose (or two) you ordered on the way in. When you are done with the pool, not that I think that's ever possible with us, the spa offers incredible Balinese treatments. I snuck away for an afternoon package which included a foot spa, back scrub. rose petal bath and the most relaxing and tension releasing massage ever (and yes I did fall asleep and caught myself mid-snore.)
I should also mention that the Deck Restaurant is close by if you want to enjoy a child-free meal surrounded by blue water, although we enjoyed a few meals here with the kids too.

Amazing Family Program
Throughout your stay you will be updated on the program which consists of endless activities and night time shows to keep the whole family entertained. But it's the new Amazing Family Program that truly initiates quality time to be spent as a family. I found this particularly good for my little ones due to their age. Whether it was kite flying (my favourite) or playing giant-sized Jenga, Twister or Connect 4 – there is something for you everyone to enjoy, no matter how big or small.
I'm convinced that the Club Med experience is something you don't truly understand until you have been there yourself. There's only so much that you can tell from a website or social but we made it our mission to capture all the magic we experienced while we were there. This isn't just a resort with childcare facilities, it's an experience that will leave you with more than just memories.