Behind the brand: Eleanor Cullen on We Might Be Tiny's giant rise to success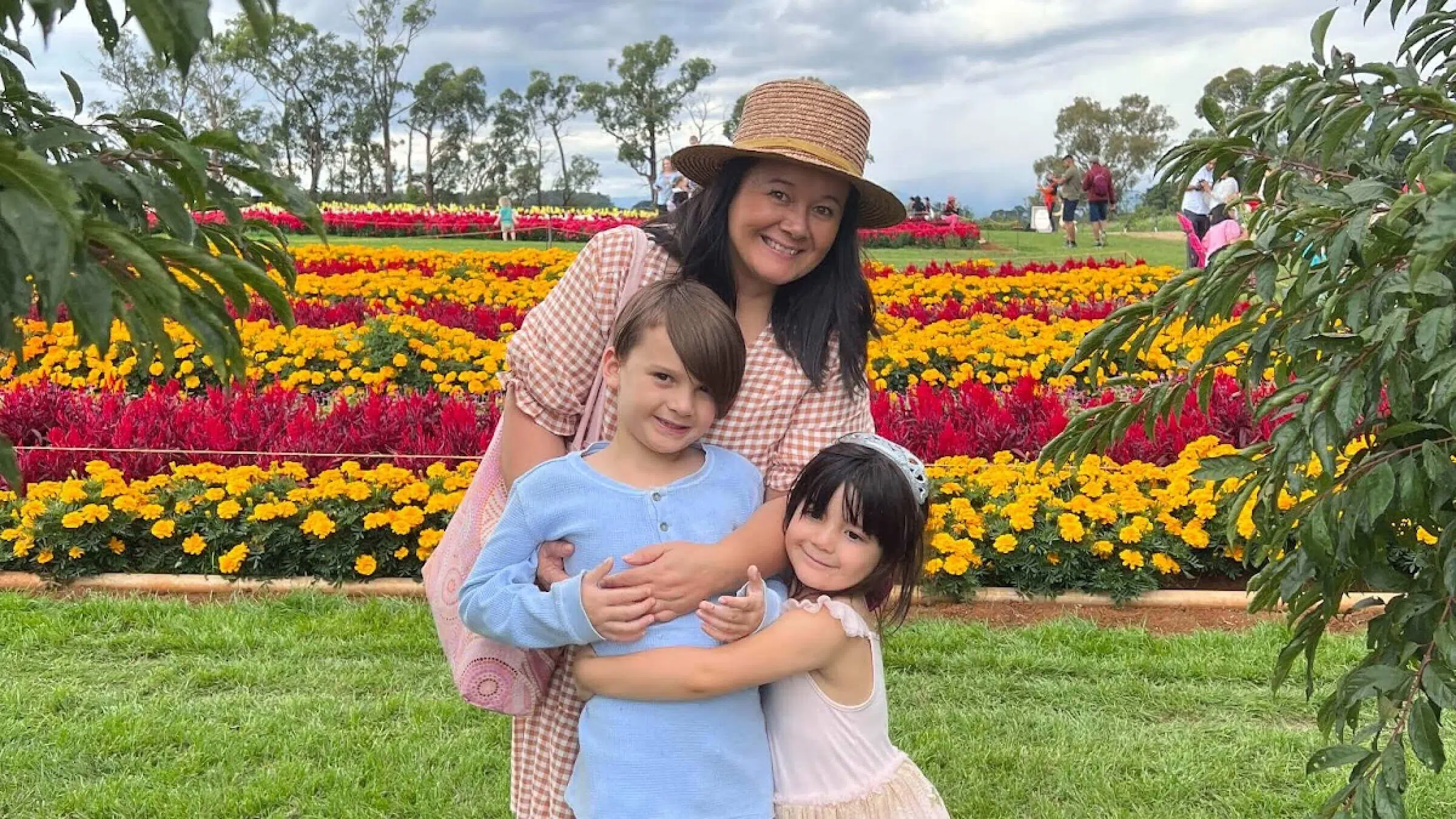 Starting the solids journey with your little one is an exciting milestone. But hands up if you've ever felt a surging sense of overwhelm? Knowing what products you do and don't need as you embark on this next chapter can be super confusing. From spoons to forks, plates, cups, bibs, and bowls — it can feel like we have all the gear and no idea. Not to mention all the ineffective feeding paraphernalia we drop a small fortune on that don't even work.
As parents, we want good quality products that have the longevity to see us through our first child's solids journey and our second (and our third!), while being good for the environment and aesthetically pleasing.
It's a struggle that was all too familiar for mother-of-two Eleanor Cullen. So seven years ago, she did something about it and launched We Might Be Tiny — sustainable kids' silicone tableware designed with style, and with your child's needs and the environment top of mind. Fast-forward to 2022 and We Might Be Tiny is a household staple in 40+ countries around the world and has over 30 products under its belt. Not so tiny after all!
"I think what sets us apart is our unique designs. There are a lot of generic silicone products in the market, but we've prioritised quality and beautiful design — and our customers notice this as soon as they pick them up," founder, designer, and head producer tester Eleanor explains as to why We Might Be Tiny has managed to not only cut through in the market, but also become the leader in all things silicone tableware.
"They are soft-to-touch but also have a bit of weight to them, which makes them sturdy and durable," Eleanor notes.
Another win? They actually stick to the table or highchair, so your bub can go to town on their meal without it being tipped over.
We caught up with Eleanor, who is based in the Dandenong Ranges near Melbourne, to chat about her innovative line of products, the superstar members of her team, and the biggest lessons she's learnt along the way.
What were you doing before you started We Might Be Tiny and how did the idea for the business come about?
Before launching We Might Be Tiny, I had been working in corporate as a digital and user experience design manager (usability testing, information architecture, web and mobile design, etc). I really loved my job but once I had children, I knew the three-hour round trip commute was going to become an issue!
The idea for the business came about when I was on maternity leave with my first baby. I was craving something creative and saw a gap in the market for beautiful, functional tableware as I was embarking on my baby feeding journey with my son. I spent nights designing and planning out how I'd launch the business.
I continued working in my corporate role for another three years, including another year of maternity leave when I had my daughter, while WMBT was my side hustle. Finally, in 2018, I had grown the business to a point that I was able to resign — it was such a nerve-racking decision at the time, but I haven't looked back.
What was the timeline and process like from ideation to actually holding your first WMBT product in your hand?
My first products were the Bunny and Bear Placies, which took about two months from concept design through to receiving my first samples, and then another two months once I had the product ready for sale. In between that time, I was prototyping with paper versions to check the size and functionality, picking Pantone colours, and refining the design and packaging.
Being kind to the planet and using non-toxic materials with no nasties is at the forefront of your business' purpose. How important is this to you and how do you carry this out?
I think it's essential that businesses 'do good' for the planet. We're not perfect, but we are always striving for ways to improve. We choose silicone as it's such an amazing material that is not only food-safe and BPA-free but also makes life so much easier for busy parents by being microwaveable, freezable, and oven-safe too. We have all of our products independently tested to Australian and European standards.
Silicone is such a durable material. It means our products will last throughout your child's whole feeding journey. And when it does come the time to retire your products, they can be sent to a recycling facility and broken down for a second lease on life. We've also recently phased out any plastics from our packagings such as PVC or plastic tabs.
How did you decide on the name and branding?
The name We Might Be Tiny came about after watching kids' TV (as most parents can probably relate to!). They were advertising a new cartoon about a little tugboat and the voice-over said: "He might be tiny, but he's mighty!" It really resonated with me that this might be just a small business but we can still achieve amazing things.
The original logo was a black and white with the bear, bunny, and cat characters on it that I designed myself while sitting on the couch one night after getting my son to bed. These shapes formed the original bear, bunny, and cat placemats that I had designed. I hadn't really thought that we'd go on to make another 30+ products.
So in August 2021, we re-branded with the logo you see today (which I am quietly in love with). It is so much better aligned with what we stand for and gives the brand room to grow beyond our initial characters.
You also have a great initiative where customers can recycle their WMBT products. Can you tell us about that?
Yes! We've recently launched The Mighty Silicone Salvage program, where we take back any WMBT products that have reached their 'end of life' to be recycled (and customers can get a cheeky $10 voucher to spend in-store).
We'll then send any silicone back to TerraCycle, where it will be processed down into raw materials ready to be reused instead of ending up in landfill. This means your favourite WMBT could pop up again on local sporting surfaces such as soccer fields.
Starting solids can be such an overwhelming time for many parents. What are your go-to items from the range that make the process simple?
Our most popular products are our Stickie® range of plates and bowls. They suction down to the baby's high chair or table so you don't have to worry about flying dinnerware. Coupled with our super-soft Catchie Bibs and our Feedie cutlery set, these all make up the essentials for any newly-feeding babe.
The plates and bowls are so adorable — they do all the work for you in making the baby's food look amazing. You don't even need to be a whiz in the kitchen and you can still serve up an amazing-looking dish to your kids. Personally, that's what I love about our range.
All of your products are made from silicone, why?
Aside from being eco-friendly, it's just an amazing, versatile material. I love that you can heat food up in the microwave, plus throw them in the dishwasher (even the bottom rack). We only use the highest food-grade silicone throughout our whole range, including our new sensory teethers and toys that will be released very soon.
Who are some of the superstar members of your team?
I owe SO MUCH to my team, not to mention the amazing contractors that I work with. My first employee was my sister, Rachel, who joined the team as Marketing Director in February 2021. She's the one that creates all of our beautiful email campaigns and takes care of basically anything that needs to get done. She just moved over to the UK earlier this year, so it's been a bit lonely without her in my timezone, but we still chat every few days via video call.
We also have our Virtual Assistant, Mona, who looks after all of our lovely customers. She's the one you'll chat with as the first point of contact via email, and she does so with a huge smile. And our superstar Social Media AND Community Manager, Nakiya takes care of everything social media, including recently launching a brand new VIP Facebook Group for WMBT.
There's also my go-to product photographer who I've been working with since the beginning of time, Rachel Winton, and my copywriter Nadine from Can Do! Content. She just has a way with words.
The juggle struggle is something all parents relate to. How do you navigate launching your own business on top of your family life?
It's an ongoing battle and I certainly haven't worked it out yet. In the early days, when I was still working full-time, I worked on the business every night once I got the kids to bed and stayed up until the wee hours of the morning.
These days, I keep much better hours — generally only working during the day while the kids are in school and kinder, and a little at night. In reality, my life very much revolves around family and work, and I've sacrificed my social life!
What has been some of the most memorable customer feedback you've received?
I will never forget a customer from Europe messaging me on Instagram to thank me for our Grip Cups. Her autistic son had sensory issues and found it really difficult to find cups that he was comfortable holding. Finally, she had found a cup that he loved! Honestly, it makes my heart sing to know products I've designed can have such a meaningful impact on our customers' lives.
What would your advice be to other women thinking of launching their own business?
Go for it! But once you start, it's just about picking off one thing at a time and becoming comfortable with it. Another tip would be to know everything there is to know about that 'thing' — whether it be learning about pricing and manufacturers, or learning how to create an email campaign — just focus on one area and keep going until you've got it ticking along. Then you can move on to the next thing.
Running a business can be all-consuming and it feels like there's always so much to do, so I find getting through each task helps to feel like I've achieved something — and then I can move on to the next.
What do you love most about what you do?
Ahhh there are so many things that I love. I often compare running a business to playing a game; there is a real sense of achievement from creating and then seeing what the results are. Even if it doesn't work out the way you want or expect — I love learning from my mistakes and trying again and again until I get the results I'm looking for.
Of course, there's also the flexibility. I get to choose when I work, what I work on, and where I work. I can be there for my kids at school drop-off and pick-up, plus go along to sports days or just take a day off.
Biggest challenge?
A constant challenge that I face is copycats. Someone had copied our Bear placemats before they were even released. It was absolutely shattering, but I had to just focus on what I was doing and continue in my own lane. I now make sure we register all of our designs but it doesn't stop some of the big factories from trying to copy and sell them to unknowing new business owners who don't realise it's a rip-off product. The battle is constant and exhausting.
Biggest pinch-me moment?
I continue to have pinch-me moments every week, every month. However, my most recent pinch-me moment was only a few weeks ago. It was when THE biggest name in the baby food industry called me to say she absolutely loves my brand and wants to collaborate on a product. We're still working on the finer details, but watch this space!
You're seven years into this journey now. What's been the biggest lesson you've learnt along the way and would you do anything differently?
This might sound quite clichéd, but my biggest lesson has been to follow my gut. Of course, it's an educated gut instinct as I will always research and gather as much information as I can to make decisions. However, thinking about some of the big mistakes I've made (some of them quite costly) have been because I'd not followed my gut and instead listened to advice. That's not to say that you shouldn't listen to advice (you most certainly should!) — but at the end of the day, you know your business better than anyone.
Where to next for We Might Be Tiny?
I really want to launch into the UK and Singapore and continue expanding into the USA, so keep an eye out. Other than world domination (jokes!), we have lots of new products that we're launching this year and the next, so there's lots of work ahead of us. I also can't wait to get back into face-to-face events, meet our customers, and get feedback.
Related Articles
Behind the brand: When two best friends make baby carrier magic
The lowdown on buying pre-made baby food
8 tips for setting up healthy eating habits