The Bugaboo Butterfly is the go-to pram for this modern life
What's one thing that all parents wish they had more of? Even more than sleep, if you could believe it, all parents wish they had more time…
…More hours in the day to get through that endless to-do list
…More time to be able to enjoy your pregnancy and the excitement about meeting your precious little baby that's been living inside of you (minus all the aches and discomforts that come with pregnancy, that is)
…More quality time spent with your little one watching them grow (actually while we're at it, slowing downtime would be good too please, thanks!)
…More time to spend with your partner nurturing your relationship and maybe even some time between the sheets
…Time to be able to focus on YOU; whether it's the career that you love, a hobby that brings out your best self, or just time spent connecting with who you are away from the other titles you hold on the daily (#dayspa anyone?)
So when we got our hands on the all-new Bugaboo Butterfly pram which folds in 1-second flat – we instantly knew this was a game-changer for parents. It's the ultimate pram for life on the go. It's lightweight, easy to manoeuvre (yet seriously sturdy) no matter what adventure awaits you and your little one. The integrated self stand makes it easy to store away when you're not using it.
Because as any parent knows: time is precious! Even just mere minutes can be the difference between a perfectly happy baby and a COMPLETELY overtired one…
Some of the features we love about the Bugaboo Butterfly:
1-second folding
Any parent knows the struggle can be real when it comes to folding and unfolding prams. But this pram does not disappoint. One-click, one hand, one second!
Underseat storage
Just because this pram is compact doesn't mean it's short on storage!
The Butterfly boasts an extra-large under-seat basket that can carry up to 8 kg. It also comes with a flexible opening at the back for easy access from both the front and rear.
4-wheel suspension
This pram might look sleek but don't be fooled because it's got the goods to back it up. The 4-wheel suspension means your little one will travel smoothly over any bumps and you'll be amazed at how easily it manoeuvres with just the lightest push.
Integrated leg rest
Adjustable to 5 different positions that grow with your child for extra comfort no matter whether they're playing or napping on the go. Then once your toddler no longer needs the leg rest you simply fold it away.
Seat inlay
Made from high-quality fabric with extra padded cushioning to keep your little one comfortable all day long. And the best bit? It's machine washable!
Carry strap
The pram comes with an integrated carry strap that allows for 100% hands-free carrying mode to help free up your hands for carrying ALL the things.
Rain cover
Be prepared for anything with the easy-to-install rain cover that keeps your little one warm and dry in seconds.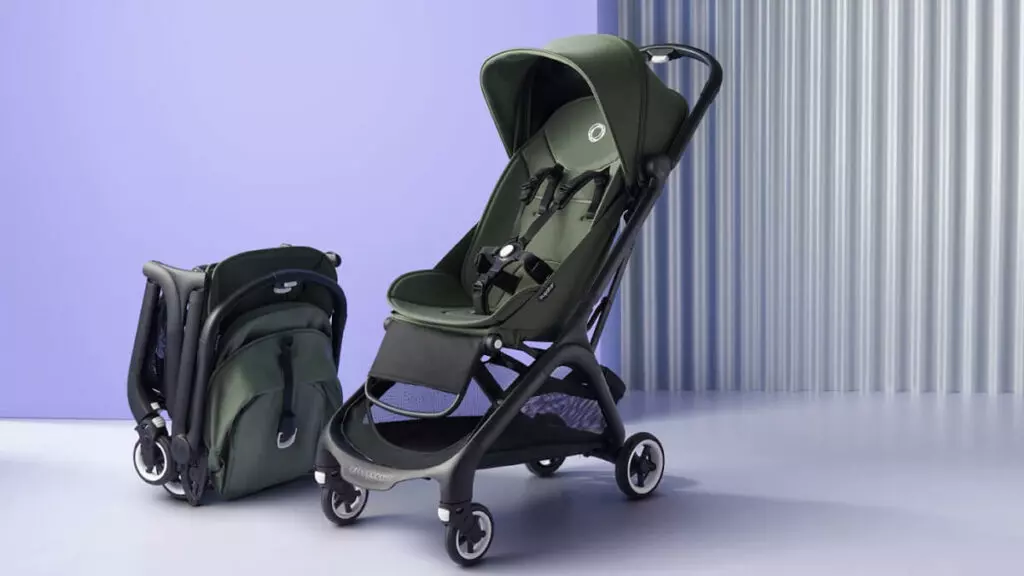 Bugaboo has been creating prams that parents covet for more than two decades. Their effortlessly cool aesthetic teamed with progressive and innovative design and superior quality have made them the go-to pram for modern parents. They're cool without being in your face, but you know that every decision and every feature has been made with meticulous attention to detail, with comfort and safety at the core. This is what makes Bugaboo stand the test of time.
Once upon a time, compact prams were considered a go-to for travel but the reality is parents these days lead busy lives – and need simplicity and convenience every day! The Bugaboo Butterfly has changed the game for parents, providing the quality and sophistication Bugaboos are renowned for, with the ease and manoeuvrability of a travel pram. Whether you're strolling with your mini down the streets of Paris or jumping on the bus for your daily commute, the Butterfly is your go-to pram for this modern life.
This is a paid partnership between Kiindred x Bugaboo.