All the reasons why ALDI's Mamia's Baby Wipes are a nursery staple
Did you know that when your baby is a newborn, you'll change their nappy around 10 times a day? We're not even kidding! And that's a generous low-ball. Some days, it can be even more. Don't worry, it peters off once their digestive system adapts to the outside world.
So that's a lot of hours of wiping to consider. Choosing gentle formulations is key when it comes to looking after your baby's skin. So we've teamed up with ALDI and their Mamia Baby Wipes range to break down all the reasons why families around Australia making them a nursery staple.
Perfect for bub's sensitive skin
We know that our babies have super sensitive skin and it's crucial that what we're putting on them, won't harm them in any way.
That's why ALDI's Mamia range is such a favourite for new parents, with both fragrance-free and scented options available. Their extra soft fragrance-free wipes are a great choice for sensitive newborn skin and have Aloe Vera and Vitamin E to help keep your little one's skin soft and smooth. They're also dermatologically tested and alcohol-free. Win, win!
Similarly, the scented options (which smell sooo delish, FYI) are also suitable for sensitive skin and are packed with all the goodness your baby's skin needs, including aloe vera and vitamin E to help keep them soft and smooth. Plus, they're dermatologically tested and alcohol-free.
Bulk, bulk, baby!
When you're deep in the newborn bubble, the last thing you want to happen at 2 AM is to run out of wipes. And while we've all been there, why not stock up in bulk so you don't have to worry.
ALDI's Mamia Baby Wipes come in a 480 pack at a jaw-dropping $10.99. Yes, you read that right. The value for money is just unbeatable.
Pro tip, buy two, or even three bulk boxes so you're sorted for months!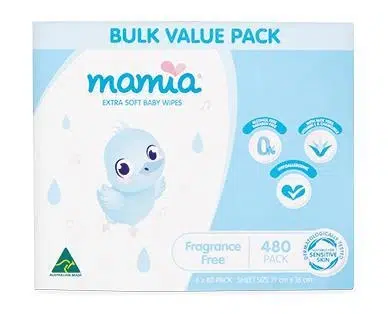 Wipes that ACTUALLY work
When it comes to an effective baby wipe, you want something that can clean up the mess with ease and doesn't require an entire handful of wipes to do the job. Mamia's wipes have a powerful level of moisture and top tissue quality so you can count on them to get the job done – and done well!
So. Many. Uses.
As a parent, baby wipes really become your best friend. From wiping your little one's butt to cleaning their messy hands after a meal – they're the unsung heroes of our household products.
But did you ever stop to think about all the surprising ways you can use baby wipes – not just on actual babies?! Their uses are endless and we reckon every home needs a packet of trusty wipes on hand – with or without kids.
Some of the more surprising ways you can use baby wipes around the house:
Cleaning your sneakers
Cleaning food off your clothes
Cleaning your keyboard
Cleaning fingerprints off the couch
Nappy changes can be one of the most beautiful ways to bond with your bub so making sure all the essentials are sorted, means you'll have more time to check in and connect with each other.
This is a paid partnership between Kiindred x ALDI