The easiest holiday with kids: 8 things we loved from our recent trip to Club Med Phuket.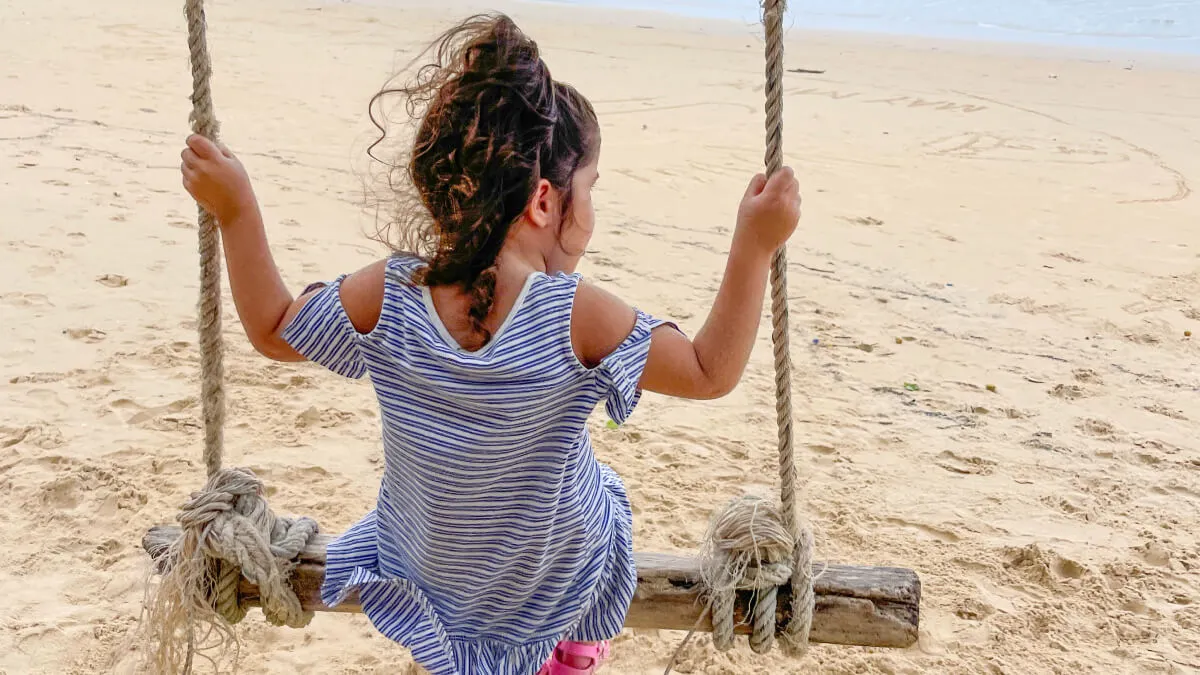 It had been 3 long years of homeschooling, lockdowns and the general busyness of having 3 kids under 7 since we last had a family holiday. To say we were in desperate need of a break is an understatement!
A holiday for us is one that is equal parts fun and relaxing but ultimately has to be – easy! I know that "travelling with 3 kids" and the word easy don't usually go hand in hand but I have realised it can be if you ensure that you don't need to deal with complex logistics, organising food or swapping cash on the other end of that flight.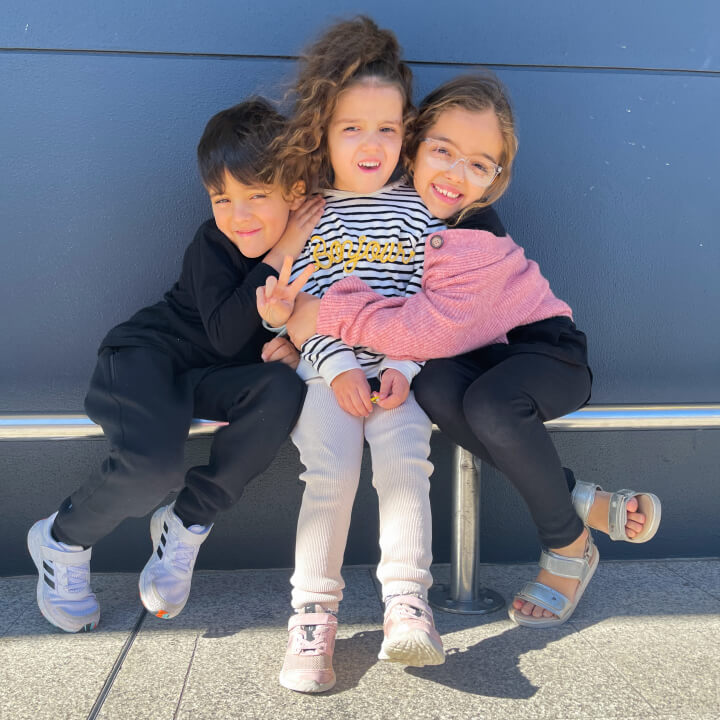 Now I want to preface by saying that pre-child me may have turned my nose up at an all-inclusive concept but the (now) parent-me is 100% on board! There are so many benefits to having someone else take care of the heavy lifting on the other end and this is very much why we LOVED our recent trip to Club Med Phuket.
If you aren't familiar with the Club Med brand then you are in for a treat. It's like kid heaven which means YOU get to have a holiday too.
Here are 8 things we loved about our family holiday – and some things that might surprise you!
1. Buffets for breakfast, lunch and dinner
I don't know that anyone truly loves having to decide what to cook every single day. A holiday for me is one that doesn't require searching for local restaurants or managing snacks throughout the day. And if there is wine easily on hand? That's a big yes from me.
The buffets at Club Med Phuket have something for everyone. There is so much to offer across each international cuisine that it doesn't feel like you are hitting up the same foods each day. They have themes each night too which makes it a little fun for those that want to be adventurous.
But don't worry, if you have little ones not overly keen on breaking out of their comfort zone, there are the usual favourites as well. Trust me, there were nights when chicken nuggets and chips or pizza were devoured after a busy day of activities and swimming, and that was ok by me! That was of course topped off by the fact they were able to walk up and order their own ice cream which was a real treat the kids loved and made for fun holiday memories.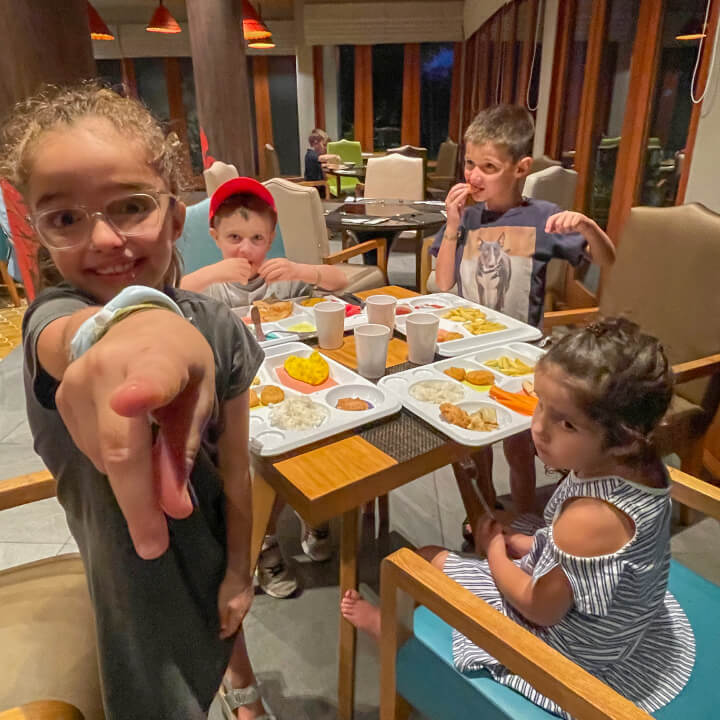 2. Not having to handle cash or tipping after each service
I can't tell you how liberating it is to put your wallet away and not have to think about paying for things. I have been on too many holidays where you are constantly converting to local dollars and then having to ensure you have enough change to tip after every single service.
If you are as tired and burnt out as I was, then it was a sweet relief not having to worry about this with kids in tow. Throughout your stay, all meals and entertainment are covered and you don't need to worry about anything other than what to do each day.
*That is unless you want to hit up the spa (which you will) while the kids are being entertained at the Mini Club.. but additions like this are completely necessary (and reasonable) especially if you want to check out feeling completely recharged.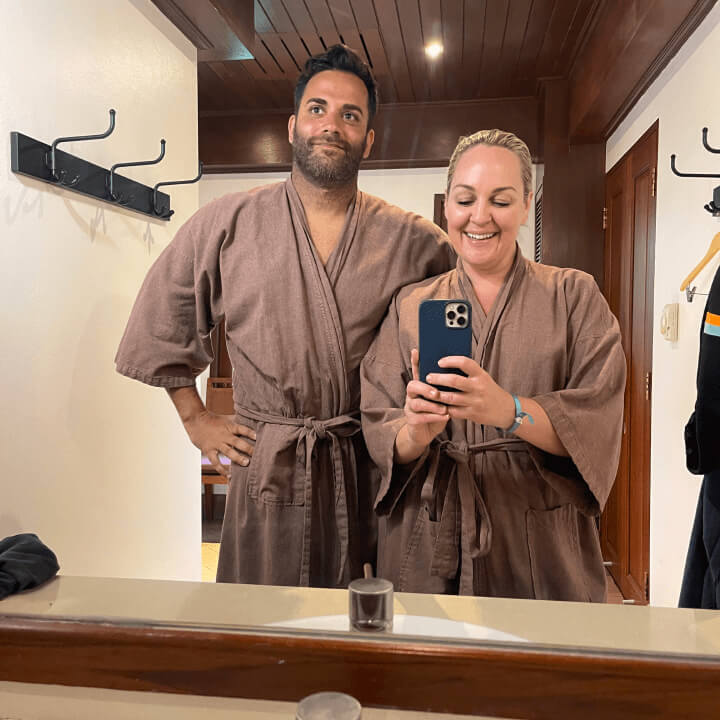 3. Don't want to think about what to do? Then leave it up to the AMAZING GO's.
First up, what is a GO you might ask? A GO is a "gentle organiser" and they are a huge part of what makes Club Med so special. They are a unique breed and throughout your stay, you will be impressed by the varied skills they withhold! They have a certain energy and personality that is contagious and you will be impressed by how talented they are during performances at night when you spot your favourite Mini Club GO up on stage. They will help you plan out the perfect week if you wish and will ensure you can find a balance of family time, self-care/adult-only time and something that will leave the kids with lasting holiday memories.
They just know how to bring out something special in our little ones, especially through the Mini Club programs.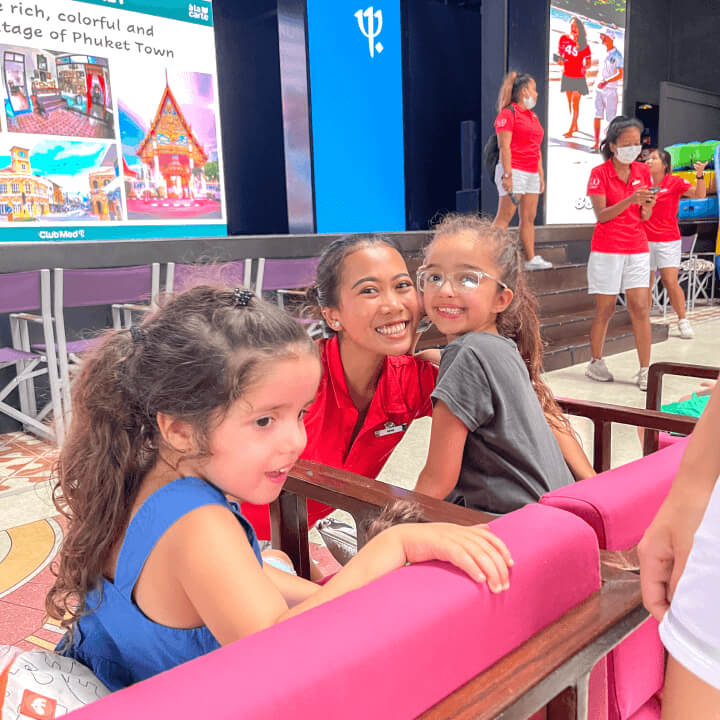 4. So while we are here, let's discuss the Mini Club
Club Med is the pioneer in kids clubs, so it's safe to say they have mastered the art of what truly works. Each year they curate programs to ensure our little ones get much more than a babysitting service and this isn't just through the activities they provide. It truly comes from the success of the GO concept and the infectious energy I mentioned earlier. Because I witnessed on many occasions just how supported and confident the kids felt by the end of the trip which meant they were more willing to try new things.
I hear from a lot of families that their kids 'don't want to go' to Mini Club but once they are there, they see the kids walking around the resort and having the time of their lives. This is one of the things I love about the Mini Club most. It's the fact that they aren't hidden away in a room but instead are fully integrated into the resort, so that you can see your kids happily walking off for lunch, challenging themselves on the trapeze or having fun in the pool. I can imagine it's hard not to want to get involved!
For the programs themselves, the new Mini Club+ has a focus on bringing out the '6 Cs' in our little ones: connection, creativity, cooperation, confidence, cheerfulness and courage. Throughout the week they facilitate a mix of fun games to cover off each of these skills which will leave your little one feeling a sense of accomplishment.
Then there are the activities with everything from water activities to archery and trapeze school. You might be surprised to find your little one trying out a new skill with the support of their new friends and GO's!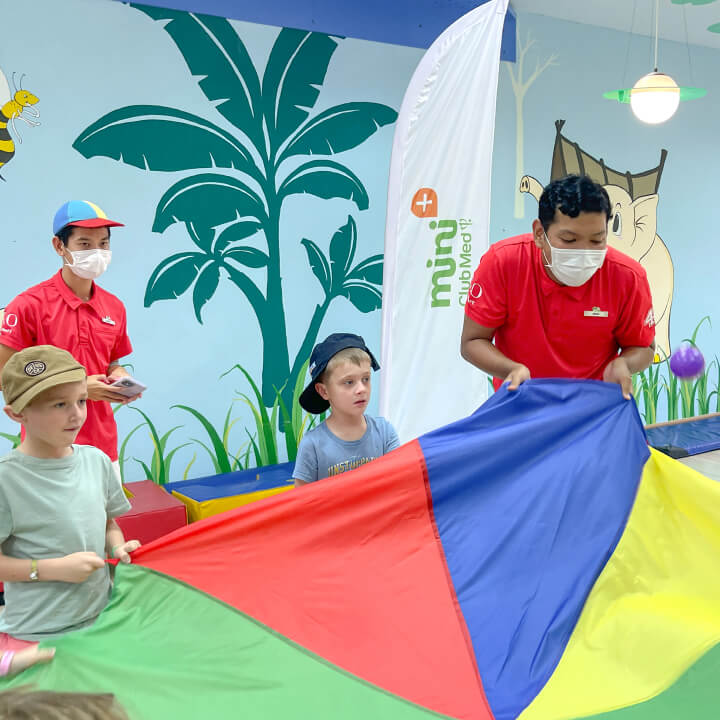 5. Entertainment galore, if you wish
Whether it's by the pool, off to the side somewhere or after dinner. There is something to do or see at all times. I wanted to ensure my kids had lasting memories from this trip and a lot of this was during the many wonderful themed nights and concerts we got to experience. This will obviously be dependent on the age of your kid, but for mine? They enjoyed some cheeky later nights knowing that we could all sleep in the next day.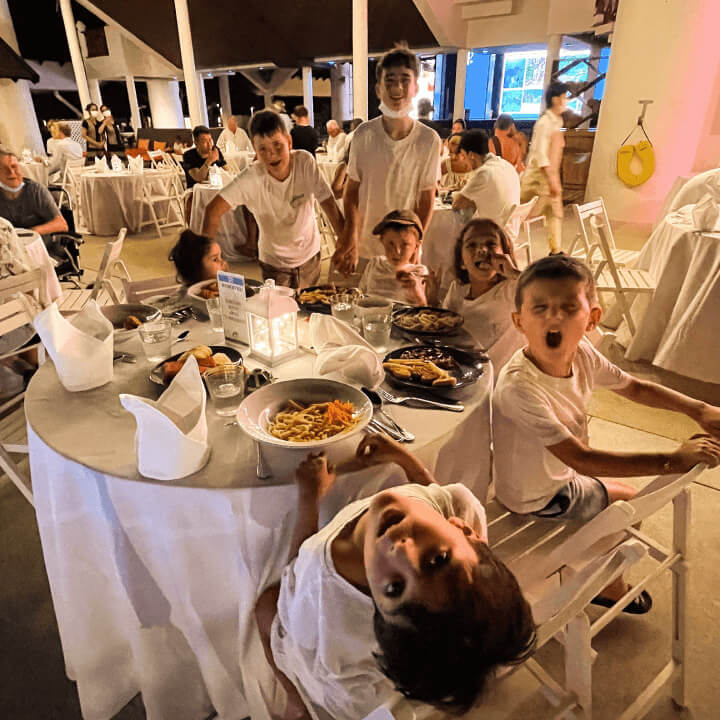 The themed nights were super fun and you can even plan ahead to ensure your suitcase fits the brief. There were neon nights, nautical parties or white dinners by the pool.. and there was always entertainment and food to match! Not into the theme thing? That's totally ok. You won't feel like a total stand-out – I promise.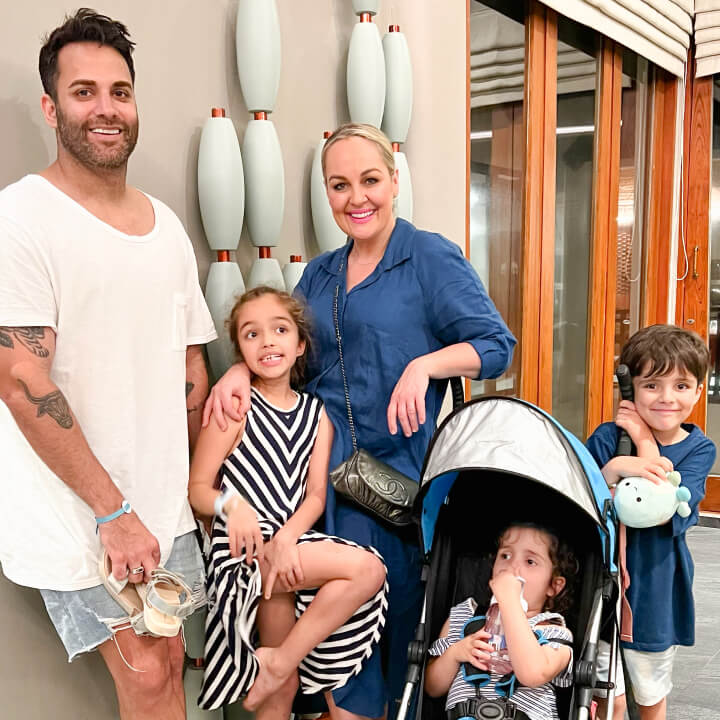 Possibly one of the highlights for us was the Mini Club shows where the kids rehearse during the day, get all dressed up after dinner and then put on a performance for all of the guests. It was surprising to see even the shyest of kids get up with the encouragement of their friends. My daughter even got up on stage to do stand-up comedy and sang a solo song – completely unprompted. It was such a highlight for her.
6. Kid-friendly and adult-friendly pools
Ok so this was something my kids really loved. They are late swimmers and not yet 100% confident swimming in deep water, so they loved the fact that the pools can accommodate the less confident swimmers. There was a baby pool for games with their little sister, and another 'big pool' with a gradual slope which meant that there was a place to play and swim for everyone. We even ended up playing a few rounds of Marco Polo which was so much fun!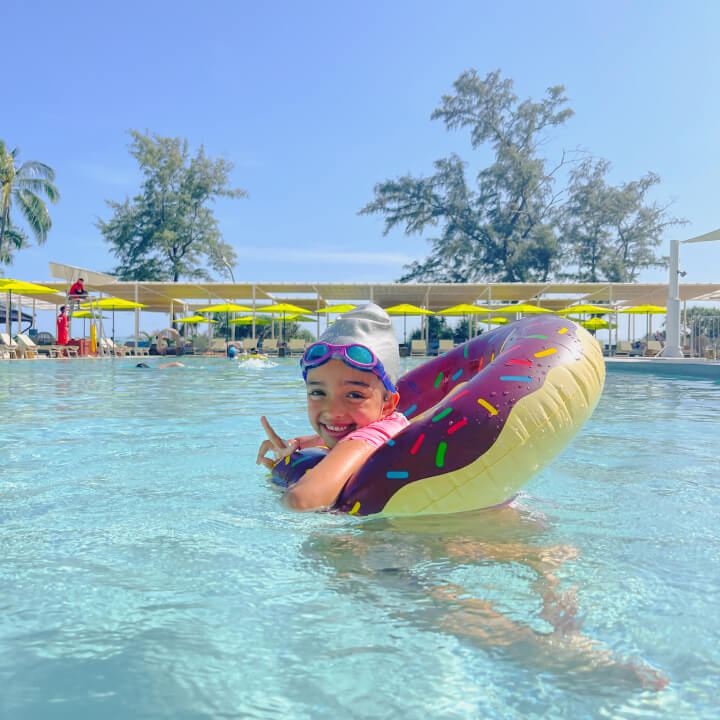 If the kiddies are in the Mini Club and you want some time out, then the new glass-fronted Zen pool is heaven! You can read a book, bathe in the sun or swim without anyone asking you to go to the toilet. You will be surprised at how rejuvenating a morning at the zen pool can be!
7. Adjoining family rooms with a generous size
This was something we really appreciated during our stay. With 5 people going in and out each day, the room can get a little hectic at times. We had an adjoining room which meant 2x bathrooms and plenty of cupboard space to store everything away during our holiday. I love getting everything out for easy access each day – who has time to dig through suitcases!
We had a very generous king-size bed for all-in morning cuddles and then twin beds for the eldest two to feel like they had their own room. There was also a smaller toddler bed for our youngest, but she always seemed to wiggle her way into our bed and pass out easily. But isn't that what holidays are for?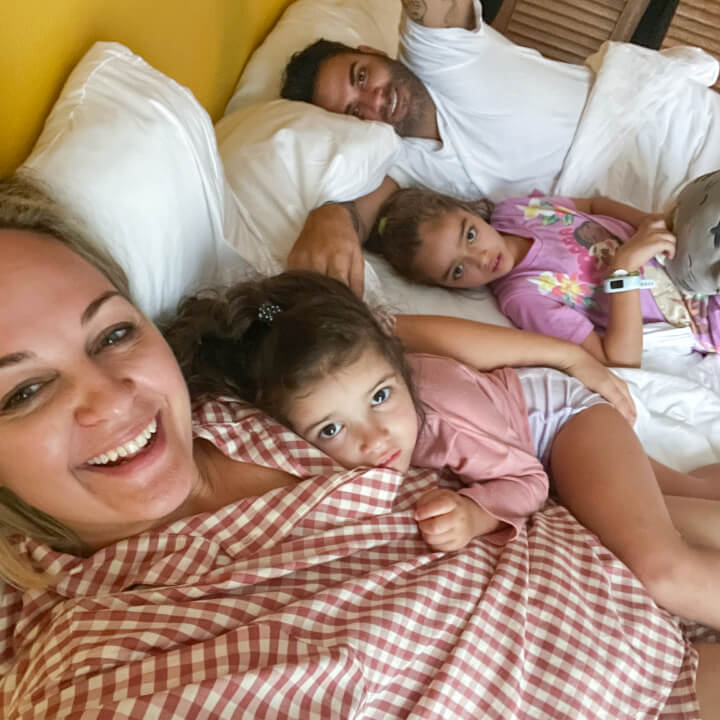 8. Friendly staff, friendly families…
This is something I really noticed on reflection of our trip. That the entire experience was built on the foundation that there is a certain happiness and positive energy that exudes the place. I also believe this is what attracts a certain type of family… Everyone who was there seemed to truly appreciate the effort that Club Med goes to in order to do things differently. I have heard countless stories from others sharing their previous experiences and for some, childhood memories of going to Club Med. I can certainly see why people keep coming back. I guess we are official Club-Medders over here too now!
This is a paid partnership between Kiindred x Club Med.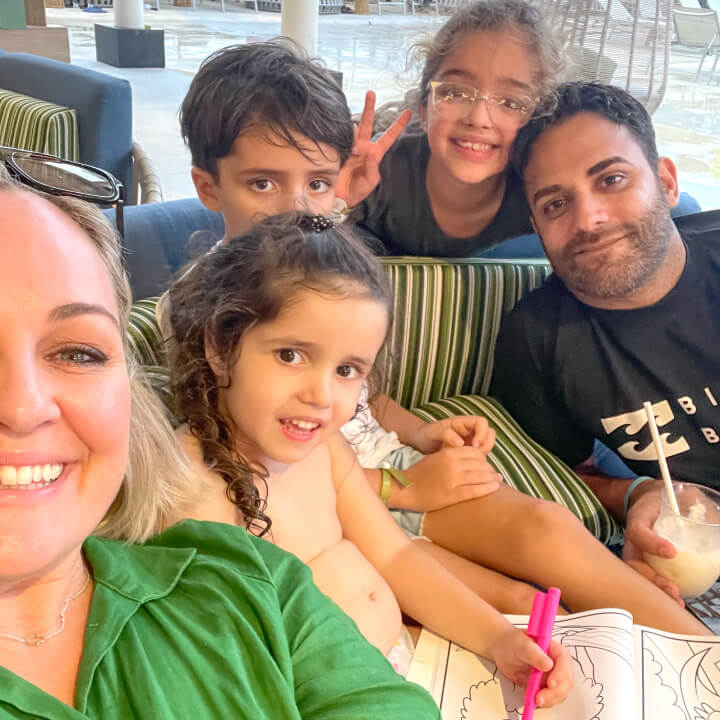 Related Articles
Building courage in kids: How to help our little ones to be brave
Club Med. The all-inclusive family holiday you need to take